Buchanan finds success during rookie campaign
With help of Phillies veterans, young pitcher learns how to be a pro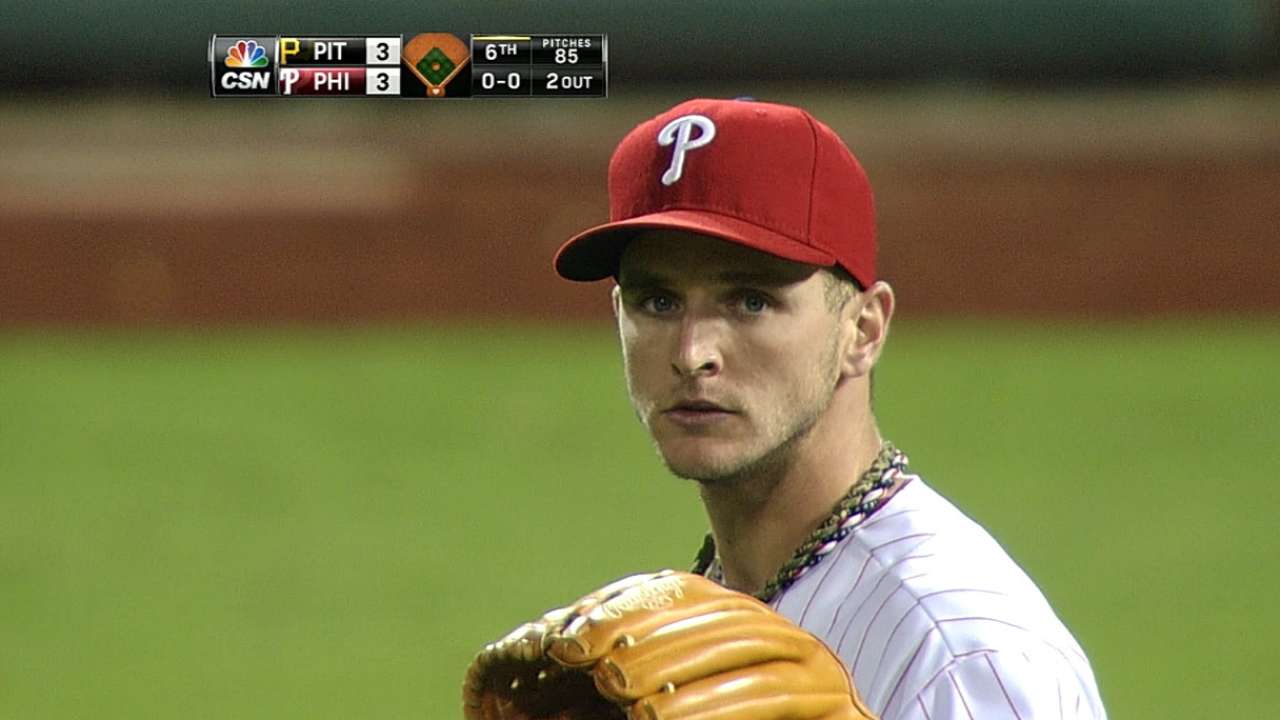 PHILADELPHIA -- The Phillies pitching rotation has, at times this season, included four All-Stars, three World Series champions, and a Cy Young award winner.
One of their most consistent pitchers over the past three months, however, is a man who doesn't fall under any of those categories -- David Buchanan.
"The main thing has just been staying confident, pounding the strike zone, putting the ball on both sides of the plate, and commanding the fastball," said Buchanan, when asked about his success in his rookie season.
At 25, Buchanan is the youngest member of the Phillies' rotation. He hasn't let this faze him, however, as he has pitched to the tune of a 3.90 ERA with a 6-7 record. He has used his teammates' experience to his advantage, conversing regularly with Cole Hamels, A.J. Burnett, Cliff Lee, and others.
"A to Z, you name it. I've learned so much from them," said Buchanan. "Everything from how to go about myself on the field, off the field and as a professional."
Buchanan struggled a bit when he first came up, allowing 16 earned runs in 23 2/3 innings with a 1-3 record in his first four starts. However, in 13 starts since June 14, Buchanan has increased his ground-ball rate, which has led to a 5-4 record with a much-improved 3.21 ERA.
"I got away from [throwing strikes and staying true to myself] a couple times and it showed in some of my outings," said Buchanan of his first few games. "As long as I stay true to myself, and not try to do too much, I'll be all right."
Buchanan's two best games of the season came against powerful National League Central teams -- the St. Louis Cardinals on June 19 and the Milwaukee Brewers on July 10. Buchanan pitched 7 2/3 and 7 innings, respectively, holding both teams to one run en route to Phillies wins.
Despite his successful debut campaign, Buchanan still sees some room for improvement for next season. He hopes to make his curveball more consistent and improve his command. He also wants to work on throwing his fastball and sinker more often and staying away from being too "cutter-crazy."
Growing up in Atlanta meant that Buchanan was a fan of the National League East rival Braves. His favorite player was former Braves and current Giants pitcher Tim Hudson. It isn't hard to see why Buchanan felt a special kinship for the four-time All-Star and winner of 214 career games-both are similarly-built right-handed sinkerballers who rely on the ground ball as their primary means of getting outs.
So, now that Buchanan has reached The Show, has he gotten to meet Hudson?
"Oh yeah," he says with a smile. "We're actually good buddies."
Steven Jacobson is a contributor to MLB.com. This story was not subject to the approval of Major League Baseball or its clubs.