Romine's great play called an out after replay
Tigers benefit from key eighth-inning gem in tight game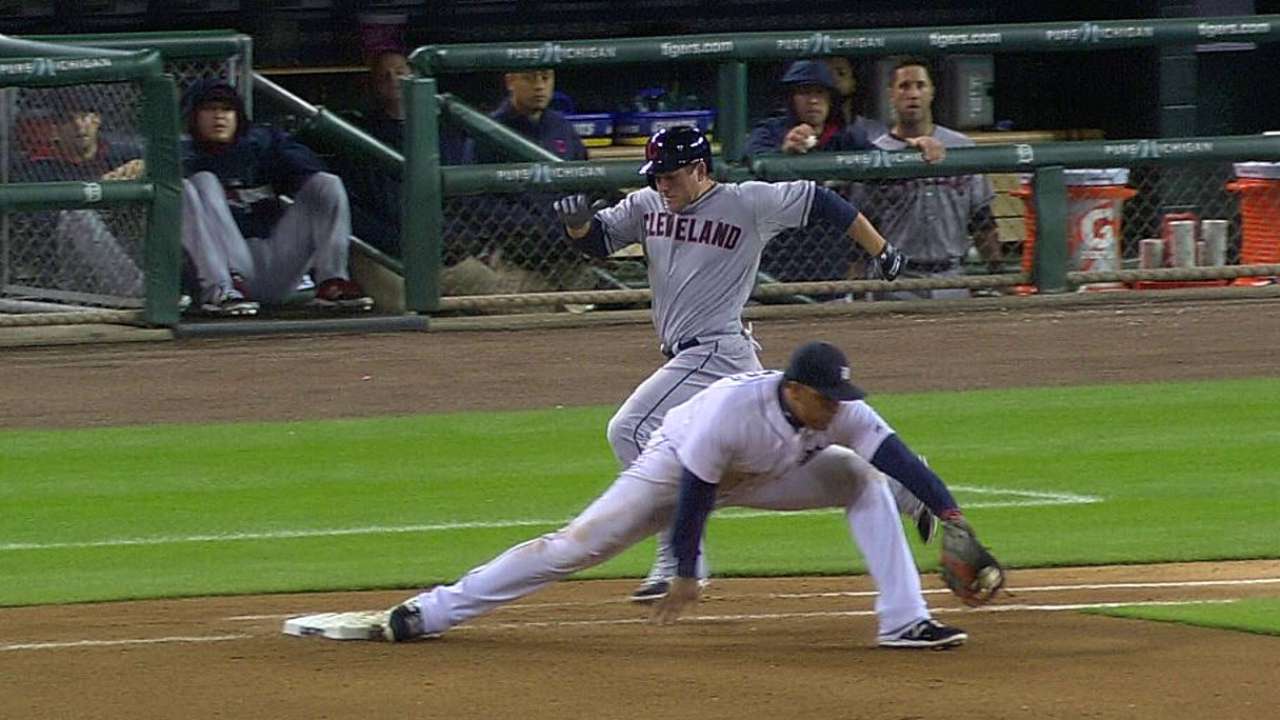 DETROIT -- The Tigers gained an eighth-inning out in a one-run game when a replay overturned what was initially ruled an infield single by speedy Indians outfielder J.B. Shuck.
Shuck, pinch-hitting for Mike Aviles with one out against Joba Chamberlain, hit a ground ball that sent shortstop Andrew Romine deep into the hole. Romine showed his arm strength on the throw, delivering a ball at the shoetops of first baseman Miguel Cabrera, but first-base umpire Jerry Layne ruled that Shuck beat the throw.
With his challenge still available, manager Brad Ausmus quickly got word from defensive coordinator Matt Martin and bench coach Gene Lamont to use it. The review took just 39 seconds once the first replay angle showed that Cabrera had the ball in his glove before Shuck's foot hit the bag.
Teams don't need a challenge to have a call reviewed from the seventh inning on. However, if a team still has its challenge, it has to use it. The ruling improved Ausmus' record to 21 plays overturned out of 37 challenges.
The call soon loomed large once Michael Brantley and Carlos Santana followed with back-to-back singles. Thus, instead of having the bases loaded and one out, Chamberlain had two on and two out for Yan Gomes, who was denied an RBI single when Torii Hunter made a diving catch.
Jason Beck is a reporter for MLB.com. Read Beck's Blog and follow him on Twitter @beckjason. This story was not subject to the approval of Major League Baseball or its clubs.