Rockies cut it close in ninth, but can't snap skid
Colorado scores three runs in final frame before Cards escape jam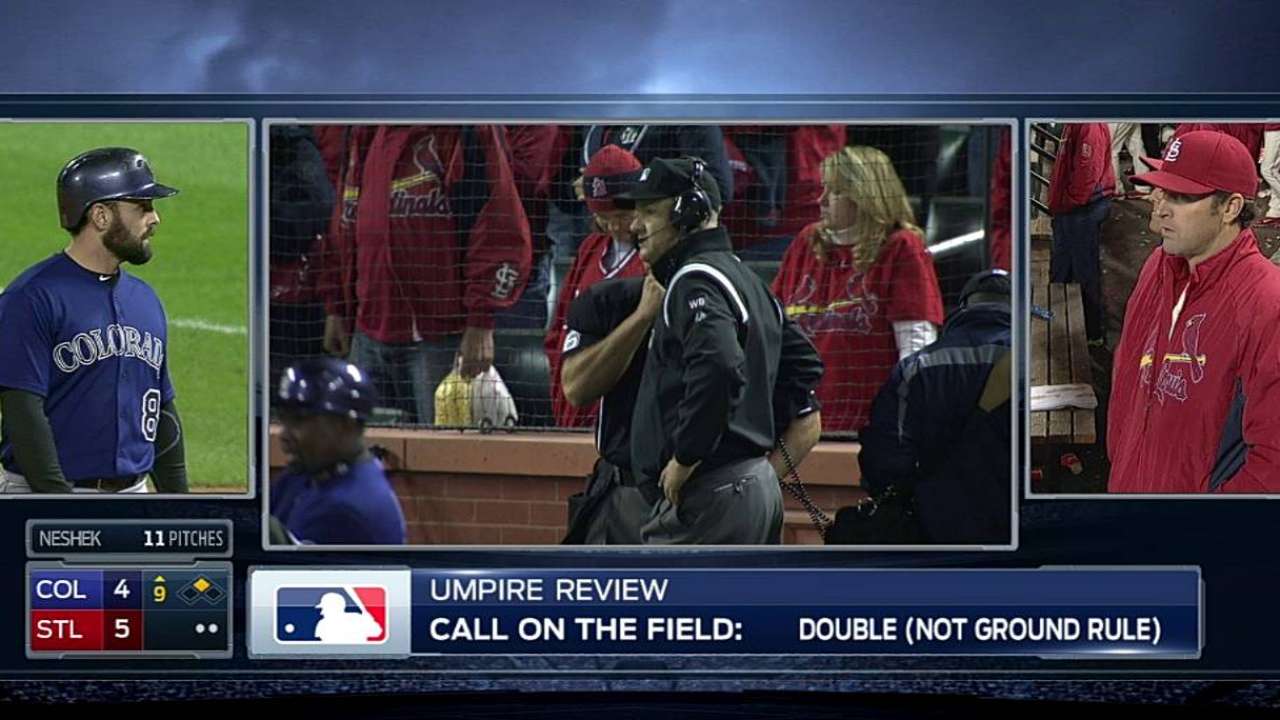 ST. LOUIS -- The Rockies' game on Saturday night began the same as Friday's, with Cardinals slugger Matt Holliday launching an impressive first-inning homer. Colorado would make a run in the ninth inning, but it wasn't enough as a rough road trip continued.
Homers by Holliday, a solo shot, and Matt Carpenter, a two-run blast in a three-run second, gave the National League Central-leading Cards the lead, and they withstood the late rally for a 5-4 victory against the Rockies at Busch Stadium in front of 45,552.
In the ninth, Drew Stubbs drew a leadoff walk and Matt McBride doubled with one out against Sam Freeman. Pat Neshek entered the game for the Cards and gave up Wilin Rosario's RBI single, Josh Rutledge's sacrifice fly and Michael McKenry's RBI double. However, Neshek got pinch-hitter Rafael Ynoa on a fly ball to center to end the game and earn his sixth save.
Afterward, Rockies manager Walt Weiss lamented missed opportunities that could have put the Rockies in better position before the ninth. Michael Cuddyer went 3-for-4 with a double, with two of his hits leading off an inning and one coming with one out. However, just once, when Ben Paulsen followed up Cuddyer's leadoff single in the fourth inning with an RBI single with two outs, did Cuddyer advance after a hit.
The Rockies managed five hits in six innings against starter Shelby Miller (10-9), who struck out five against no walks, and nine hits total. But the inability to do much with those hits was symbolic of a season-long problem that has repeated itself during this road trip, which has seen the Rockies lose the first five games with one more to play. At 20-54 on the road, the Rockies must win five of their final seven road games just to match the 2003 team and avoid having the worst away mark in club history.
"We need to manufacture a run or two there," Weiss said. "We didn't do it. We made a few mistakes. You're not going to get away with those against a club like that. You've got to be opportunistic."
Despite the furious comeback attempt, Colorado's loss and the D-backs' victory over the Padres on Saturday pushed the Rockies (59-89) into the NL West cellar by themselves.
"We put together some good at-bats, some pinch-hit at-bats, a couple RBI hits in the ninth," Weiss said. "Guys are battling. We're pretty much emptying the bench to try to win that game."
The Cardinals' two homers came off Rockies starter Franklin Morales (6-8), who has yielded 24 homers this year. That's the fourth-most homers in the NL, for a pitcher who has bounced between the rotation and the bullpen.
"These are the big leagues," said Morales, who gave up five hits and four runs in four innings while laboring for 87 pitches. "I missed two pitches and they got me.
"That's tough when you have your best stuff and you miss two pitches like I did. I threw good curveballs, good changeups. I missed two pitches and I paid for that. I felt pretty good today."
Holliday's 18th homer of the year -- a night after his three-run homer set in motion a 5-1 Cardinals win over the Rockies -- gave the Cards a 1-0 lead. With two down in the second, Morales walked Pete Kozma and gave up an RBI double to Miller. Then Carpenter hit his eighth homer of the season for a 4-0 Cardinals lead.
"That was a big walk right there, and Miller getting the RBI double," Weiss said. "There were a few things we didn't execute on both sides of the ball that in the end cost us. We fought back in the last inning against a tough reliever, but there were some things we didn't execute. We paid for it."
Thomas Harding is a reporter for MLB.com. Read his blog, Hardball in the Rockies, follow him on Twitter @harding_at_mlb, and like his Facebook page, Thomas Harding and Friends at www.Rockies.com. This story was not subject to the approval of Major League Baseball or its clubs.