Cards hold on late to bolster lead in division
St. Louis moves to 3 1/2 games up in NL Central; Miller strong on hill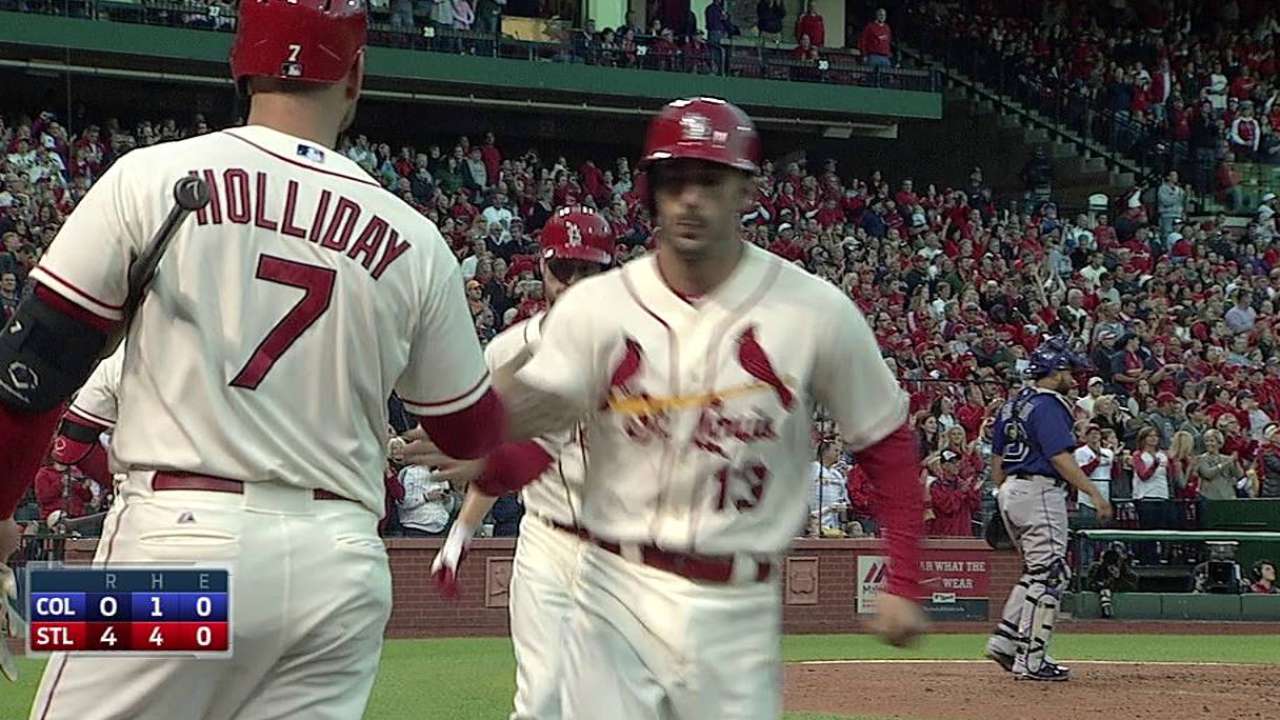 ST. LOUIS -- The Shelby Miller renaissance continued for the Cardinals on Saturday night.
Again showing confidence in an array of secondary pitches, along with bashing a key double, Miller continued his string of strong starts in a 5-4 win for St. Louis against the Rockies in front of 45,552 at Busch Stadium. The Rockies scored three runs in the ninth inning, but Pat Neshek got Rafael Ynoa to fly out to center to end the game.
The win extended the Cardinals' lead in the National League Central to 3 1/2 games over the Pirates, who lost to the Cubs.
Miller went six innings and gave up one run. He struck out five, but more importantly for the Cards, Miller didn't walk anybody for the second consecutive game.
"They've got some studs in that lineup," Miller said. "Throughout the whole thing, they're all tough outs and I'm just trying to keep getting them out in the strike zone. No walks against a team that's patient, that's got power and puts together good at-bats. I'm happy about that."
As he did the night before, Matt Holliday gave the Cardinals the lead with a first-inning home run. Holliday's 18th homer made it 1-0.
Miller laced a 1-1 pitch into the left-field corner to score Pete Kozma in the second. Two pitches later, Matt Carpenter lined a Franklin Morales pitch over the right-field wall to make it 4-0 Cardinals.
"Kozma obviously is really fast and scored on it," Miller said of his double. "I just tried to get a pitch to hit. As starting pitchers, and even our relievers, we work on hitting a lot. We almost swing it every single day except on days we don't take BP. That's something we take some pride in and we know at the plate we can help ourselves win if we put the ball in play and just try to get hits."
Ben Paulsen ended Miller's scoreless streak in the fourth with a two-out RBI single to cut the Cardinals' lead to 4-1. Miller's scoreless streak ended at 17 2/3 innings. Miller's previous career-best scoreless streak was 14 2/3 innings.
The streak has coincided with catcher Yadier Molina's return from the disabled list.
"Yadi is special," Miller said. "He's one of a kind. Just when it comes to knowledge of catching and knowing hitters and just all around being an absolute stud behind the plate, he's got it all. I think we all know that and he's a key reason to my success. Not only this stretch of good games but just my career. I rely on that guy a lot and I trust him with every pitch I throw to him."
"I think there's always an emphasis in our book on what happens with the catcher working with a pitcher," Cardinals manager Mike Matheny said. "And sometimes it's just a safety net. I think guys get comfortable with somebody, but there's other times they make a difference in how they use their stuff. I think Yadi's been very creative with the new pitches Shelby has and it's translated into better outings."
Miller needed just 83 pitches to get through six innings and probably could have gone deeper, but sensing a chance to tack onto the lead, Matheny opted to pinch-hit Oscar Taveras for Miller with two on and two outs in the sixth.
Taveras responded with an RBI single to make it 5-1.
"Obviously, I want to keep going, but at the same time your manager knows what he's doing," Miller said. "I'm not a guy who would ever doubt any of Mike's choices. He knows what's best for the team, he knows his game plan and Oscar comes in and gets a hit and we get another run right there and eventually we win by a run. That's just good managing, and obviously he's one of the best in the game."
St. Louis knocked Morales out of the game after just four innings. Morales labored from the start, throwing 87 pitches and giving up four runs.
"That's tough when you have your best stuff and you miss two pitches like I did," Morales said. "I threw good curveballs, good changeups. I missed two pitches and I paid for that. I felt pretty good today."
The Rockies added two runs off of Sam Freeman in a ninth inning that included two replay challenges.
Freeman walked Drew Stubbs and Nolan Arenado lined out to second. Kozma quickly threw the ball to first to try and double off Stubbs, but umpire Jeff Nelson called him safe. Matheny challenged the call, but was unsuccessful.
Matt McBride then chased Freeman from the game with a double. Wilin Rosario greeted Neshek with a single to score Stubbs and McBride scored on a sacrifice fly to make it 5-3 with two outs.
Pinch-hitter Michael McKenry scored Rosario with a double, but the play went to a crew chief review to make sure there wasn't fan interference. The call was confirmed, but Neshek was able to hang on for his sixth save of the season by retiring Ynoa.
"We put together some good at-bats, some pinch-hit at-bats, a couple RBI hits in the ninth," Rockies manager Walt Weiss said. "Guys are battling. We're pretty much emptying the bench to try to win that game."
It was noted that Trevor Rosenthal, the co-leader in the NL for saves, never even warmed up during the Rockies' rally. Matheny said he was trying to save Rosenthal after using him the night before and Neshek hadn't pitched since Monday.
"We're going to be careful," Matheny said. "Whenever we can stay from going back to back and one of those guys is ready, we're going to go with them. We had faith that Pat was going to get the job done and he did."
Joe Harris is a contributor to MLB.com. This story was not subject to the approval of Major League Baseball or its clubs.