MLB.com Columnist
Tracy Ringolsby
A's hoping hard-fought win can build momentum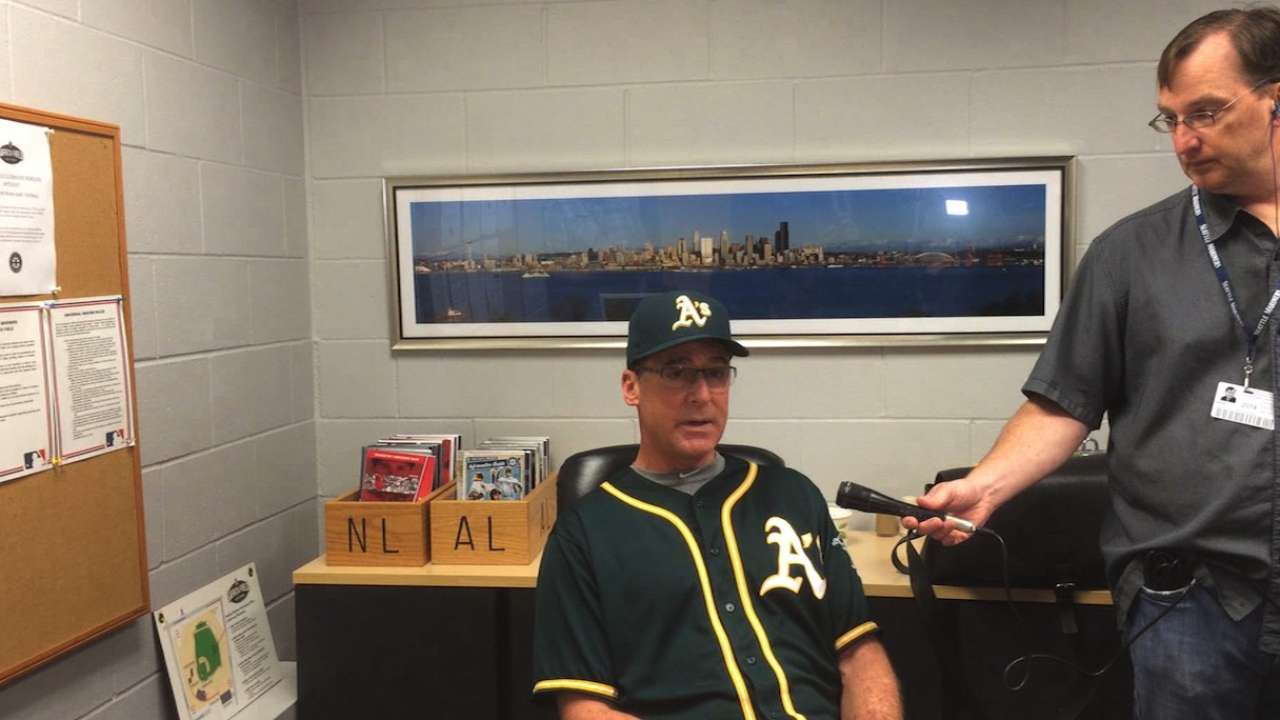 SEATTLE -- No denying the baseball axiom about momentum being the next game's starting pitcher. The motion, however, has to get started before the momentum takes over. And the Oakland A's may well have found that starting point on Saturday night.
It is not just that they literally walked away with a 3-2, 10-inning victory against the Mariners at Safeco Field. It is not just that they avoided falling into third place in the chase for the two American League Wild Card spots. It is not just that they exploited the erratic ways of Seattle closer Fernando Rodney in that four-walk, game-winning rally.
All of that was nice, particularly for a team that had lost 12 of its previous 15 games, 10 by margins of one or two runs. But Oakland also did all that on a night it had to face Felix Hernandez. The Mariners had won his five previous starts against the A's this season.
OK, it was just one of 162 regular-season games, and one of 82 wins Oakland has managed in the 148 games the has played so far this season. Sometimes, however, one is bigger than the other ones.
This could be that time.
Even the Athletics admit that.
"No question about it, this is a huge win for us," said Oakland manager Bob Melvin. "Hopefully we can build off this."
The A's need a foundation to reclaim their season. They have spent 119 days this season in first place, but right now, they are 11 games behind the division-leading Angels. That division title no longer is a hope. They are just trying to keep hold of a chance to be a part of that one-game Wild Card Game showdown that kicks off the postseason.
The A's are a team that with Saturday's victory is still only 10-22 since Aug. 10, back when they actually had a four-game lead on the Halos, and were 11 games in front of a No. 3 team in the battle for the two AL Wild Card spots.
They are a team that showed up at Safeco Field on Saturday afternoon nursing a half-game lead on the Mariners and the Royals in the battle for the two Wild Cards.
"It's one thing to score runs in Chicago," Melvin said of an 11-2 Tuesday victory against the White Sox that had been the Athletics' only win in the last six games. "It's another to walk off a game against and win against their two best pitchers."
Hernandez was, well, Hernandez. He limited the A's to two runs in seven innings -- a Josh Donaldson home run in the sixth and an RBI single by Eric Sogard with two outs in the seventh that scored Josh Reddick, who had doubled with one out. Hernandez didn't walk a batter and struck out eight.
That wasn't good enough, though. Hernandez departed with the score 2-2, but that was only because after the A's went up by a run in the top of the seventh, Robinson Cano led off the bottom of the inning with a game-tying home run off Oakland starter Sonny Gray.
Not only did Hernandez not win, Seattle didn't win because in the 10th, Rodney stumbled through a 32-pitch, 22-ball adventure that included a bases-loaded two-out walk of Jed Lowrie to force home the game-deciding run.
So is that enough to provide that jump-start the A's need to navigate the final 14 games of the regular season and hang on to a Wild Card spot?
"I've been asked that before [after recent victories], but you would like to think a game like this can," said Melvin. "We lost [Friday] night, and are facing Felix [on Saturday]. To win a game like this, you like to feel it can do that."
It was a win in a head-to-head showdown with a team that not only is battling the Athletics for a Wild Card spot, but has already won the season series, holding a 10-8 edge going into Sunday's season finale between the two.
It was a win that sets the stage for Oakland to win a series for the first time since it took two of three in Houston from Aug. 25-27, and to win back-to-back games for the first since Aug. 22-23 at home against the Angels, and the first time doing so on the road since July 26-27 at Texas.
And in the series finale, the Athletics will call on lefty Jon Lester. He was the A's July 31 addition from Boston at the expense of the bat of Yoenis Cespedes, because they envisioned Lester keying not only a stretch drive to the postseason, but helping claim a World Series championship that has eluded them since 1989.
Lester is 8-3 with a 1.79 ERA his last 16 starts -- the second-lowest ERA in that span among AL pitchers, behind only Indians right-hander Corey Kluber.
"We feel good about every game with the starting pitcher we can send out there," said Melvin.
Just like one win can be bigger than the other, one pitcher can provide a little more confidence than the others. That, after all, is why Lester is in an A's uniform to begin with.
Tracy Ringolsby is a columnist for MLB.com. Read his blog, Write 'em Cowboy. This story was not subject to the approval of Major League Baseball or its clubs.