Niese, Mets upended by late Nationals homer
Southpaw's seven-strikeout game marred only by Ramos' two-run shot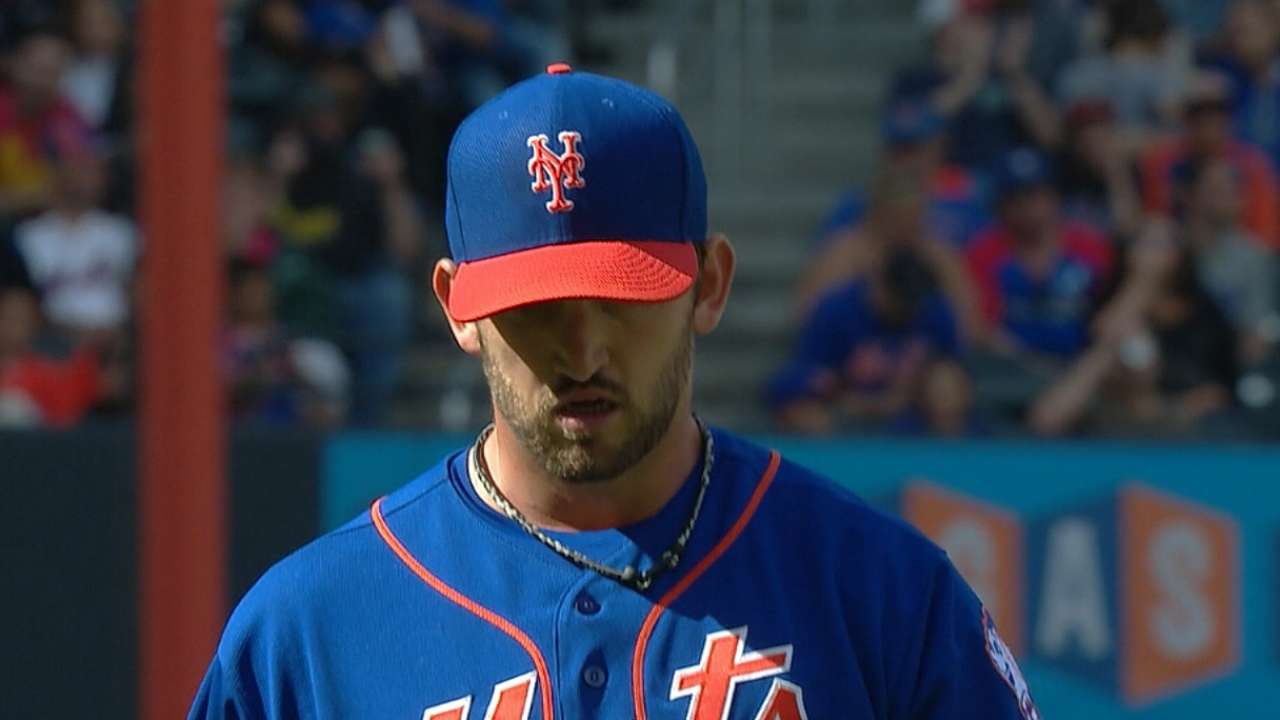 NEW YORK -- Mathematically, the Mets officially withdrew from contention in the National League East once the final out of Sunday's 3-0 loss to the Nationals settled into Jayson Werth's glove. And much of that was largely because of the Nationals. With three games remaining against their division rival, all in Washington, the Mets are 3-13 against the Nats and 69-65 against everyone else.
The Mets are soon likely to lose their mathematical battle in the Wild Card race, as well, with their official elimination becoming a formality. They couldn't beat the Nats all summer long, thus robbing themselves of the chance to beat anyone in October.
"They're on top of the division because they're a good team," Mets starting pitcher Jon Niese said. "They do everything well."
There was no single game, inning or play that stood out among Washington's April-through-September dissection of the Mets, though Sunday's loss was typical of the way New York has played. Led by a rejuvenated Niese, the Mets pitched well -- but not well enough. Facing a characteristically consistent Jordan Zimmermann, they rapped out some hits -- but ultimately too few. And so they lost a game that they managed to keep close, without ever really threatening to seize it for their own.
Zimmermann made certain of that, scattering six hits and a walk over 6 2/3 scoreless innings, in what was essentially a playoff tuneup. Not many Mets hit the ball hard off him, leading to even fewer legitimate scoring opportunities. The best of those unfolded in the fourth inning, when the Mets loaded the bases with one out. But Ruben Tejada lined out to shortstop and Niese popped out, keeping the two teams locked in a scoreless tie.
The Nationals finally broke it open on Wilson Ramos' two-run homer in the seventh, after Ian Desmond beat Niese to first base on an infield grounder and Bryce Harper laid down a sacrifice bunt. Zimmermann recorded two more outs in the seventh before turning things over to a trio of relievers, who closed things out without any major issues.
"When they have men at second and men at first men at third, they bring runs in," said infielder Wilmer Flores, who paced the Mets' offensive attack with two hits, but allowed Washington's third run to score on his ninth-inning error. "They do it. We haven't done that."
Flores spoke those words shortly after the Mets retreated to their clubhouse, taking solace only in the fact that they won't be welcoming the Nationals back to Citi Field any more this season. Yet they will soon enough, with Zimmermann, Harper, Anthony Rendon and plenty of others here to stay. Given how much young talent Washington employs, the Nats will remain a critical litmus test for the Mets going forward -- for any club, really, with dreams of competing in the NL East.
"They've done an outstanding job of putting their team together," Collins said. "They've got a lot of big pieces for you. They're tough throughout the lineup. They've got power. They've got a good team."
Collins added that, in terms of sheer ability, he does not believe the Mets are too far away from what the Nats have established. Much of the statistical difference between the clubs has come about due to the games they played head to head. Both Niese and Flores added that it's more a matter of limiting their own mistakes, and taking advantage of Washington's, than it is any insurmountable talent gap.
Right now, the Nationals are -- as Jimmy Rollins might say -- the team to beat. If the Mets want to be the ones lining up their playoff rotation this time next year, they'll need to figure out a way to change that.
"It's going to be a challenge," Collins said. "They're going to be in good shape. They are young and they're going to have another year under their belt, also. But we've made a lot of changes here, and I agree with exactly what [general manager] Sandy [Alderson] said three months ago: We're very, very close. What a tremendous pitching division this is going to be. It's not going to be easy on anybody."
Anthony DiComo is a reporter for MLB.com. Follow him on Twitter @AnthonyDicomo. This story was not subject to the approval of Major League Baseball or its clubs.