Angels shave magic number with 10th straight win
Trout homers twice in support of Weaver's 12-strikeout gem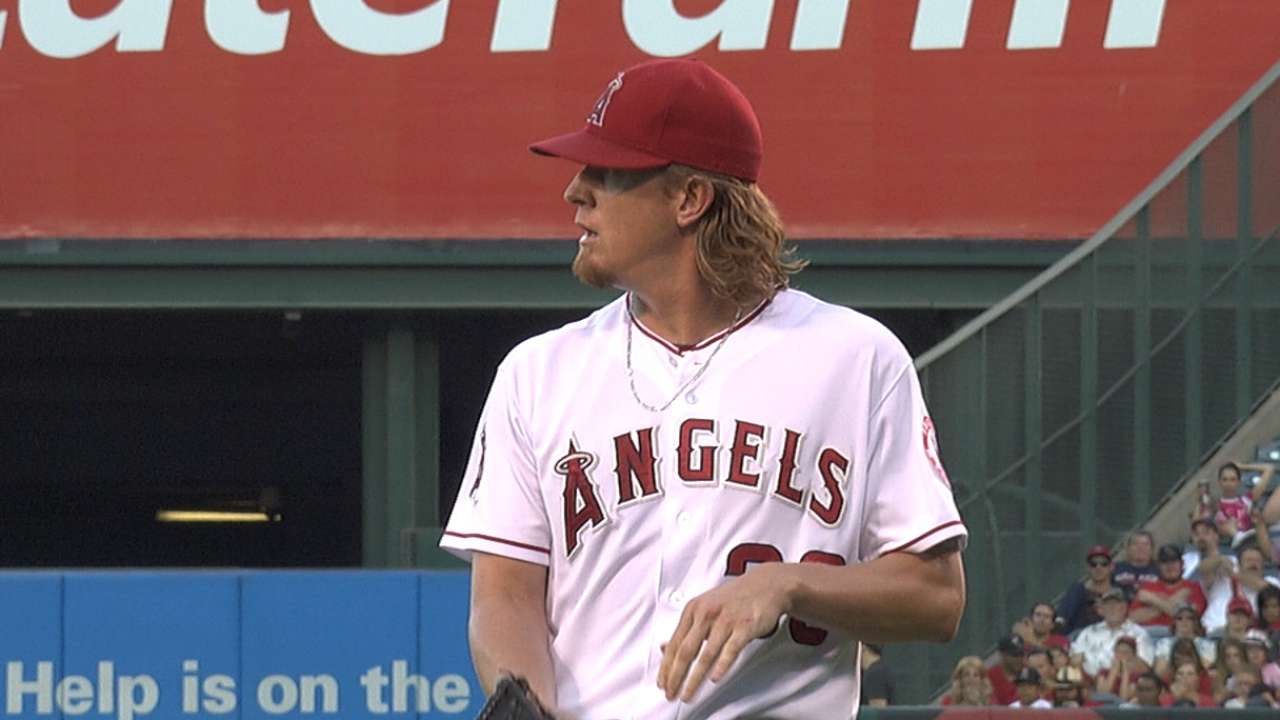 ANAHEIM -- Angels logos through the years line the top of the home clubhouse in Anaheim. They represent the club's past, their present, and -- thanks to a new addition Saturday -- their seemingly imminent future.
Sometime before the Angels closed out a 5-2 win over Houston, Angels staff placed blue tape and double-sided adhesives between the logos, a measure to hang protective wrap in front of the players' lockers that signaled the preparation of a champagne and beer shower -- one that will come when the Angels clinch the American League West.
Highlighted by Mike Trout's two home runs and Jered Weaver's gem, the win marked the 10th straight win for the Angels, their longest winning streak since 2002. It maintained their lead atop the AL West at 11 games while pushing their magic number down to four.
The Angels are on the precipice of a division championship -- and Weaver is a big reason why.
Weaver picked up his American League-leading 17th win by throwing seven innings of one-run ball while striking out a season-high 12. Weaver hadn't struck out that many since April 2011.
"We've seen Weave just, year after year, come out and be the lead dog," Angels manager Mike Scioscia said. "Even times when he doesn't have his best stuff, he keeps us in games and gives us chances to win. Tonight, his stuff was exceptional.
"I don't think I've seen Weave throw like this for five years."
Five years ago, Weaver notched 16 victories as the Angels won the AL West, the club's most recent division championship.
It didn't take long to realize Weaver was in vintage form Saturday night. Scioscia said he noticed it after two pitches. Catcher Hank Conger said he figured it out after the first inning. Weaver felt it in the bullpen before the game.
All 13 of his first-inning pitches were strikes and only two of his first 25 missed the strike zone.
"He's been anchoring us the whole year," Conger said. "There have always been times when he's not 100 percent and he's been able to go out there and fight through some things. Every time he takes the mound every fifth day, you know there's kind of a stability, consistency. For us, the whole season, that's what we need."
Only seven of Weaver's 32 starts this season have been fewer than six innings, and since Garrett Richards was lost to a season-ending knee injury, Weaver has posted a 2.48 ERA in five starts.
Weaver's ERA now sits at 3.50, the lowest it's been in nearly two months, with just two weeks remaining in the regular season. Does Weaver feel like he's hitting his stride heading into the postseason?
"I hope so," Weaver said.
Weaver's 12-strikeout performance was his first double-digit punchout start of the season and the 13th of his career.
"We know what he means to us and how important he is to us and how he just finds a way to get outs and get to a certain point in the game and give us a chance to win," Scioscia said. "He's done that starting every start this season. There's no doubt he's a Cy Young candidate. He showed why tonight."
The sizzling Angels offense scuffled early on against Astros starter Scott Feldman. After exploding for 81 runs in their previous nine games of the streak, they struggled to piece together runs against Feldman, with Trout's solo blasts as the only damage.
In the first inning, Trout gave the Angels an early 1-0 lead with his 33rd home run of the season, an opposite field shot on Feldman's full-count cutter. Two innings later, after the Astros knotted the game at one, Trout led off the third with a blast to center field. Saturday marked the third multi-home run game of Trout's career and second of this season.
Weaver handled everything else. He gave up a run in the third inning when two hard-hit balls bounced in and out of Gordon Beckham and Kole Calhoun's gloves. But in his other six innings, Weaver allowed just two Astros to reach, one on a hit and one on a walk.
"This guy's a No. 1 starter with terrific stuff and struck out 12 tonight," Scioscia said. "That's what he can do."
Now, he can simply wait for the celebration.
Matthew DeFranks is an associate reporter for MLB.com. Follow him on Twitter @MDeFranks. This story was not subject to the approval of Major League Baseball or its clubs.