A's walk way to top AL Wild Card spot
Four 10th-inning free passes give Oakland win over pursuing Mariners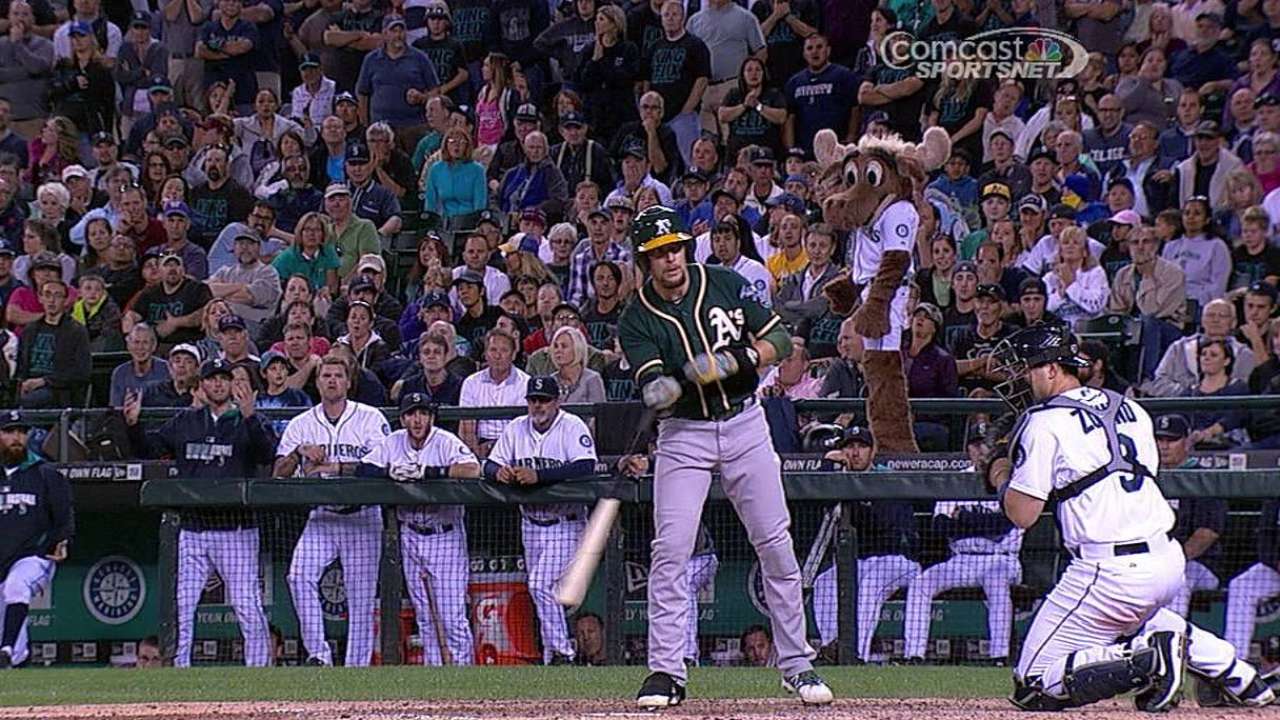 SEATTLE -- In need of a win to keep hold of an American League Wild Card spot, the A's bucked the odds in securing it in a game started by Felix Hernandez on Saturday night.
Seattle's ace wasn't around for the end of Oakland's 3-2 victory, with Fernando Rodney walking in the go-ahead run in the 10th, but that the reeling A's were able to overcome the psychological hurdle of winning a game opposed by Hernandez could be exactly what they need to build some confidence and keep the mojo afloat.
They haven't won back-to-back games since mid-August but have put themselves in good position to do just that, with Jon Lester toeing the mound in Sunday's series finale with Oakland riding a half-game lead over the Royals for the top Wild Card spot.
"No question about it, this was a huge win for us," said manager Bob Melvin. "Hopefully we build upon this one. It's one thing to score some runs in Chicago the other night, it's another to [win] a game against a guy that's been really tough on us."
The A's had dropped each of their previous five games started by Hernandez this season but managed to get him out of the game with the score knotted at 2 after seven, with Sonny Gray dealing on the other side. They whiffed at multiple scoring opportunities in the next two frames before walking their way to a crucial win in the 10th.
"I think we needed a game like this to go our way," said Gray. "Hopefully tonight can jumpstart us and get us going.
"This was a big game for us. Everyone knew going in it was going to be tough, and if we were going to win, it was going to be exactly how it ended up, down to the end, tight, and it was good to pull it off at the end."
Coco Crisp worked a walk to lead off the 10th against Rodney, and a one-out intentional walk to Josh Donaldson put two on with one out for Alberto Callaspo, who also walked. Brandon Moss struck out for the second out but Jed Lowrie walked on just four pitches to bring in the go-ahead run.
"He's got such a good changeup and such good velocity on his fastball, I'm not going up looking for a walk, I'm going up looking for a good pitch to hit," said Lowrie, "and I never got it."
Sean Doolittle worked a 1-2-3 10th in his first appearance off the disabled list for his 21st save, and not to be forgotten was Luke Gregerson's handling of Seattle's heart of the order in the ninth in front of a roaring crowd.
"It was electric," said Doolittle. "It was playoff-style atmosphere. Their fans were great. It was really loud all night long, and I think that's part of the reason it's such a big win for us, coming on the road, in such a big atmosphere, with Felix on the mound. It's a huge, huge team win for us.
"I haven't had an adrenaline rush like that in a really long time. Such an emotional game. The way our guys battled, I just had to go out there and try not to get caught up in it, keep it as simple as I could. That was a rush, for sure."
Doolittle deemed Gray "incredible" while Melvin called his starter "terrific," and Gray was all of the above, working eight innings and allowing two runs on just five hits, including Robinson Cano's game-tying homer in the seventh after the A's had gone ahead in the top half of the frame on Eric Sogard's third hit of the night, an RBI single.
Donaldson provided Oakland's first run on a screaming solo shot to left field, his 27th long ball of the season but first since Aug. 28.
The A's had dropped 22 of their previous 31 games, which is why they're not ready to call this the turning point, though it very well could end up proving to be just that.
"At the end of the day, even though it's a huge win for us, it only counts as one," said Doolittle, "and I think if we look at it like a game that's going to jumpstart us, that puts a little too much pressure on the next day.
"Obviously we're feeling really good about this win, but when we leave here and get on the bus back to the hotel, it doesn't matter, because we have to come ready to play again tomorrow and get back to narrowing our focus and playing for that day."
Jane Lee is a reporter for MLB.com. This story was not subject to the approval of Major League Baseball or its clubs.