Cano's HR rallies Mariners, but A's get final say
Seattle one game behind KC in Wild Card race with loss to Oakland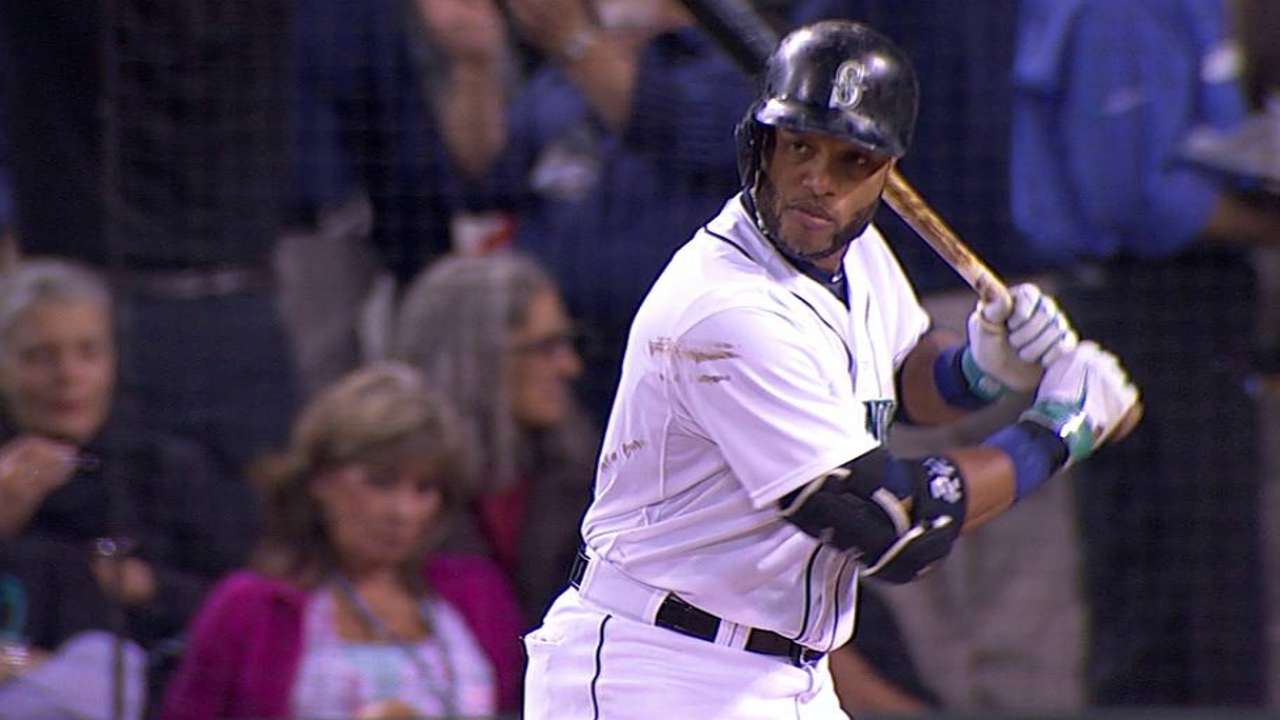 SEATTLE -- The Mariners got just about everything you'd want Saturday night at Safeco Field. Sellout crowd. Strong outing from Felix Hernandez. Electric atmosphere for a game with postseason implications.
But in the end, the A's spoiled the party with four walks off closer Fernando Rodney in the top of the 10th as they pulled out a 3-2 victory that dropped the Mariners a game back in the American League Wild Card chase.
"That was a tough one," Hernandez said in a quiet Mariners clubhouse. "We battled, but that was tough. That's all I can say."
Rodney, who tied the club record with his 45th save of the season a night earlier, walked the bases loaded with one out in the 10th -- including one intentional pass after the leadoff runner was sacrificed to second -- then struck out Brandon Moss before forcing in the go-ahead run on four straight balls to Jed Lowrie.
"It was tough to find the strike zone," Rodney said. "I was a little bit jumpy on the mound. I don't know why. Maybe it was emotional. I tried my best. It didn't happen. I'll be ready for tomorrow."
The A's had gone 9-22 since Aug. 10, losing their AL West lead and putting their own playoff hopes in jeopardy, but found life Saturday in the robust atmosphere at Safeco.
"It was electric," said A's closer Sean Doolittle, who slammed the door in the 10th for his 21st save. "It was playoff-style atmosphere. Their fans were great. It was really loud all night long, and I think that's part of the reason it's such a big win for us, coming on the road, in such a big atmosphere, with Felix on the mound. It's a huge, huge team win for us."
With AL Central co-leaders Detroit and Kansas City both winning, the Mariners needed a win to secure a grip on one of the Wild Card spots. Instead, the A's held on to the first Wild Card spot at 82-66, a half-game ahead of the Royals (81-66), with Seattle now a game back of Kansas City at 80-67.
The Mariners and A's meet in the final game of the weekend series Sunday before Seattle embarks on an 11-game road trip.
With 15 games to go, the Mariners are fighting for their first postseason appearance since 2001, and Saturday's game had all the drama expected of a playoff push.
The challenge now is to put this one quickly away and move on.
"Every one here is a grown man," said Robinson Cano, one of the few playoff-tested players on the Mariners. "You can't put your head down by one game. We've been in this situation during the season and the beginning of the season. I know now it means more than ever, but I know we've got a great team and we didn't come this far by mistake. We're here because we have the talent and have a great team. We just have to stay together and be ready for tomorrow."
Cano tied the game at 2 with a seventh-inning solo blast to right field, his 14th homer of the season and biggest hit since signing with the Mariners, as it answered Oakland's go-ahead run in the top of the seventh on the first pitch Sonny Gray delivered after being handed the lead.
"It was big because we tied the game," Cano said, "but we lost, so that doesn't mean anything right now."
Pitching in front of a sellout crowd of 43,913 on a "Night Court" at Safeco Field -- with black King's Court T-shirts handed out to the first 35,000 fans -- Hernandez threw seven innings of two-run ball before turning the game over to the bullpen.
"When I came out to warm up, it was really good. The crowd was spectacular," Hernandez said. "The emotions were the same, I just have to go out there and do what I can do to win a game. It's just too bad we lost."
Hernandez has dominated the A's all season, going 4-0 with a 2.22 ERA in six starts, but wound up with a no-decision after allowing seven hits with no walks and eight strikeouts before being pulled after 95 pitches. He remains 14-5 on the season, with a 2.14 ERA that ranks second in the AL behind the 1.99 of the White Sox's Chris Sale.
The A's came out aggressively against Hernandez, with Coco Crisp singling on the first pitch of the game before the next three batters were retired on just four more pitches. Hernandez breezed into the sixth with a shutout until third baseman Josh Donaldson laced a 1-0 pitch over the left-field fence to tie the game at 1.
Oakland then scored the go-ahead run in the seventh when Josh Reddick doubled, moved to third on a wild pitch and scored when Eric Sogard lined a single just over the glove of leaping shortstop Chris Taylor.
"I felt pretty good," Hernandez said. "They had a different approach today. They came out swinging and I just had to make good pitches. It was a good game."
Right fielder James Jones tripled off the center-field wall leading off the third, and later scored on a single by fellow rookie Taylor to give the Mariners an early 1-0 lead. But that turned out to be the only lead of the night for Seattle in a taut game that ultimately turned on Lowrie's four-pitch walk.
"He's got such a good changeup and such good velocity on his fastball, I'm not going up looking for a walk," Lowrie said. "I'm going up looking for a good pitch to hit, and I never got it."
That sent the Mariners' second-largest crowd of the season home on an unhappy note, but manager Lloyd McClendon said their efforts were heard.
"I thought the fans were great," McClendon said. "Listen, this is a grind. We have 15 games left now and this schedule is grueling, the travel is grueling, the whole nine yards. And I thought our fans were great tonight, and they really uplifted the players. We just couldn't get the big hit to put us over the top."
Greg Johns is a reporter for MLB.com. Follow him on Twitter @GregJohnsMLB as well as his Mariners Musings blog. This story was not subject to the approval of Major League Baseball or its clubs.