Masset healthy, optimistic about future in Majors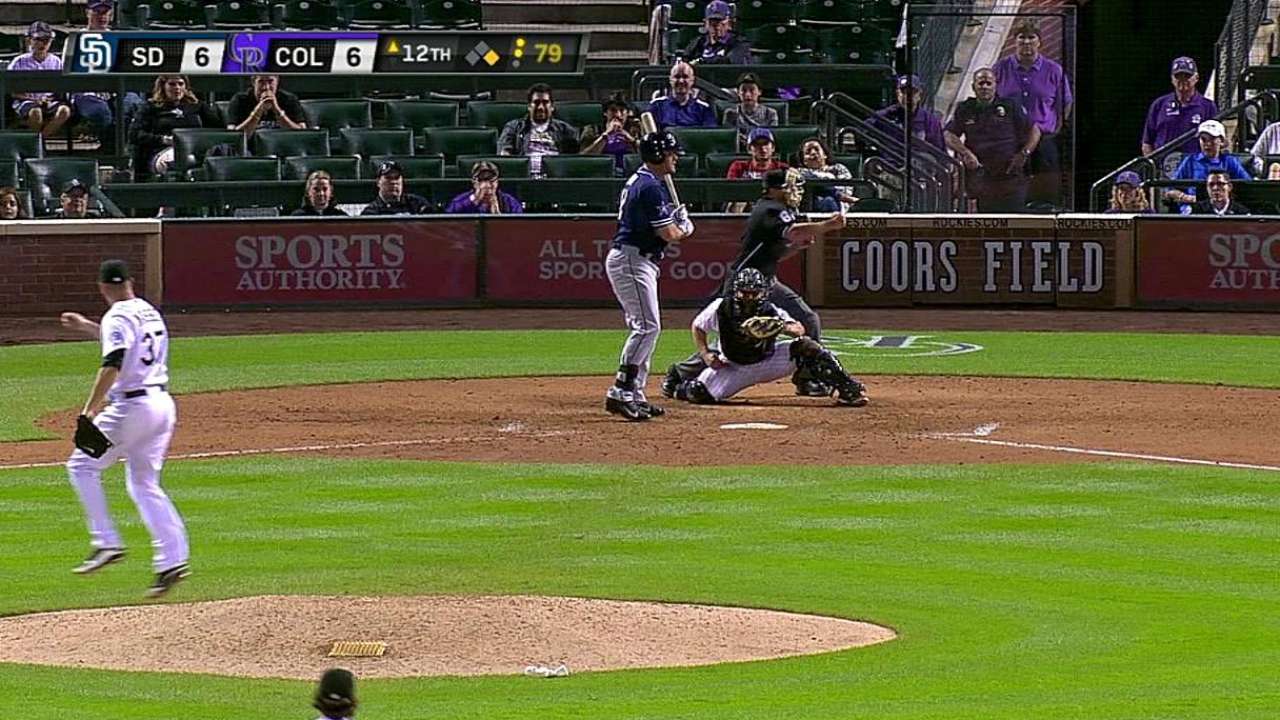 ST. LOUIS -- Righty reliever Nick Masset's performance in the Rockies' 5-1 loss to the Cardinals on Friday night was an illustration of his mixed-bag season -- a clean seventh inning before allowing a run on a Yadier Molina double with two outs in the eighth.
But being on the mound at all and being healthy enough to pitch in September are major steps forward for Masset, who didn't pitch in the Majors from 2011, when he was with the Reds, until making his Rockies debut on May 5.
Right shoulder surgery, operations to correct thoracic outlet syndrome in his neck area and, this spring, a cleanup of a staph infection in his collarbone area, derailed Masset's career. By making 47 appearances, Masset has re-established himself as a Major League pitcher. His 2014 numbers -- 2-0, 5.49 ERA -- don't approach his performance with the Reds, when he was one of the National League's most dependable setup men.
But the question the Rockies must answer is whether they believe Masset -- a potential free agent after the season -- will fully return to form in 2015.
"When guys have been out for a while, the first year back they might go through struggles and be better the next year," Masset said. "I'm hoping that's the case.
"I'm just very lucky and blessed to be able to come back and pitch again. I thought my career might've been over. With the way I feel, I know what I need to do to go into the offseason and train."
Masset appeared in 231 games for the Reds from 2009-11. The idea of him being a workhorse in the bullpen could be appealing to the Rockies, whose bullpen was hurt by poor performances from key guys and injuries this season. Relief pitching figures to be an area of focus as the Rockies build next year's roster.
"I look at it a lot like [first baseman Justin] Morneau's situation -- he probably didn't have his greatest statistical season last year, but he re-established himself in the game by going out and playing 150-plus games," Rockies manager Walt Weiss said. "That's similar to Nick's season this year.
"Nick's stuff has still been top-level stuff. His command hasn't been sharp all the time, but that's typically what happens to a pitcher that's missed a lot of time. When his command has been there, he's been very good."
Thomas Harding is a reporter for MLB.com. Read his blog, Hardball in the Rockies, follow him on Twitter @harding_at_mlb, and like his Facebook page, Thomas Harding and Friends at www.Rockies.com. This story was not subject to the approval of Major League Baseball or its clubs.