Prospect Grichuk forcing his way into lineup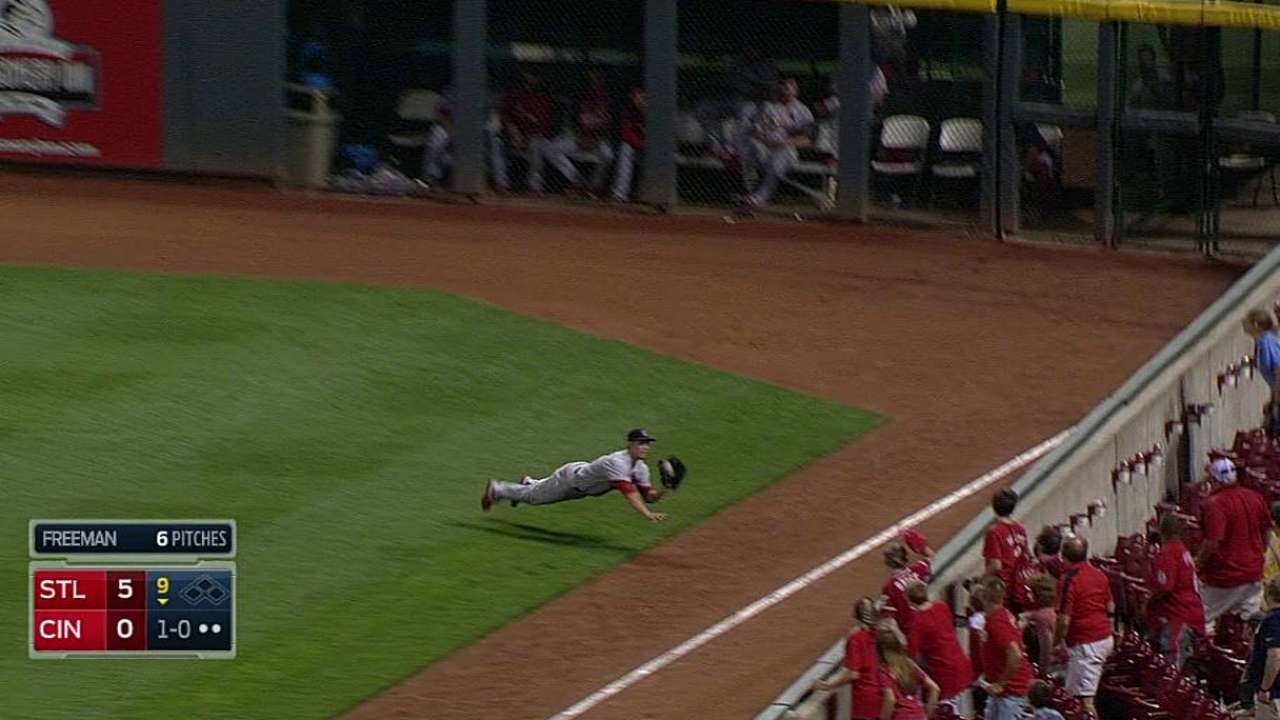 ST. LOUIS -- Cardinals outfielder Randal Grichuk is making a case for a more prominent role in manager Mike Matheny's crowded outfield rotation.
Grichuk, who struggled during his first callup from the Minors earlier this season, has settled in during his second tour.
Entering Saturday, his batting average was at .247 after it was as low as .215 on Sept. 6.
"What I see is confidence, that's really the biggest difference," Matheny said.
"When he walks up there and you can see that he has faith in himself, it's a different at-bat. He's really quiet on his takes, and when he pulls the trigger you see that there's something different there. Just watching his batting practice, there's only a handful of guys that we see that the ball jumps off the bat like it does for him.
"And he brings some other components, too. The way he throws the ball, a plus-plus arm, accurate, runs well, good jumps, gets to balls and a good baserunner, so all that combined makes an exciting player."
After reaching and scoring twice in the Cardinals' 5-1 win over Colorado on Friday, Grichuk's name was back in the lineup in the two-hole on Saturday.
Grichuk, ranked by MLB.com as the Cardinals' No. 8 prospect, has earned himself playing time in a crowded St. Louis outfield that also features Jon Jay, Peter Bourjos and Oscar Taveras all competing for starts.
"It's hard not to play him," Matheny said of Grichuk. "With what we're seeing on the defensive side as much as how he's swinging the bat. The lefty thing is definitely working in his favor, and we're seeing some better at-bats also when he gets in there against right-handers. There's not a whole lot, from what I've seen, that's not to like."
Joe Harris is a contributor to MLB.com. This story was not subject to the approval of Major League Baseball or its clubs.