Crew broadcaster Uecker fondly remembers Frank Torre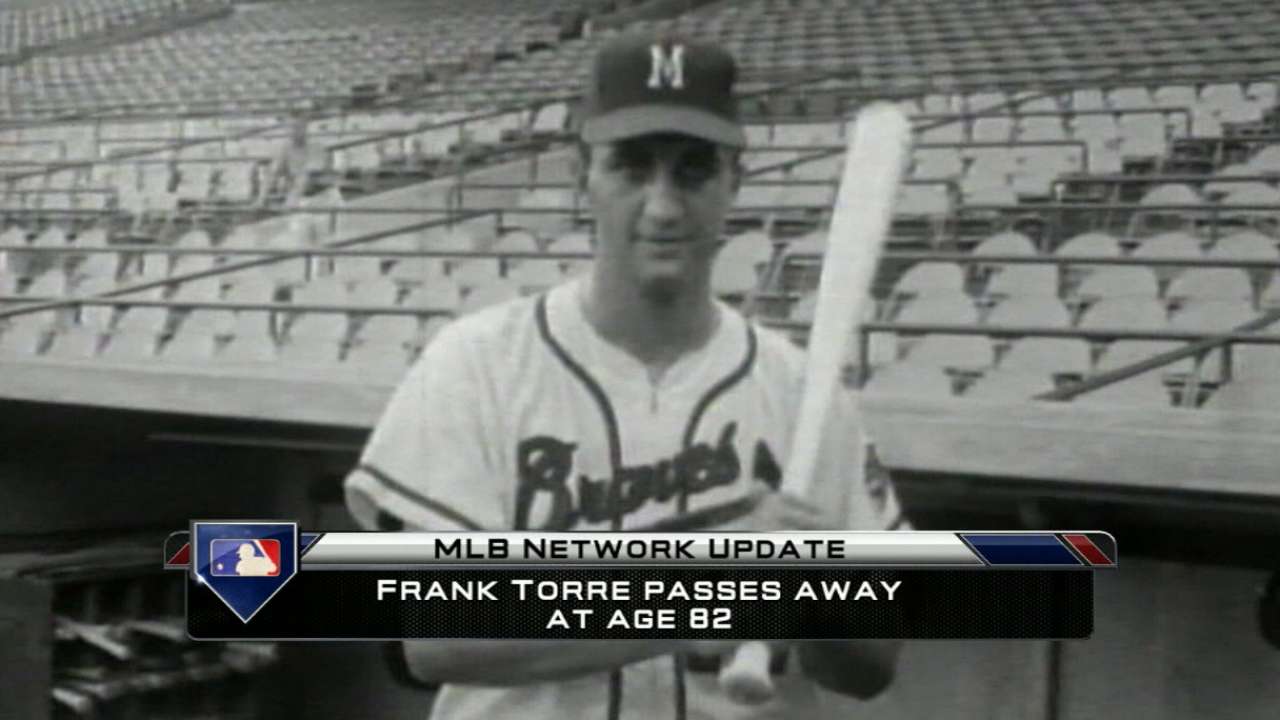 MILWAUKEE -- Longtime Brewers broadcaster Bob Uecker was deeply saddened Saturday when he learned of the passing of longtime friend and former teammate Frank Torre.
Uecker, in his 44th season as a Brewers broadcaster, was a teammate of both Frank and his brother, Joe, who was inducted into the Hall of Fame in July.
"I think I met Frank for the first time in 1959 or '60. As a matter of fact, we were teammates, too. Not only in the Minor Leagues, but in the big leagues," said Uecker, who is also in the Hall of Fame as a broadcaster. "I was really saddened today by his passing. I know he'd been having some issues.
"I talked to Frank from time to time. We always called each other to check in. I talked to him right before Joe's induction into the Hall of Fame, and he told me he didn't think he'd be able to go. He was really going to try to be there, but he was having issues. I didn't know they were that bad."
Frank Torre spent most of five seasons with the Braves in Milwaukee, including a key role in the 1957 World Series. Torre hit .300 with two homers to help the Braves defeat the Yankees in seven games.
In 1958, he hit a career-high .309 with six homers and 55 RBIs to help the Braves to another National League pennant, although they lost in the World Series when the Yankees came back from a 3-1 deficit.
After spending 1961 in the Minor Leagues, Frank Torre spent his final two seasons with the Philadelphia Phillies. After his playing career, he worked as an executive for Rawlings Sporting Goods.
"Frank was a baseball guy for sure," Uecker said. "After leaving the game, he worked all those years with Rawlings. As a matter of fact, when I used to do the Tonight Show once in a while or whatever I did, I always talked about how much money, because of Frank, Rawlings paid me not to use any of their equipment."
Uecker, who also was a roommate of Joe Torre's, said from that from the first time they met, Frank Torre spoke often about his younger brother.
"My first Spring Training where I met Frank, and later Joe, he kept telling me about what a great catcher his brother was going to be," Uecker said. "I had never seen Joe before. But he turned out to be just what Frank talked about. He was a great teammate and a great friend. We knew each other for a long time. We roomed together, too. I always said if it wasn't for Joe and Frank, I could have been a good player."
Even with the jokes and stories told with a smile, Uecker's conversation in the Brewers' dugout prior to Saturday's game against Cincinnati was emotional as he talked about former teammates.
"I was just thinking about Johnny Logan, too," Uecker said. "He passed away. He and Frank were teammates, great friends. It's a sad day for me and baseball, too. He was a good man."
Jim Hoehn is a contributor to MLB.com. This story was not subject to the approval of Major League Baseball or its clubs.