Revised lineup keeps KC half-game out of first
Guthrie yields unearned run over eight frames, retires final 17 batters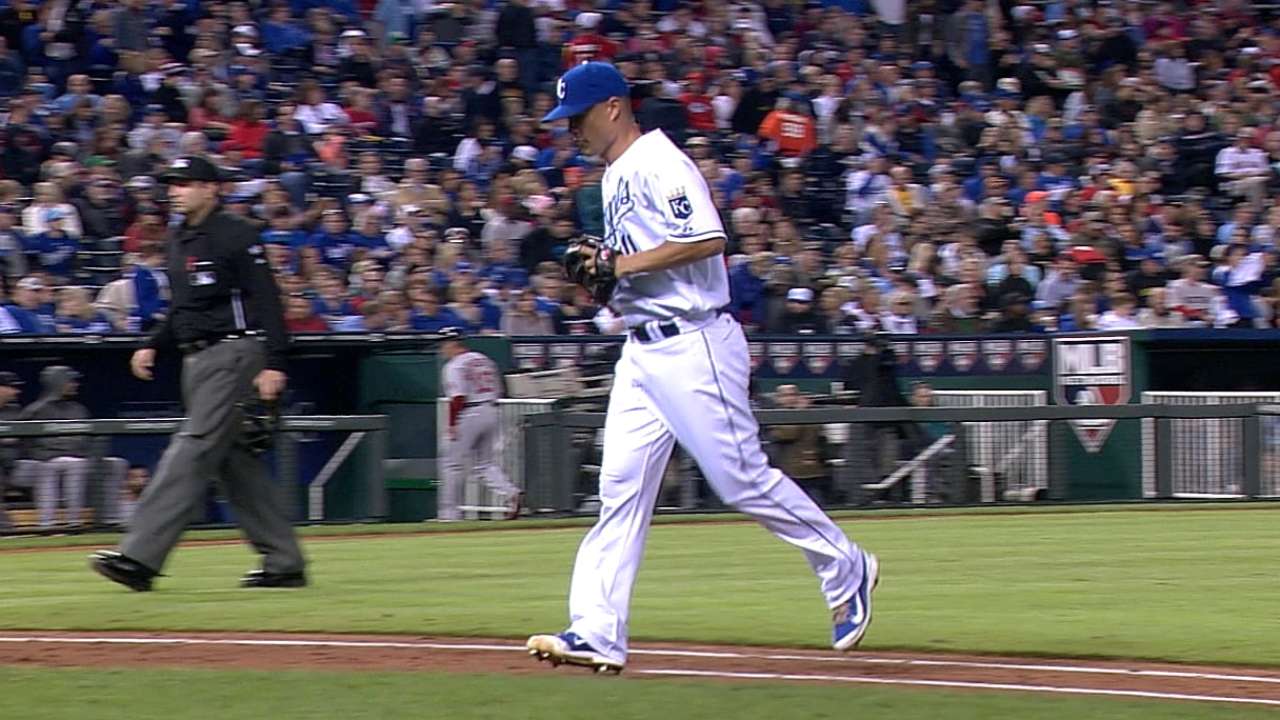 KANSAS CITY -- With his offense sputtering, Royals manager Ned Yost had hinted that he might fine-tune his lineup. It became more of a major realignment, however, as he moved Alcides Escobar, Nori Aoki and Lorenzo Cain into the 1-2-3 spots, shuffled the middle around and inserted Jarrod Dyson into the nine-hole.
"It looked like it helped a little bit. I put the speed at the top and I wanted Dyson's speed at the bottom for the run-producers in the middle," Yost said after the reconfigured lineup produced a 7-1 victory over the Red Sox on Saturday night.
The win keeps the Royals a half-game behind the Tigers in the American League Central. Kansas City also holds the second AL Wild Card, as the A's beat the Mariners in extra innings to move atop the AL Wild Card standings
Jeremy Guthrie's tight pitching was a welcome complement to the new batting order. Performing for 26,657 fans at Kauffman Stadium, Guthrie held the Red Sox to three hits in his eight innings and retired the final 17 batters he faced.
Guthrie had lasted just 2 2/3 innings in a loss at Detroit in his previous start.
"It was obviously a good bounce-back outing after the last one," Guthrie said, "and they kind of hit 'em at us and we hit 'em where they weren't. So it was a good combination, both defensively and offensively, to get that win tonight."
As the smoke cleared from their traditional victory celebration, the Royals gathered in front of clubhouse televisions to see if perhaps Cleveland could come back to beat the Tigers at Detroit. It didn't happen.
But what happened earlier in the evening, during the Royals' first inning with their new-fangled lineup, was crucial.
"I thought the first inning was a real good sign," Yost said.
Escobar led off with a liner down the left-field line and blazed into second base, barely beating Yoenis Cespedes' throw.
"I played aggressive. It was close," Escobar said.
Aoki, shifted to the designated hitter role, chopped a base hit past third base and Escobar raced home ahead of the throw. Aoki got to second and Cain, moved up to No. 3 from the lower depths of the lineup, slapped a tap-out to the right side and moved him to third.
"Runner on second with no outs, I was trying to do everything possible to hit a ball to the right side to get him in scoring position for Gordo," Cain said.
Alex Gordon, though, wasn't needed because catcher Christian Vazquez tried to pick off Aoki but hit him in the back. Aoki scampered home as the ball bounced into left field and it was 2-0.
"That was huge, man," Cain said. "We've been struggling to score runs and to get two early for [Guthrie] was outstanding for us. We definitely need to score runs. We did a great job of that tonight and we've got to keep going."
It was the first time the Royals had scored in the first inning since Sept. 1 at Texas.
The Royals then got three more runs in the fifth -- the first time they'd had that big of an inning since Aug. 27 against Minnesota (six runs in the eighth).
Cain opened the inning by hustling to a double into left field and Gordon, breaking an 0-for-21 skid, singled to right. Salvador Perez dropped a double down the right-field line to get Cain across the plate.
Eric Hosmer struck out but Omar Infante's groundout got Gordon home. Then Red Sox pitcher Rubby De La Rosa balked and Perez trotted home from third base for a 5-1 lead.
The Royals added two runs in the eighth against reliever Matt Barnes. Cain walked, stole second and scored on Gordon's double. Infante, dropped from second in the order to seventh, singled to get Gordon home.
So the revised lineup had quite a night with 12 hits. Infante, ending his 0-for-11 skid, went 3-for-4 with two RBIs. Escobar, Aoki and Gordon each had two hits. Cain and Gordon each scored twice.
Guthrie was touched for an unearned run in the third inning which began with third baseman Mike Moustakas booting Mookie Betts' grounder. After an out, David Ortiz singled and Cespedes' sacrifice fly scored Betts.
But Guthrie had no complaints about a defense that had been rather porous in the two losses of this series.
"Dyson covered a lot of ground for us [with eight putouts] and a couple of nice picks by Moose on the spin play and Omar on the chopper by [Will] Middlebrooks," Guthrie said.
All three hits off Guthrie were singles. He walked one and struck out two. Rookie left-hander Brandon Finnegan pitched a scoreless ninth with two strikeouts and a single.
"Guthrie just pitched a great game, he was on tonight," Yost said.
Dick Kaegel is a reporter for MLB.com. This story was not subject to the approval of Major League Baseball or its clubs.