Middle of the order stacked with possibilities
Baez, Soler part of potentially powerful lineup in 2015 and beyond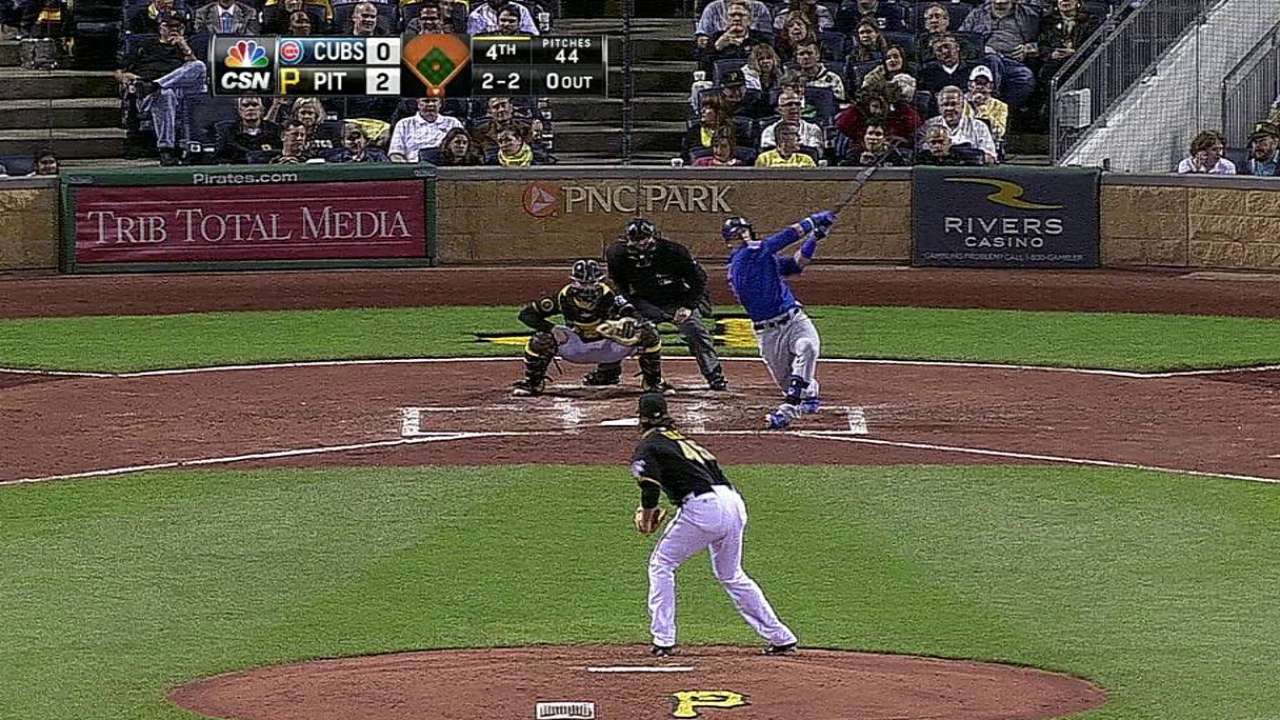 PITTSBURGH -- Javier Baez's powerful swing would seem to be a better fit in the middle of the order, but he's been batting second since his promotion because Cubs manager Rick Renteria is trying to get the rookie as many at-bats as possible. It's fun to project the Cubs' future lineup.
"Javy will swing the bat and have his approach the way he has his approach," Renteria said Saturday. "As his approach continues to get better and he's able to show more consistency, then that opens the possibility of maybe a different slot somewhere down the road. Depending on who's hitting in the lineup, he profiles being in the middle of the order."
Starlin Castro has batted fourth most of the season for the Cubs, and thrived there, although Renteria has said repeatedly the shortstop isn't really a No. 4 hitter. And what do they do with another power hitter, rookie Jorge Soler?
"Fortunately for us, we have [Anthony Rizzo], who has great approaches and is our No. 3 hitter now, and [Soler] can be that kind of guy, too," Renteria said. "It's a good problem for us to have in terms of what these guys might profile at. If they're all doing exactly what they're supposed to be doing, I can see them in the second through the sixth slot."
Cubs fans most likely are already projecting the order for 2015.
"I think [fans] should be very excited about the possibilities," Renteria said.
Worth noting
• The Cubs will stay with a six-man rotation for now, Renteria said. That does not include Edwin Jackson, sidelined since Aug. 21 with a right lat strain. Jackson threw a bullpen session on Friday, and is expected to throw another on Tuesday. Renteria said the right-hander will throw a simulated game soon.
"Our hope is that he'll be fine and maybe we can get him back on track before the season's out," Renteria said of Jackson, who has lost 14 games this season.
• Soler, in Miami for the birth of his first child, a boy, is expected to join the Cubs on Monday.
Carrie Muskat is a reporter for MLB.com. She writes a blog, Muskat Ramblings, and you can follow her on Twitter @CarrieMuskat. This story was not subject to the approval of Major League Baseball or its clubs.