Offense, De La Rosa struggle in Kansas City
Cespedes notches RBI; Wright tosses three scoreless frames of relief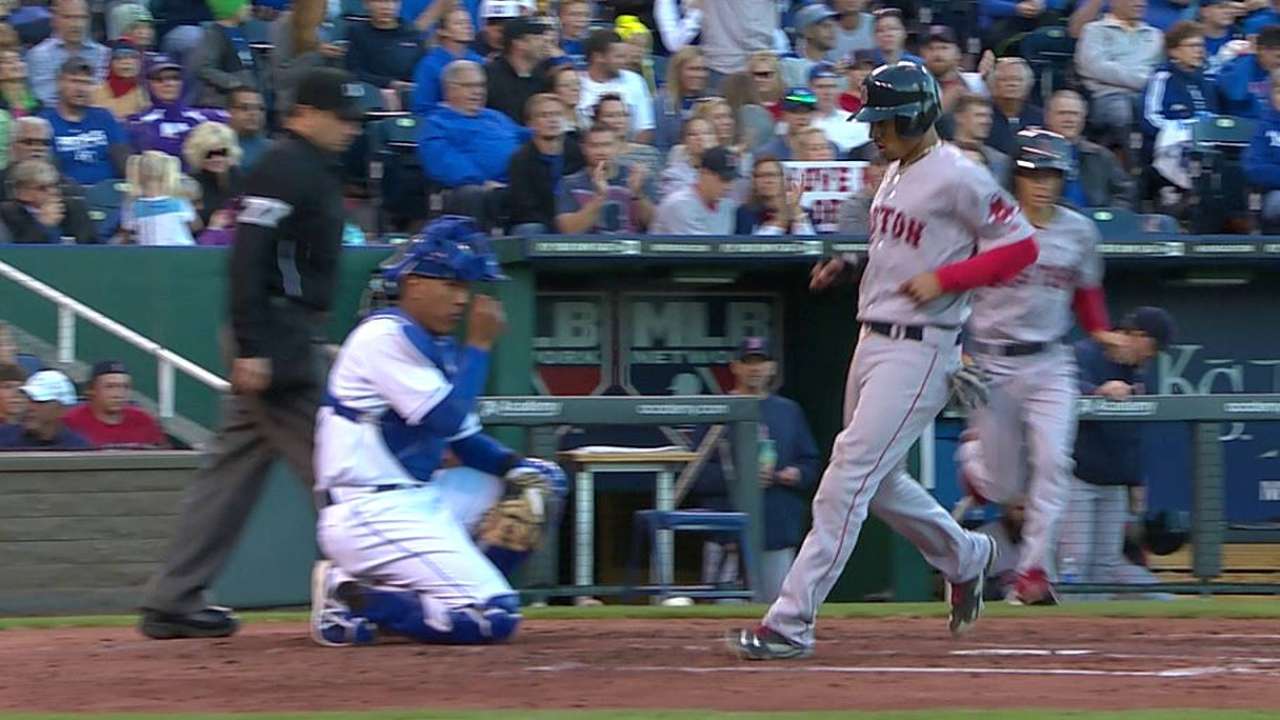 KANSAS CITY -- The Red Sox finally discovered their own mortality against the Royals on Saturday.
Boston dropped a 7-1 decision to Kansas City, its first loss in six games against the Royals this season. The Red Sox can still win the series in Sunday's finale.
Kansas City starter Jeremy Guthrie stymied a Boston lineup that was lively in the first two games -- wins of 6-3 and 4-2, respectively. He held Boston to one unearned run on three hits over eight innings.
"He was very good," manager John Farrell said. "We really didn't manufacture anything against him."
The poor defense that afflicted play in the first two games -- particularly for the Royals -- made an appearance early Saturday.
Boston fell behind, 2-0, after one inning on an RBI single by Nori Aoki, who then scored when catcher Christian Vazquez clanked a pickoff attempt off Aoki's back at third base.
Farrell viewed the play as simple bad luck.
"That's a good aggressive play. If the throw's a little bit on the inside of the base line, Aoki's out. It just happened his return to third base was inside the base line, and it clipped him," Farrell said.
The inning put Boston behind for only the second time all series. Kansas City took the lead first, after falling behind from the get-go in games one and two.
But the Royals gave a run back in the third. Mike Moustakas bungled a Mookie Betts ground ball, and Boston made him pay as Yoenis Cespedes knocked Betts in with a sacrifice fly.
Kansas City padded its lead with three runs in the fourth, highlighted by RBIs from Salvador Perez (double) and Omar Infante (groundout). Red Sox starter Rubby De La Rosa balked in a run to make it 5-1.
Farrell came out for a heated discussion with the umpires about whether timeout was called while De La Rosa balked.
"Rubby dropped the ball as he was coming to his set position," said Farrell. "I was just trying to get some clarification on the timing of the whole play."
De La Rosa exited after four frames, having thrown just 65 pitches. He allowed six hits and five runs, while striking out two.
His early exit revolved around Boston's cautiousness with his workload. De La Rosa's thrown 156 innings between the Red Sox and Triple-A Pawtucket in 2014.
"We are limiting his innings pitched, but we don't want to shut him down," said Farrell. "There's some benefit to be had by continuing through his work routine through the end of the season, and that's a primary goal right now."
Steven Wright relieved him and tossed three scoreless innings. The knuckleballer's previous appearance came last Sunday, when Wright threw five shutout innings against the Blue Jays.
"I think the biggest thing I've been able to do in my last couple of outings is throw strikes with [the knuckleball]. I feel like if I throw strikes, it's going to get them having to swing," Wright said.
No. 11 prospect Matt Barnes pitched the eighth, letting in a pair of runs, but he also struck out the side. It was the rookie's second MLB appearance.
Jackson Alexander is an associate reporter for MLB.com. This story was not subject to the approval of Major League Baseball or its clubs.