MLB.com Columnist
Bill Ladson
Rendon stays humble swinging a red-hot bat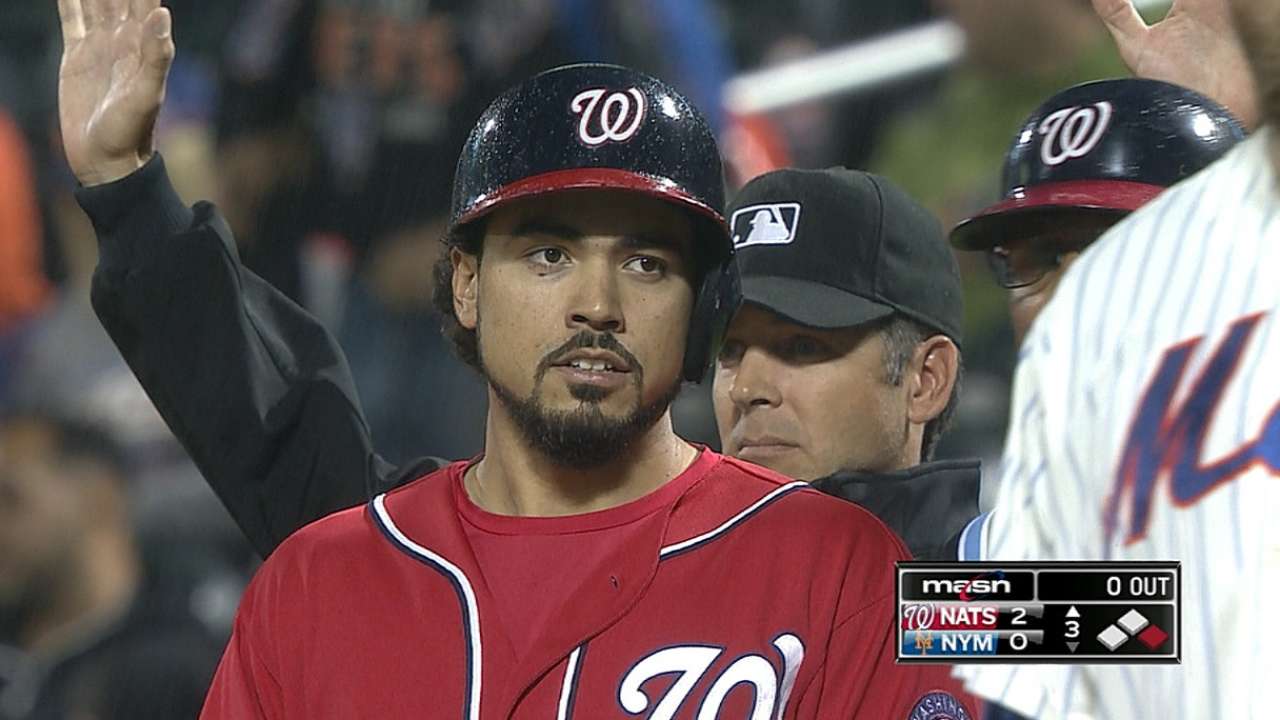 NEW YORK -- Nationals third baseman Anthony Rendon has performed like the club's Most Valuable Player this season. Not only has he done the job offensively, but he plays Gold Glove-caliber defense at third and second base.
Just ask the Mets. In the first three of a four-game series at Citi Field, Rendon went 10-for-15 [.667] and raised his batting average to .289, which is second on the Nationals.
I'm having a fortunate series, so far, taking one day at a time," said Rendon, who went 4-for-5 in Saturday night's 10-3 win.
One would never know that Rendon is one of Washington's best players based on his personality. After great games, Rendon is a man of few words. He sometimes tries to avoid the media. He would rather stay humble and credit God for his success.
"I don't like being in the spotlight as you guys [in the media] might have figured out," Rendon said. "It's not who I am. It's not how I was raised. I don't like seeking all the attention. When you start doing stuff like that, it gets into your head, you are not being yourself. ... I just like playing the game. I don't like all the extra stuff that comes with it."
Rendon received similar recognition for his play while attending Rice University. Even there, he decided to remain humble.
"I didn't like the attention and that's what's awesome about Rice. I would go to class, walk around campus and do my thing," Rendon said. "No one even noticed who I was. You hear all these stories about Johnny Manziel going to school at [Texas] A&M and he can't even go to class because everyone is trying to get his autograph, take pictures with him, and stuff like that. That's not what I like."
Rendon doesn't have to look far for who he credits for his success today -- his parents.
"They raised me and my brother wonderfully," Rendon said. "I credit them for where I am today. I have my faith in God. I was told to be humble before him. Don't boast about what you have done. Don't put credit in your own hands. You have to realize He got you there."
Bill Ladson is a reporter for MLB.com and writes an MLBlog, All Nats All the time. He also could be found on Twitter @WashingNats. This story was not subject to the approval of Major League Baseball or its clubs.