Amarista earning praise for work at shortstop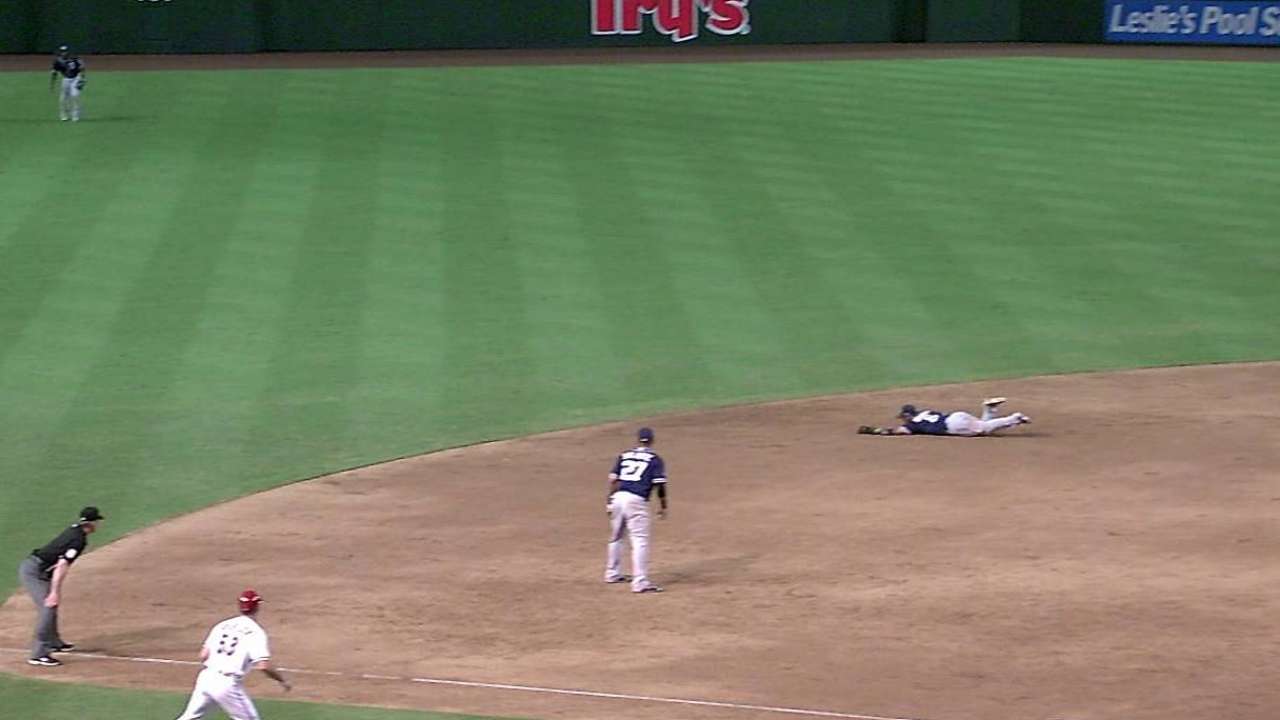 PHOENIX -- Jake Lamb scorched a ball on the ground in the ninth inning Friday that was hit so hard that it appeared headed toward the gap in left-center field, which surely would not have been a good thing for the Padres, who were nursing a one-run lead with a runner at first base.
But shortstop Alexi Amarista managed to flag the ball down even though the ball was already past him -- and then had the wherewithal to flip the ball to second baseman Jedd Gyorko to get the force out, a key play that helped the Padres preserve a 6-5 victory at Chase Field.
"That play saved the game," Gyorko said.
Amarista has earned his share of rave reviews internally and otherwise filling in at shortstop for Everth Cabrera, who as of Saturday had missed 51 games due to two disabled list stints with strains of his left hamstring.
"He's been outstanding," said Padres third-base coach Glenn Hoffman, who works with the infielders. "He's that 25th man where [manager Bud Black] can use him anywhere, but in the infield, he's held his ground and been the unsung hero in the infield. He's been the constant. I'm so proud of the way that he's worked at it. He's been more aggressive coming to the ball.
"It's great to know you're covered at that position."
Heading into Saturday's game, Amarista had played a career-best 487 defensive innings at shortstop with five errors. Defensive metrics on a short look -- three years is the preferred sample-size -- have been kind, for what it's worth. His DRS (Defensive Runs Saved) is plus-six, which is considered above average. His UZR (ultimate zone rating) is 1.4.
Before this season, the most shortstop he played was last season (83 2/3 innings).
"It's certainly the best I've ever seen him play shortstop," said a National League scout. "His arm looked stronger than I've ever seen it and he's much more under control than I've seen from in the past."
But can Amarista, who is hitting .236 this season with three home runs and 27 RBIs, handle the rigors of the position over a full season?
Most figure he's better suited as a super utilityman, though he's likely added value because of his ability to handle one of the toughest positions on the field in more than just a small sample-size. There's also a sense he's more productive at the plate when he doesn't play every day.
This season alone, Amarista has played in 21 games at second base, 22 at third base, 58 at shortstop, six in left field and 21 in center field.
Gyorko said Amarista looks far more comfortable at shortstop now than he ever did a year ago. Some of that comes with more repetitions at the position, he said. But there's more to it.
"It starts with consistency. He has the drive to perform well. It's been impressive and fun to watch," said Gyorko.
Corey Brock is a reporter for MLB.com. Keep track of @FollowThePadres on Twitter. This story was not subject to the approval of Major League Baseball or its clubs.