Ross off his game as Padres fall to D-backs
Righty allows six runs (four earned) over three frames in tough loss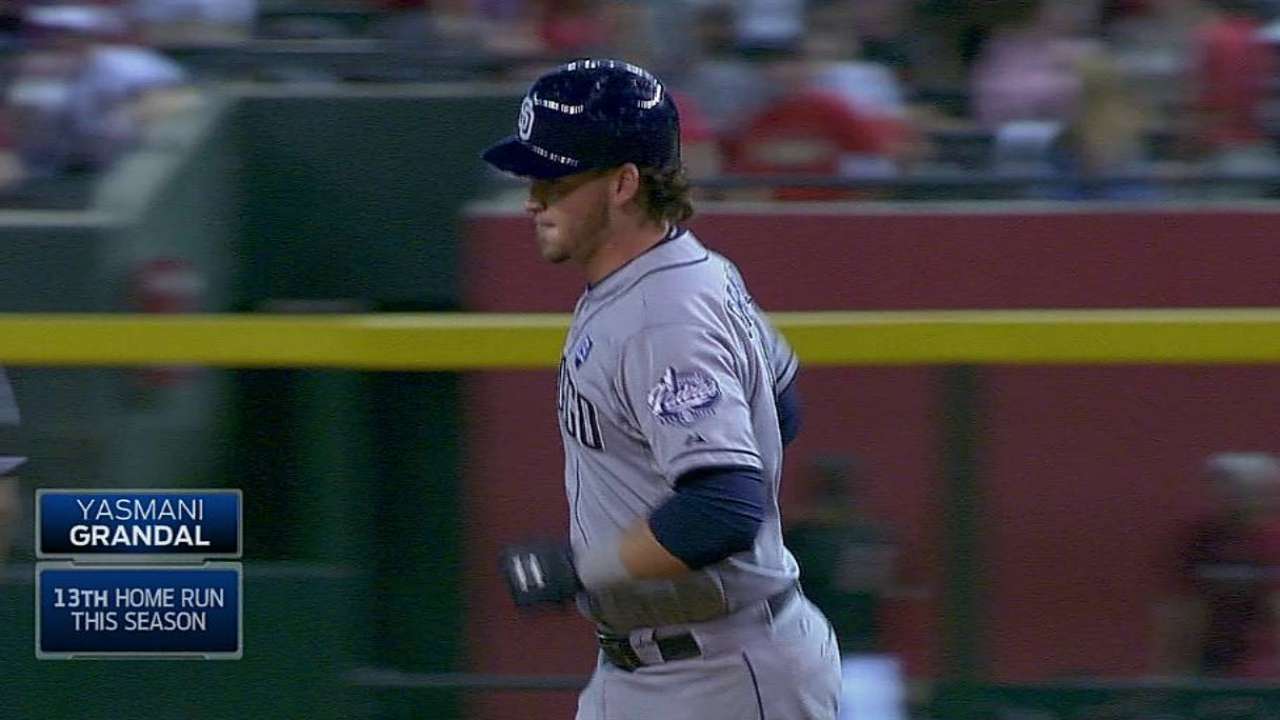 PHOENIX -- Tyson Ross is nearing the finish line of a breakthrough season where he made the All-Star team and will eventually top 200 innings and 200 strikeouts, while establishing himself as one of the top starting pitchers in the National League.
That doesn't mean Ross is infallible, though. Not every start can be a quality one, not every outing can be a bonafide gem.
On Saturday night, Ross had a rare misstep as the Padres fell to the D-backs, 10-4, in front of a crowd of 32,429 at Chase Field, though he certainly had some help.
"He's human," said Padres manager Bud Black. "And these games happen."
Ross allowed six runs, four earned, over the first two innings, as two errors behind him didn't help at all as the D-backs built a big lead early and then pulled away late.
The loss -- coupled with the Dodgers' victory over the Giants -- eliminates the Padres from the NL West race.
Ross lasted three innings, his second-shortest start since joining the Padres before last season. His previously shortest outing came on Sept. 12 of last season against the Phillies when he lasted just two-thirds of an innings.
Ross allowed five hits with two walks and four strikeouts and needed 58 pitches to get nine outs.
"He didn't have very good location early," said D-backs manager Kirk Gibson. "We laid off some good pitches. I thought we had a pretty good approach. ... We came out very aggressive tonight."
On Saturday, Ross struggled to find command of his wipeout slider early on and allowed three runs in the first inning and three more runs in the second inning. Mark Trumbo put the D-back on top with a two-run single in the first, the first of his three hits. He also knocked in three runs.
In that first inning alone, Ross misfired with eight sliders. The eighth was a wild pitch that allowed a run to score.
"That's my go-to pitch. I didn't command it early. I didn't command anything early. But that's [slider] my pitch that gets me back in counts," Ross said. "They executed their game plan well. They executed their game plan better than I executed mine."
The Padres made two errors, one each by shortstop Alexi Amarista and catcher Rene Rivera. The Padres also allowed a double-steal in the first inning that set up two runs. The game wasn't crisp by any means.
"It wasn't a clean game at all," Black said. "It's just one of those games where we didn't execute in a number of areas."
The Padres got two runs off of D-backs pitcher Chase Anderson in the fourth inning when Yasmani Grandal connected for a home run to right field, his 13th of 2014. Amarista added an RBI single and then added another two innings later as the Padres.
Anderson allowed two runs on four hits with three walks and five strikeouts in five innings.
Yangervis Solarte made it a 7-4 game when he hit a home run, his fourth, in the seventh inning, but the D-backs added three runs in the bottom of the seventh inning off of reliever Leonel Campos to put the game out of reach.
As for Ross, he's now thrown a career-high 195 2/3 innings and could have as many as three starts left or as few as two if the Padres opt to give Joe Wieland a start before now and the end of the season.
But, to be clear, the Padres don't feel like Ross is starting to tire, nor do they think his stuff is beginning to suffer, even if he has a 4.91 ERA in three starts this month.
"I think it was a small bump in the road," Ross said. "… The key for me now is to get a good night's sleep, to come to the park tomorrow and prepare for the next start."
Rivera didn't seem concerned or alarmed at all.
"He still has room to get better," Rivera said. "He knows what he's doing. I know he's going to be better next time."
Corey Brock is a reporter for MLB.com. Keep track of @FollowThePadres on Twitter. This story was not subject to the approval of Major League Baseball or its clubs.