Betts returns to natural position of second base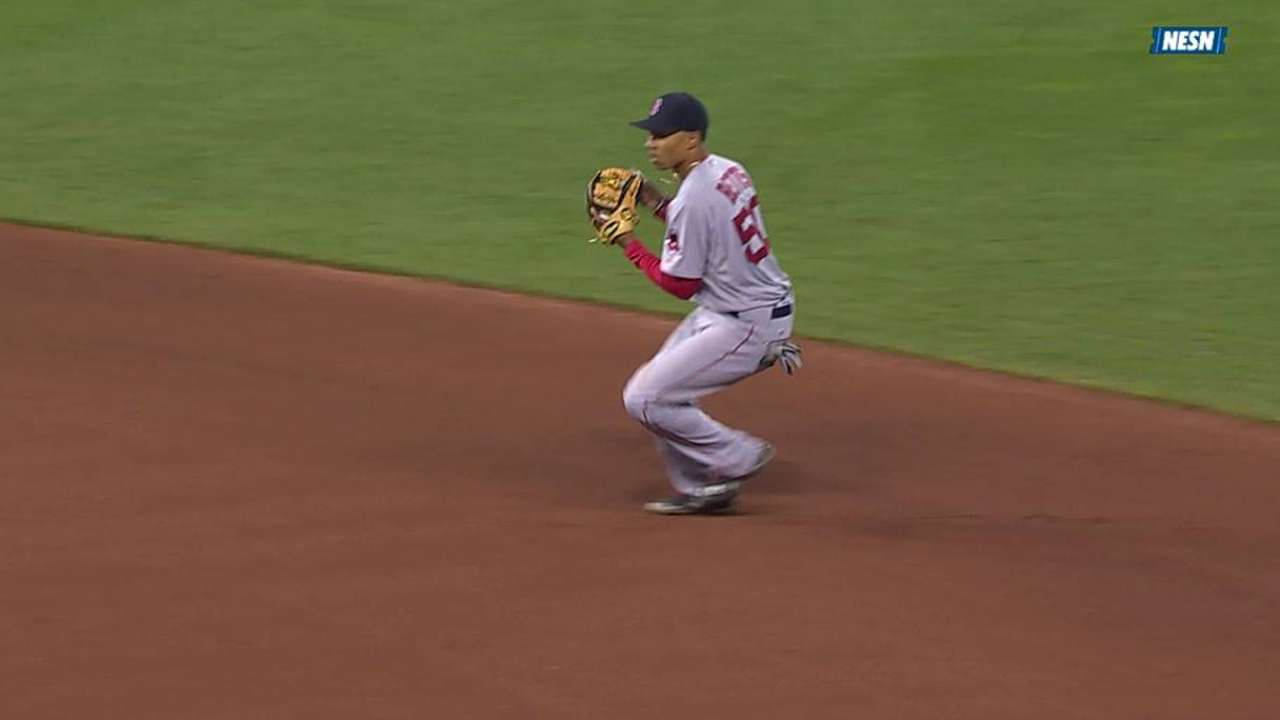 KANSAS CITY -- Two days ago, Red Sox manager John Farrell announced that Mookie Betts would shift to second base.
The move became official on Saturday as Betts started his first career big league game at second base, the position Betts played at the apex of his meteoric rise through Boston's farm system.
The Sox put Betts in the outfield for his first 37 Major League games, and Farrell said Thursday that Boston still views him as an outfielder long-term. The rookie started 28 games in center field and eight in right field, including the first two of the Red Sox's four-game series against the Royals.
"As much as I said before about not moving him out of center field, here we are putting him at second base," Farrell said.
With Dustin Pedroia out for the remainder of the season due to left wrist surgery, Farrell expects to stick with Betts at second base.
"I'd want to minimize the amount of back and forth. I just think in fairness to him that would be the approach," Farrell said.
In Betts' 2013 breakout season, he played all 126 of his games at second base with Class A Greenville and Class A Advanced Salem. That year, he posted a .314/.417/.506 slash line and rose to No. 62 in MLB.com's Top 100 prospects list before becoming the organization's top prospect this season. Additionally, Betts logged 58 games at second in '12 with Class A Short Lowell, and 46 in 2014 with Double-A Portland and Triple-A Pawtucket.
"The fact that he's had a lot of games played at the Minor League level, this should be a position of comfort for him, even though it's new at the big league level," Farrell said.
Besides losing Pedroia for the season, the Sox also lost Brock Holt to a concussion, necessitating the installation of Betts at second. This opens up a spot in the outfield, a welcome sight for the Sox considering an already crowded outfield will get more congested upon Rusney Castillo's arrival. Castillo could be with the team in its next series at Pittsburgh.
"As we get additional players to us and try and get the number of guys rotated through two outfield spot, it kind of points towards Mookie remaining at second base," Farrell said.
Jackson Alexander is an associate reporter for MLB.com. This story was not subject to the approval of Major League Baseball or its clubs.