Crew musters just two hits, stalling playoff climb
Aramis' 15th HR not enough as Gallardo's one wild inning proves costly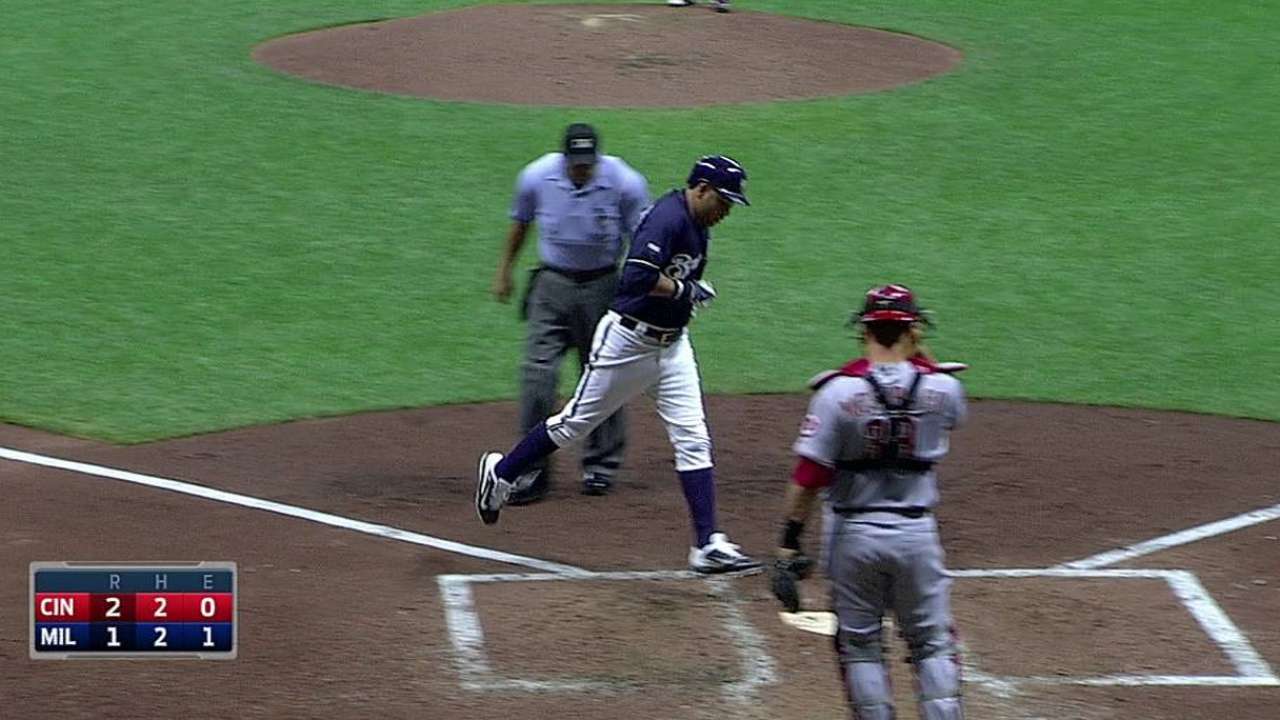 MILWAUKEE -- Except for one bout of wildness, Yovani Gallardo pitched well enough to win, but Brewers' struggling offense once again couldn't muster enough support. Left-hander David Holmberg, who entered the game with an 8.25 ERA, held the Brewers to just two hits over six innings, and Gallardo's one-inning lapse in control helped the Reds to a 5-1 victory on Saturday night.
Milwaukee, which saw its three-game winning streak snapped, remained 1 1/2 games behind Pittsburgh for the second National League Wild Card spot after the Pirates fell to the Cubs on Saturday night. A win by the Cardinals, however, dropped the Brewers to 5 games back in the NL Central.
"We know we need to swing it better, it's hard to say what it is that's going to take us to bust out and swing the bat well," Brewers manager Ron Roenicke said. "Like I talked before, I know we're going to face tough pitching, so I don't expect big numbers every night. But I expect guys to swing the bat. I write out the lineup, I look at that lineup, I look at the guys out in the field and I think they can all hit. So I expect us to go out there and score some runs."
Holmberg, a September callup who had given up 11 earned runs in two spot starts earlier this season, allowed only a fourth-inning solo homer to Aramis Ramirez and a second-inning infield single to Hector Gomez in earning his first Major League victory. Relievers Sam LeCure and Jumbo Diaz finished with three innings of hitless relief.
"He had a really good changeup," Roenicke said of Holmberg. "The changeup messed us up. It's the second night, two hits. The last one we had two hits in the sixth inning or something like that, so we've got to swing the bat better."
It was the second consecutive night the Brewers struggled offensively against a relatively inexperienced pitcher. On Friday night, Milwaukee salvaged a 3-2 victory despite getting just two hits in six innings off rookie fill-in starter Daniel Corcino.
Gallardo, 0-3 with a 5.95 ERA in his previous four starts, cruised through the first three innings, allowing only one runner to reach on an error by Gomez at shortstop, before wildness cost him a pair of runs in the fourth.
Brayan Pena and Todd Frazier opened with consecutive singles and Devin Mesoraco walked to load the bases. Gallardo then walked Brandon Phillips on five pitches to force in a run. Jay Bruce's sacrifice fly scored Frazier to make it 2-0, but the Brewers caught a break when Mesoraco was tagged out in a rundown trying to take third on the play. Gallardo escaped further damage by striking out Ryan Ludwick to end the inning.
"I think mechanics-wise, everything felt normal," Gallardo said. "I got a little bit out of whack there in that fourth inning, but I think really the only pitch up in the zone was the one to Pena. Frazier stuck his bat out there and was able to get a base hit."
Ramirez cut the lead to 2-1 with his 15th homer, but the Reds added on against the Brewers' bullpen.
Billy Hamilton's two-run triple off Zach Duke increased the lead to 4-1 in the seventh.
"That was a big blow there," Roenicke said. "2-1 ballgame, we feel good. We've got a chance to score a run and tie it up or get a couple. But Hamilton, first-pitch fastball away and did a great job. That killed us -- two runs there, that killed us."
In the eighth, Frazier greeted reliever Jimmy Nelson with a leadoff double and Mesoraco followed with an RBI single to make it 5-1.
Holmberg escaped in the first inning without allowing a run despite two hit batters and a walk.
"He was a little bit erratic," Reds manager Bryan Price said. "It took him a little while to settle in. He was able to pitch through that without any real damage, which was really big for us. It gave us a chance to get on top."
Prior to winning three straight, the Brewers had lost 13 of 14, scoring 29 runs in the losses.
"We've been struggling in every aspect of the game, until this three-game winning streak that we just had," Ramirez said. "We've got what, 12 or 13 left? So, show up every single day and try to win a ballgame."
Jim Hoehn is a contributor to MLB.com. This story was not subject to the approval of Major League Baseball or its clubs.