Holmberg's first MLB win spoils Crew's push
Rookie lefty goes six strong, combines with bullpen to two-hit Brewers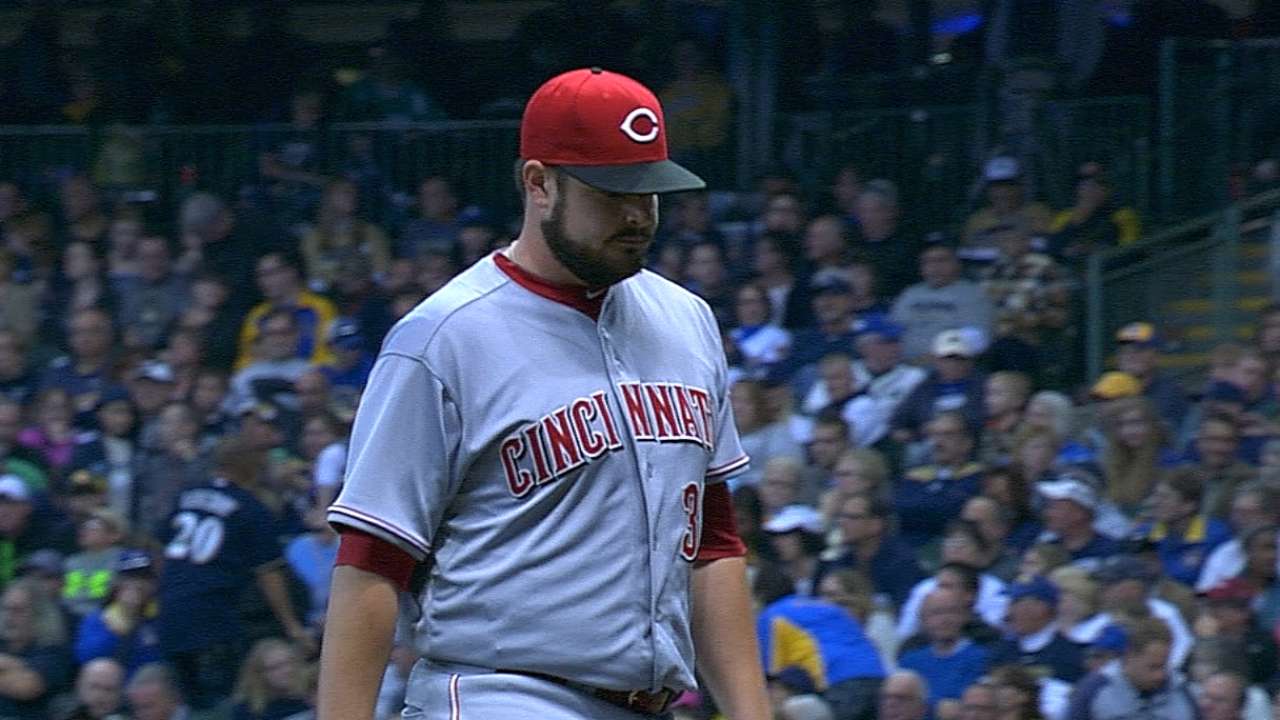 MILWAUKEE -- Lefty David Holmberg's introduction to Reds fans earlier this summer was memorable for all the wrong reasons. Called up for two spot starts, Holmberg was pummeled both times and exited quickly.
There has been little to complain about lately regarding Holmberg's work. The rookie and September callup provided six quality innings and earned his first big league victory during a 5-1 Reds win over the Brewers on Saturday night at Miller Park. Cincinnati has won four of its last five games.
"I just really believe this September is hugely important for David, simply to have the opportunity to pitch and get a bit more comfortable as we head into 2015," Reds manager Bryan Price said. "He's taking advantage of his opportunities."
Holmberg gave up one earned run -- on Aramis Ramirez's leadoff home run in the fourth inning -- and both of Milwaukee's two hits in the game while walking two, hitting two batters and striking out four. Facing an entirely right-handed lineup, he threw only 87 pitches -- relying largely on an 86-89-mph fastball and an effective changeup.
"If it's thrown correctly, it comes in looking like a fastball and you go to get it, and it's not there yet," Price said of Holmberg's changeup. "When you're conscious of staying back to battle the changeup, the fastball is even more effective -- especially when you're getting it inside to right-handed hitters. I think he was able to balance it out. Between he and Devin [Mesoraco], I thought they had a very good game plan and made a lot of outstanding pitches."
It wasn't a smooth first inning for Holmberg as he hit two batters and walked another, but he came out of it unharmed. Leadoff batter Carlos Gomez was hit on the leg with a pitch and Ryan Braun walked on four pitches. The Reds caught a break when Jonathan Lucroy grounded into a double play at shortstop where Braun was out at second base and Gomez was caught in a rundown going to third base.
Yovani Gallardo kept the Reds hitless for three innings, but they took a 2-0 lead when the right-hander labored in the fourth. With the bases loaded and no outs, Brandon Phillips walked to force home Brayan Pena. Jay Bruce lifted a sacrifice fly to left field that scored Todd Frazier, but Mesoraco broke too far from second base and became the second out in a rundown.
Cincinnati scored two more runs in the seventh inning against Zach Duke on Billy Hamilton's two-out, two-run triple and added another run in the eighth.
Holmberg gave up an infield hit to Hector Gomez in the second inning and began the bottom of the fourth by giving up his only other hit on Ramirez's leadoff homer to center field on a 1-1 pitch. After that, Holmberg retired nine of his next 10 batters. In his sixth and final inning, he retired the side on just five pitches.
"It felt good," Holmberg said of his last inning. "With those guys up there hacking, I should have had more innings that were five pitches. They battled and I just made pitches that inning and got through it quick."
Over his last three appearances, Holmberg has given up one run over 12 2/3 innings. In an emergency relief appearance on Monday vs. the Cardinals after Dylan Axelrod was injured in the first inning, he worked 5 2/3 scoreless innings. In an inauspicious first two spot starts -- on July 8 vs. the Cubs and Aug. 21 vs. the Braves -- Holmberg lasted only 2 2/3 innings both times. He allowed a combined 11 runs and 12 hits, including four homers.
Those starts left him with an 18.56 ERA, but Holmberg has trimmed his ERA down to 6.00 and will get more chances this season to continue to bring it down.
Considering his struggles earlier in the season, Holmberg was able to keep doubt from creeping in as he pitched -- especially during the shaky first inning.
"In order to be effective as a pitcher in the Major Leagues, you have to be able to overcome it and just get back to what you know and make pitches," Holmberg said.
Mark Sheldon is a reporter for MLB.com. Read his blog, Mark My Word, and follow him on Twitter @m_sheldon. This story was not subject to the approval of Major League Baseball or its clubs.