Dickey, rotation keeping bullpen fresh
Toronto starters have worked at least six innings in 19 straight games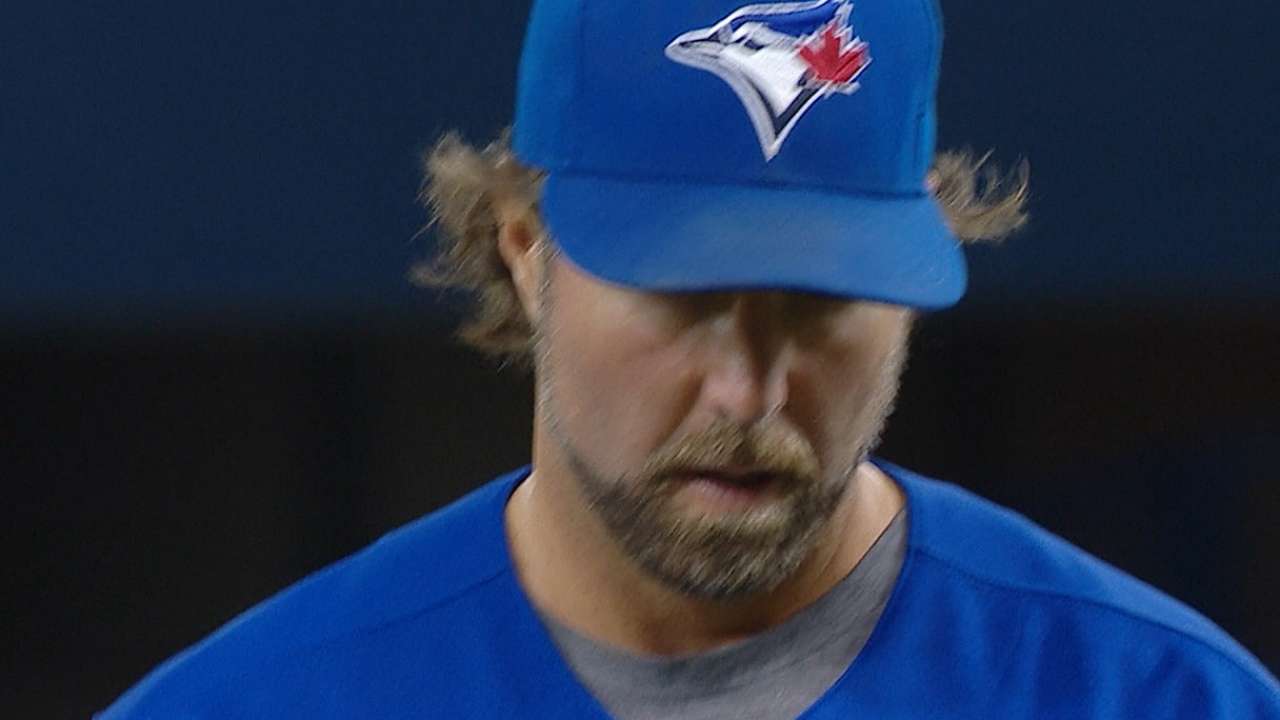 TORONTO -- R.A. Dickey's 20th quality start in Saturday's 6-3 win over the Rays helped the Blue Jays' rotation tie a club record for consecutive starts of six-plus innings. Toronto starters have worked at least six innings in 19 straight games, the first time they've been able to do so since June of 1998.
The recent ability of Blue Jays hurlers to go deep into games has had far-reaching effects on the rest of the team, most significantly the bullpen, according to Blue Jays manager John Gibbons.
"The rotation has been on some kind of roll," Gibbons said. "They've been great. We score, we win. ... They've been on that nice stretch, and they really held up their end of the bargain, all five of them. And it's allowed our bullpen to regroup a bit and keep those guys fresh."
Once considered a vulnerability, the rotation has emerged in recent weeks as the anchor of the team's success, which includes a 10-3 record over the past 13 games, during which the rotation is 9-3.
Entering Saturday, Toronto's starters had thrown a collective 83 1/3 innings over the past two weeks, sixth most in the Major Leagues, despite the Blue Jays' two off-days in that span. Their 2.05 ERA during that period is second only to the Orioles (1.97).
R.A. Dickey, who has thrown six-plus innings in 16 of his last 17 starts, said the rotation being dependable as a unit allows the bullpen to stay sharp. And it's also a point of pride.
"As you saw [Saturday], the 'pen was pretty sharp, and that's the case when you're able to protect them down there," he said. "I think a lot of people have doubted our rotation throughout the year, so for us as a group, it feels good to kind of hang your hat on being able to go deep into games consistently."
Dickey and Mark Buehrle are both inching toward the 200-innings mark for the season. Buehrle (182 IP) has done so 13 times in his career, while Dickey (196 2/3) has done it in three straight seasons.
"I always try to work hard and be durable and consistent and trustworthy," said Dickey. "When I came over, when I was signed, I never claimed to be some big ace … just a piece of the puzzle. And part of that is going deep and giving our team a chance to win every game."
Jamie Ross is an associate reporter for MLB.com. This story was not subject to the approval of Major League Baseball or its clubs.