Stanton could return to Marlins this season
Slugger will have stitches out, undergo more tests on Tuesday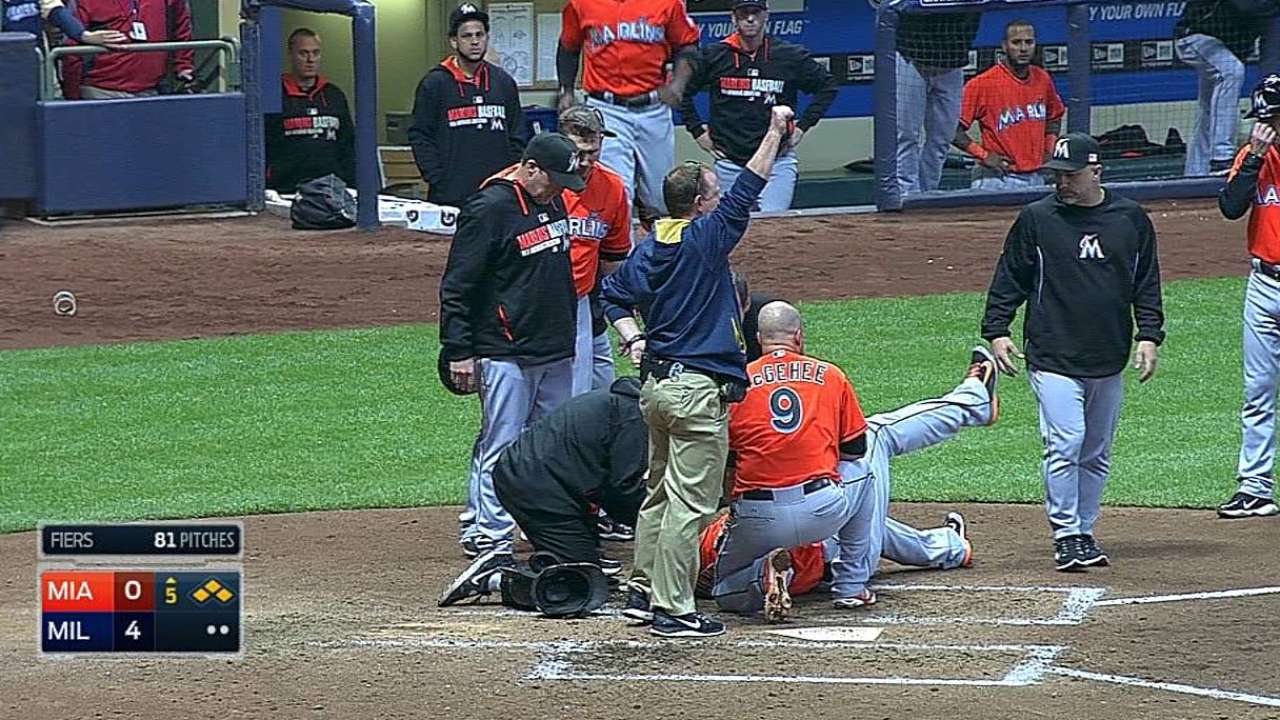 PHILADELPHIA -- Don't rule out a Giancarlo Stanton return just yet. The All-Star right fielder is scheduled to get his stitches removed on Tuesday, and undergo more tests. If there is any chance of a return to the lineup this season, more will be known then.
Stanton, who returned to Miami on Friday, remains upbeat after being hit in the face by a pitch. He's following the Marlins series at Philadelphia, and is on a diet of mostly soft foods.
The 24-year-old slugger suffered multiple facial fractures and lost a few teeth after being hit by an 88 mph Mike Fiers' fastball at Milwaukee on Thursday at Miller Park.
Team trainer Sean Cunningham accompanied Stanton back to Miami on Friday.
"Sean says [Stanton] is feeling much better," manager Mike Redmond said Saturday. "He's still sore, obviously. He has more appointments on Tuesday. He should be getting his stitches out on Tuesday.
"He's in good spirits. He's been watching the games. We'll probably know a little more on Tuesday. For me, knowing G, and the kind of guy he is, he's going to want to come back and play. But we'll see if that's even a possibility."
Any chance of a comeback seemed out of the question when Stanton was initially hurt. But the two-time All-Star may indeed be able to play again before the season ends on Sept. 28 at Washington.
In order for the best-case scenario to occur, Stanton is dealing with a race against time.
"I think it's probably just the time to let everything heal, and the swelling to go down in his face," Redmond said. "That will probably be the biggest thing. We'll probably know more on Tuesday if that is even a possibility."
Stanton's goal had been to play in all 162 games, and Friday's 3-1 loss at Philadelphia was the only game he didn't participate.
Stanton paces the National League in home runs (37) and RBIs (105).
"I know him," Redmond said. "Of course, he's going to want to come back and try to play, if he can, if it's a possibility. We don't really know if that is the case until probably Tuesday."
Stanton is regaining his appetite, but because of the dental damage he sustained, what he can eat is limited.
"I would say he is soft-chewing at the bit," Redmond said. "That's a big machine. It needs a lot of fuel. I'm sure he's firing down a lot of protein shakes. I think he's mostly on soft foods. I'm sure he's still consuming a lot of food, but no steaks."
Joe Frisaro is a reporter for MLB.com. He writes a blog, called The Fish Pond. Follow him on Twitter @JoeFrisaro. This story was not subject to the approval of Major League Baseball or its clubs.