Martinez on a tear after adding depth to offensive game
Fastball hitter adds opposite-field power, discipline for offspeed pitches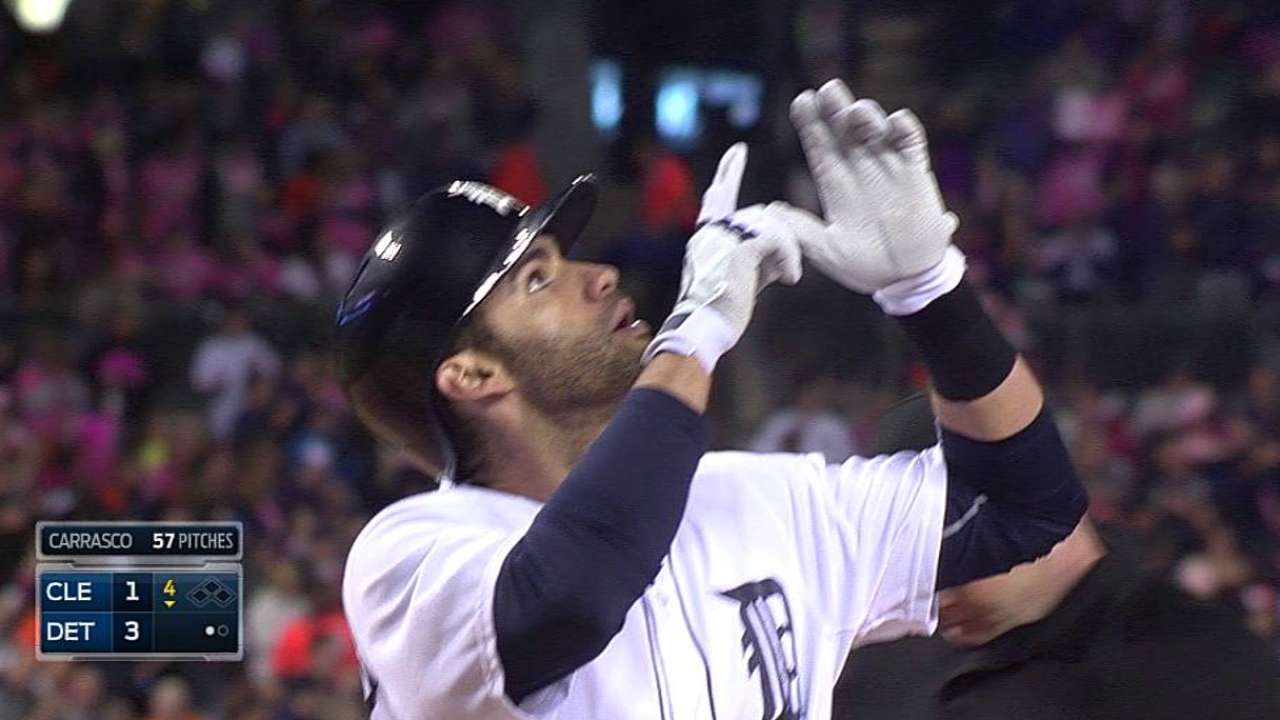 DETROIT -- J.D. Martinez is maintaining his simple approach at the plate.
"Just looking for a ball up," Martinez said, "and try not to miss it."
He's still getting fastballs to hit, and he's still hitting them out. The key that has turned Martinez's season from a brief flash of stardom to a career breakout has been his adjustments on everything else.
Martinez's 21st home run of the year on Friday night was his fourth in September, already topping his power output for the entire month of August. He followed with a triple that would've been a home run in a lot of other ballparks, but it was hit to the depths of the out-of-town scoreboard at Comerica Park in right-center field.
That's opposite-field power, something Martinez has maintained from his early-season success to his midsummer cooling trend to now.
The Tigers knew about Martinez's power when they signed him in Spring Training following his release from the Astros. What they couldn't know is how he would adjust to the way pitchers approach him.
Martinez has swung and missed big at offspeed pitches, notably the changeup, but he hasn't missed the fastball very often. The key for him was to stay off the offspeed.
He has swung at more than half of the changeups he has seen this year -- 111 out of 171 -- according to STATS. Martinez has missed on 35 percent of those swings, including 58 percent when chasing a pitch out of the strike zone. The key for him recently has been to cut down on the rate he swings at those.
Martinez is at the point now where he has swung at fewer than half the changeups he has seen out of the strike zone. For other offspeed pitches, the chase rate is lower, including 16 out of 76 curveballs, 22 out of 65 cutters, 75 out of 183 sliders and 13 out of 31 splitters.
The progress has come in making those at-bats consistent when the pressure is highest.
"That's one thing I've noticed through all this is I've seen such concentration and a different energy, where everyone knows what's on the line," Martinez said. "And when you have veteran guys that do that, they come to play. They don't give away any at-bats.
"It doesn't matter what the score is, don't ever give any at-bats away. Especially right now, it's easy to throw at-bats away late in the season, You're tired mentally, physically, but this is it. This is where the going gets tough right here."
Jason Beck is a reporter for MLB.com. Read Beck's Blog and follow him on Twitter @beckjason. This story was not subject to the approval of Major League Baseball or its clubs.