Giambi backs up own advice with sprint from first to home
Hustle on Chisenhall's double an example of veteran's leadership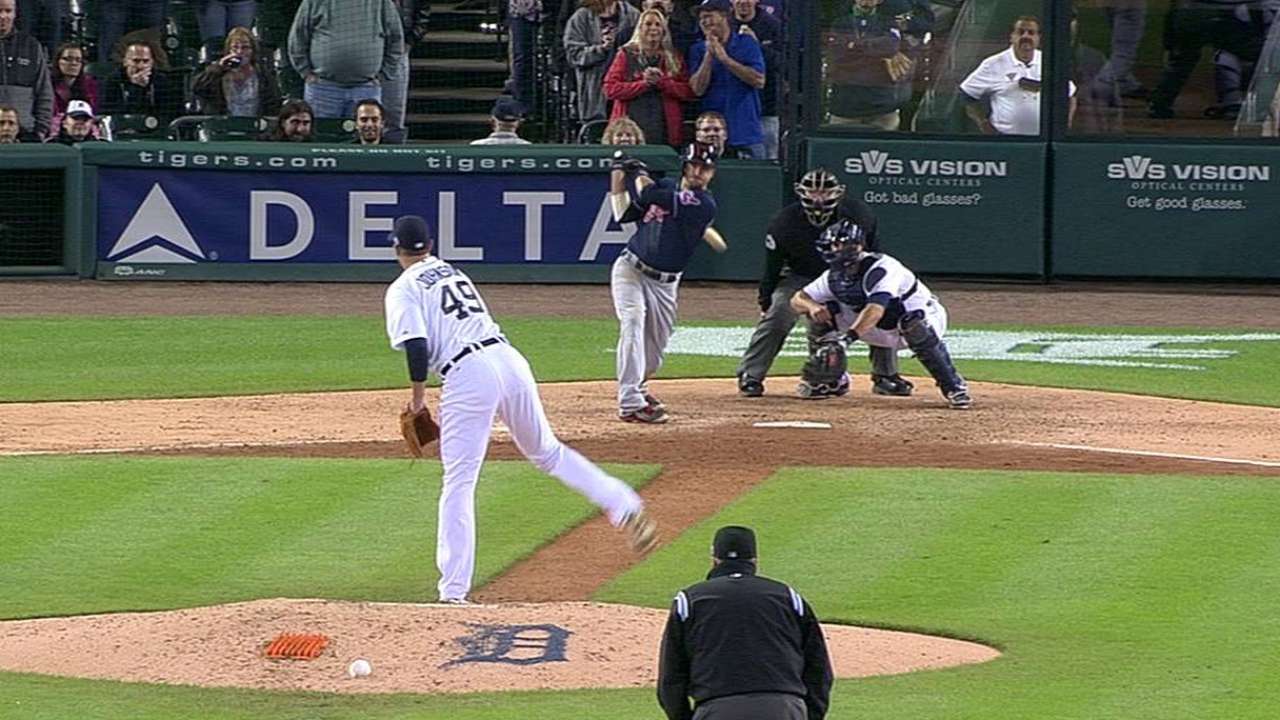 DETROIT -- No one would have said a word had Jason Giambi slowed up and stopped at third base in the ninth inning on Friday night. The Tigers had a blowout in the works and the aging veteran has spent most of this season on the disabled list.
Rather than play it safe, the 43-year-old Giambi motored around third and hustled home on Lonnie Chisenhall's double, scoring Cleveland's second run in a 7-2 loss. One day later, Giambi said it was an opportunity for him to put the words and advice he offers to his teammates into practice on the field.
"The Scotch tape held together," Giambi joked on Saturday afternoon. "It's how I've always played. That's always been the good thing, is having that opportunity to be in this clubhouse and not only helping these kids, but getting a chance to kind of show what I'm telling them. I think that's the important thing that I can still offer."
Asked about Giambi's run from first to home, Indians manager Terry Francona smiled.
"That's being a true leader," Francona said. "He says all the right things, which is awesome, but when you're that age and you go do something like that, it kind of backs up the words. That's why his words are so meaningful, because he's not that veteran and says, 'This is what I've done.' All you've got to do is look at the back of his baseball card.
"He wants to say, 'What am I doing now?' That's very impressive. I've never been around somebody like him. It's a treat."
Quote to note
"His production numbers are right on pace. That's good. If you look up at the end of the year and you see a lower batting average, that doesn't mean the last two or three months he hasn't been one of the more productive players in the game."
-- Francona, on Carlos Santana
Smoke signals
• With it being "Star Wars" night at Comerica Park for Saturday's game between the Indians and Tigers, Francona was asked for his favorite promotion. The manager said one of his favorite acts is the "Zooperstars," a group of inflatable animal-themed mascots that tour ballparks every season.
"It probably doesn't speak to my maturity," Francona said with a laugh, "but I really like the Zooperstars. I love them. Harry Canary. Clammy Sosa. I love those guys. You see like all the little kids laughing, and me."
• Entering Saturday, Santana led the Majors in walks (101). No Indians batter has led baseball in free passes since 1919 (Jack Graney). Center fielder Michael Bourn was leading the AL in triples (10). No Cleveland hitter has led the league in three-base hits since 1995 (Kenny Lofton). Shortstop Jose Ramirez led the AL in sacrifice bunts (11). The last Indians hitter to lead the league in that category was Coco Crisp (2005).
• Ramirez received a scheduled day off from starting on Saturday in Detroit, but he is expected to be back in the lineup on Sunday. Francona said he wanted to provide some rest for the 21-year-old, who had not received a day off since Aug. 21 in Minnesota.
Jordan Bastian is a reporter for MLB.com. Read his blog, Major League Bastian, and follow him on Twitter @MLBastian. This story was not subject to the approval of Major League Baseball or its clubs.