Humble Avila downplays terrific jumping catch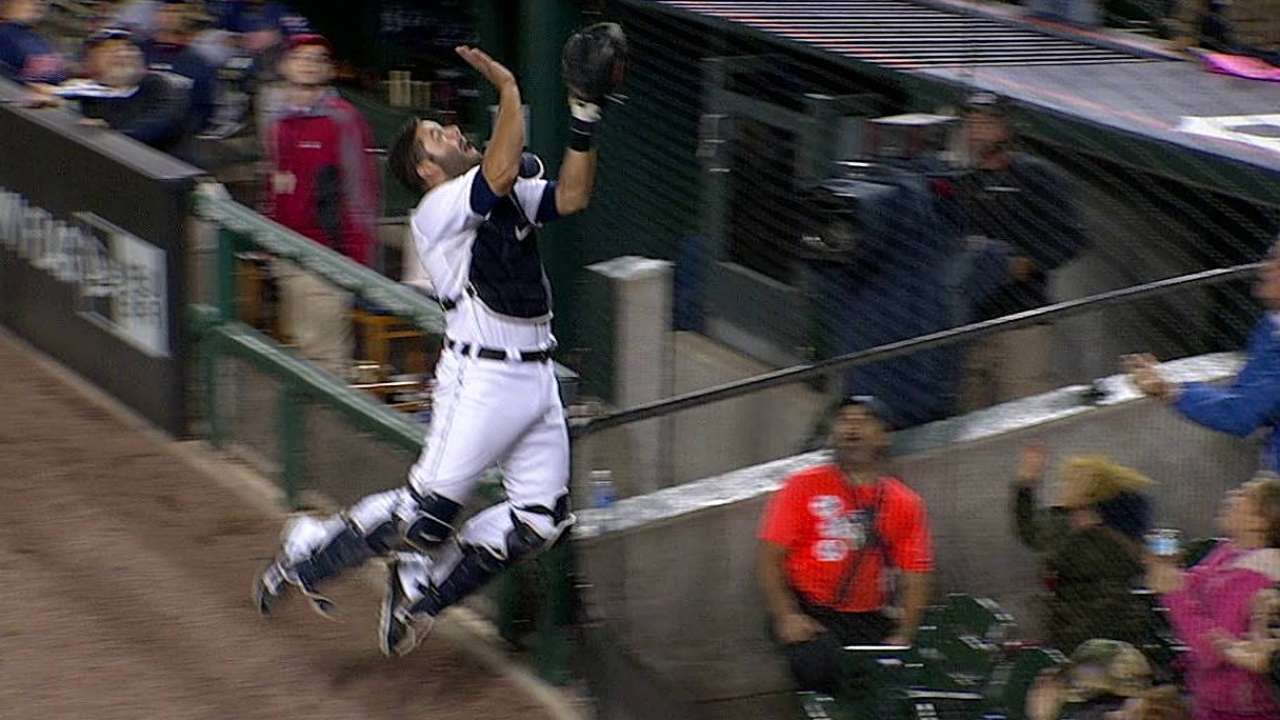 DETROIT -- Not surprisingly, Alex Avila didn't want to make a big deal out of his jumping catch at the screen on Friday night to get an out. He was, however, willing to have a little fun with it.
"I felt like I probably could've dunked a basketball today. That's how good my legs felt," Avila said with a wry smile when asked about his vertical leap.
It was an odd sight to see any catcher have to jump for a ball, let alone Avila. He usually spends more time diving to the dirt to block a pitch. It's especially odd to see a player using a screen like a trampoline.
For Avila, it was what he felt he had to do to catch the ball before it hit the screen.
"I went up there and I jumped because I thought maybe the ball was going to hit the net," Avila said. "It was kind of coming down, and I wasn't sure if I reached up there if I would've been able to catch it. I just took a shot to jump and see if I could grab it before it hit the net.
"Not exactly something you plan or practice. To be honest with you, it's because I didn't get back there fast enough. A guy with a little more mobility probably catches it a little bit easier."
Brad Ausmus, a catcher who had a little more ability for most of his career, seemed to hint at that.
"It was a nice catch. I would've caught it without the jump," Ausmus said. "Never seen that before in my life. Very athletic."
It was also very trusting on Avila's part that the net was going to hold him back from the seats, which were empty in the area where he jumped.
"The cable's pretty thick, so I was hoping it did," Avila said. "I mean, you look at those cables and they've got to last with foul balls going into them every day. I didn't know. I just wanted to catch the ball."
Jason Beck is a reporter for MLB.com. Read Beck's Blog and follow him on Twitter @beckjason. This story was not subject to the approval of Major League Baseball or its clubs.