Bour, Marlins cut down by Phillies
Key out at home in seventh on Johnson's 1,000th hit stalls Miami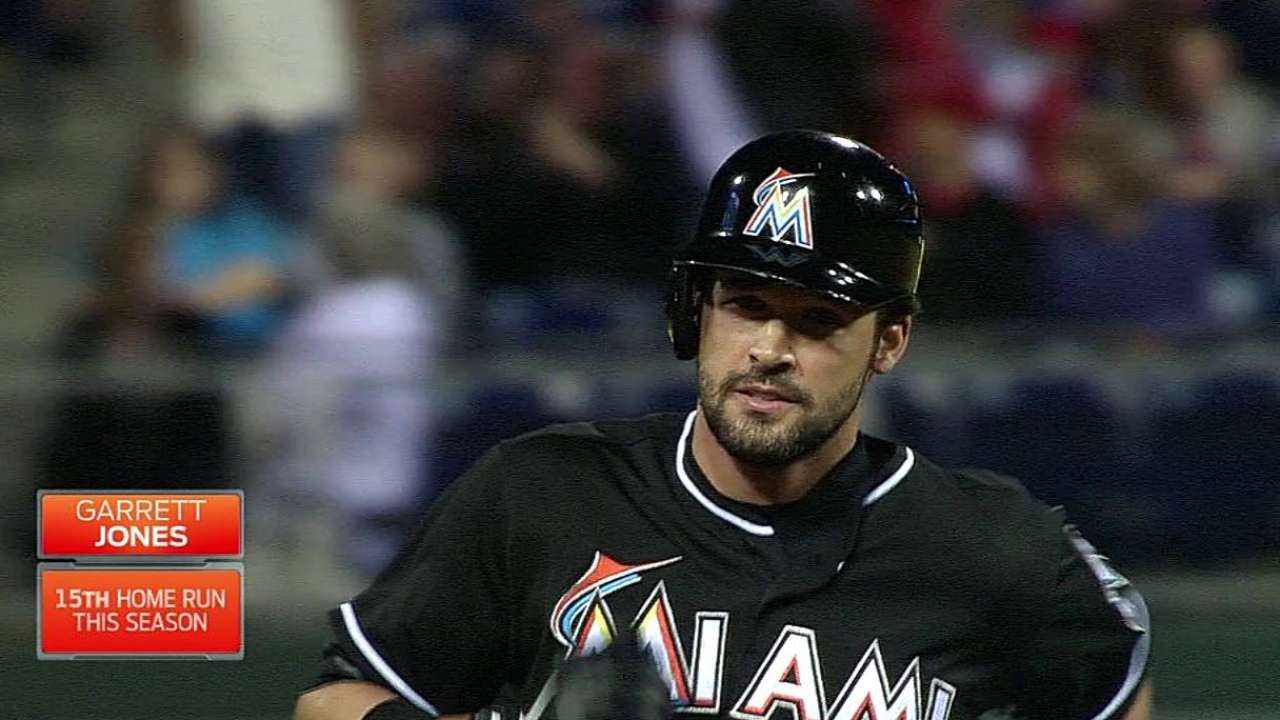 PHILADELPHIA -- Reed Johnson wasn't fully able to celebrate his 1,000th career hit, because on the play, Justin Bour was thrown out at the plate. The throw by Marlon Byrd denied Miami the tying run in the seventh inning. The Marlins were unable to recover.
Byrd made the decisive throw from right field, and he added an RBI double in the first inning that proved the difference in the Phillies' 2-1 win over the Marlins on Saturday night at Citizens Bank Park.
Miami outhit Philadelphia, 8-4, but couldn't come up with the necessary knock to push across some runs.
"We're not helping ourselves out," manager Mike Redmond said. "I think our pitchers are doing a tremendous job keeping us in these games."
Losers of four straight overall, Miami fell to 2-7 at Philadelphia on the season. Jonathan Papelbon picked up his 37th save and is now 18-for-18 in saves chances against Miami. He also has 104 saves with the Phillies, which moves him ahead of Steve Bedrosian for second place all-time in club history.
When the Marlins beat Milwaukee 6-3 on Tuesday, they were 71-72 and 3 1/2 games out in the Wild Card standings. Now, they're seven back and their chances of finishing with a winning record are diminishing at 71-76.
Minus Giancarlo Stanton, Redmond is experimenting with different lineups in hopes of generating some production. Garrett Jones, normally the regular first baseman, made his first start in right field. Jones has experience in right, having played there in 2013 while with the Pirates.
The switch enabled Bour, another left-handed hitter, to play first base.
Jones provided some power in the second inning, crushing a one-out home run to right-center. It was only the fourth run scored by Miami since Stanton was struck on the face by a pitch on Thursday at Milwaukee.
Brad Hand gave up two runs in six innings, while striking out four. But both runs came in the first inning, giving Kyle Kendrick all the support he needed. Kendrick, now 13-3 lifetime against the Marlins, limited Miami to one run in 6 1/3 innings.
"I feel like I battled today," Hand said. "I wasn't really locating my best. The first inning had been a struggle for me the past few starts. You never want to put the team in a two-run hole, but we battled back."
Command has been an issue for Hand in the past. But in his previous start, a win over Atlanta on Sept. 7, it marked the first time in his career that he's not walked a batter in a start. The lefty also didn't issue any free passes on Saturday.
"That's always been the key for me, cut down the walks, and it's gotten better," Hand said.
Philadelphia jumped out to a quick, two-run lead in the first inning. Ben Revere singled on a two-strike pitch, advanced to second on a wild pitch and scored on Maikel Franco's RBI single. Byrd's double off the wall in right produced the second run.
After a rough start in the first inning, the 24-year-old Hand settled in and had a string of retiring 14 straight before Revere's leadoff single in the sixth inning. Hand got into a bind in the sixth, as Revere reached third with one out. But the lefty retired Chase Utley on a fly ball to short center and Byrd grounded sharply to third.
Miami threatened in the seventh inning. Bour and Adeiny Hechavarria each singled to open the inning off Kendrick. With one out, Johnson pinch-hit, and off lefty Jake Diekman, he singled to right.
Byrd's strike to the plate was handled by Wil Nieves, who tagged Bour out.
"It was great throw," Kendrick said. "I was a little surprised they sent him knowing that guy's speed, cause Byrdy has a good arm. But I'm glad he did and I'm glad it worked out the way it did. Things don't always work out in this game the way you want them to and tonight was a good night."
Prior to the 37-year-old Johnson's milestone single, Jeff Mathis was unable to execute a sacrifice bunt, that could have moved two runners into scoring position for Johnson.
"[Johnson] hit that ball hard," Redmond said. "He hit that ball right at Byrd. It couldn't have been more perfect for him. Bour got thrown out by quite a bit."
Joe Frisaro is a reporter for MLB.com. He writes a blog, called The Fish Pond. Follow him on Twitter @JoeFrisaro. This story was not subject to the approval of Major League Baseball or its clubs.