Indians push back House due to matchup with Astros
Rookie southpaw to avoid club with better splits against left-handers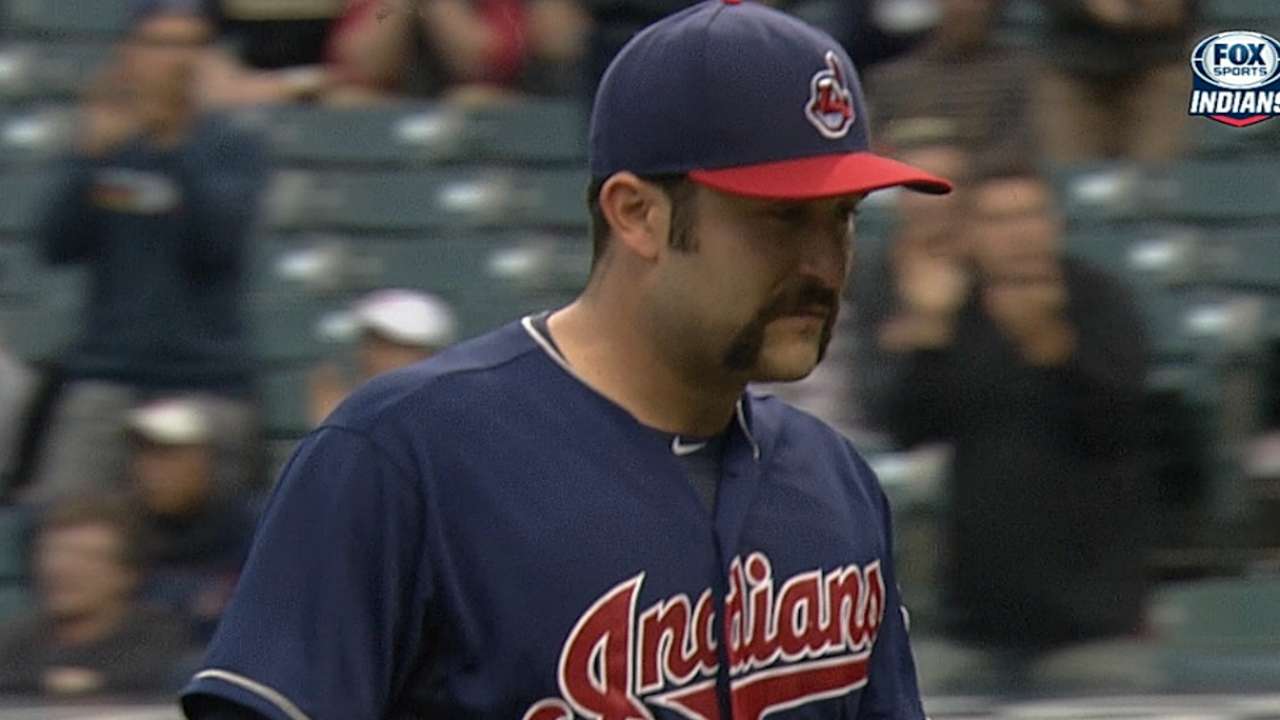 DETROIT -- T.J. House is in the midst of an historic run on the mound for the Indians, but the rookie left-hander will need to wait a little longer than normal to build on his last outing.
On Saturday, Cleveland officially announced that Zach McAllister (Monday), Corey Kluber (Tuesday), Carlos Carrasco (Wednesday) and Danny Salazar (Thursday) will start during the upcoming four-game series in Houston. Due to an unfavorable matchup in the Astros, House will return to the rotation during the next series in Minnesota.
"He's done a really good job. But basically, so has everybody else," Indians manager Terry Francona said of House. "We're at that point in the season where we're trying to win every game we can."
By that, Francona meant that Cleveland's staff examined the data and determined that it was best for the Astros to see right-handed starters during the Indians' trip to Minute Maid Park.
Heading into Saturday's action, the Astros had a .754 OPS against left-handed pitching (third in the American League), compared to a .673 OPS against right-handers (14th in the AL). Houston's .418 slugging percentage against lefties ranked fourth in the AL, while the team's .372 slugging off righties was 11th in the league.
Along the same lines, House has limited left-handed batters to a .620 OPS this season, but righties have turned in an .808 OPS against the 24-year-old.
"It's more of a matchup thing," Indians pitching coach Mickey Callaway said. "Houston performs much better against lefties than they do righties. They're pretty good against lefties. And the ballpark plays very favorable to right-handed hitters, because of the short left-field porch."
In each of his past three starts, House has logged at least seven innings with no walks and no more than one earned run allowed, matching the longest such streak (done 23 times) for a Major League pitcher in the past 100 seasons. The last two pitchers to achieve the unique streak were David Price (2013) and Greg Maddux ('00).
If House is going to continue that streak, it will be on the road against the Twins.
"When we get to Minnesota," Francona said, "we'll insert T.J. [back in the rotation] where we think it [makes sense]."
Jordan Bastian is a reporter for MLB.com. Read his blog, Major League Bastian, and follow him on Twitter @MLBastian. This story was not subject to the approval of Major League Baseball or its clubs.