Opportunistic Yankees steal a win from O's
Young's swipe of home the decisive run; Greene fans nine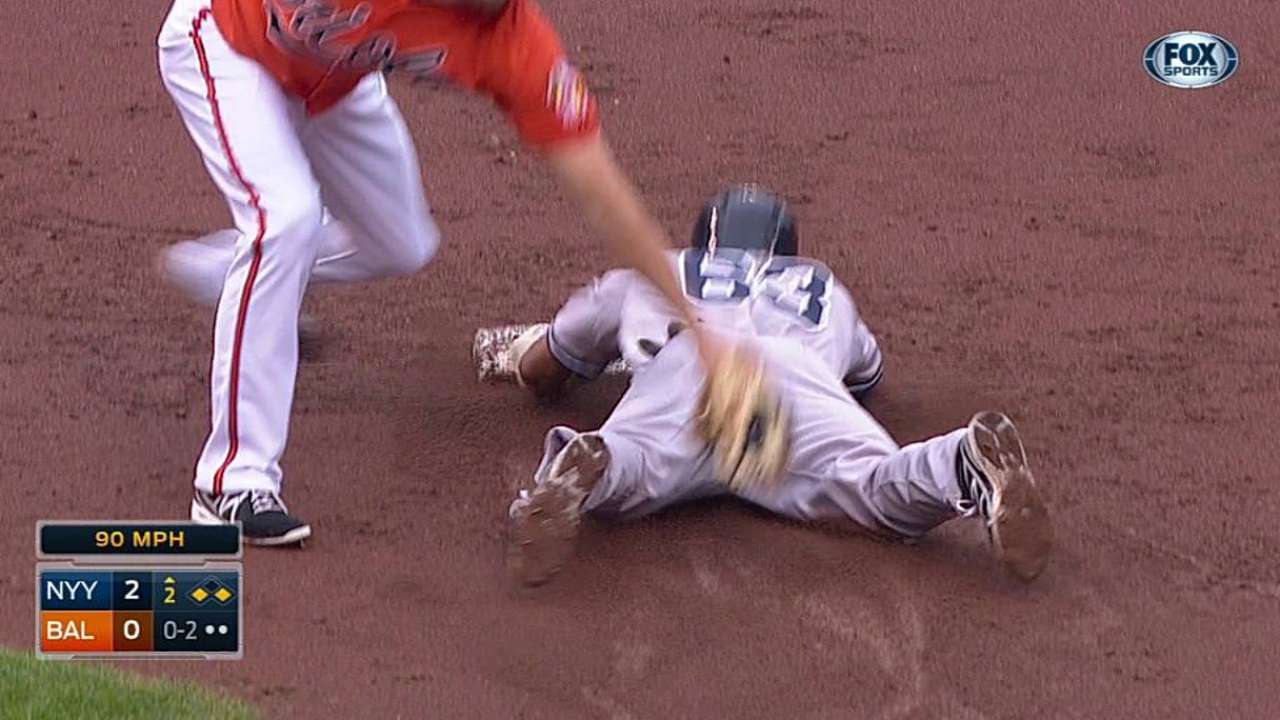 BALTIMORE -- The Yankees are holding out hope for a miracle streak to vault back into serious contention for a postseason spot, and with only so many dates remaining on the schedule, there will be no more crucial time to collect victories.
Brian McCann homered, Chris Young stole home and the Yankees' bullpen held on to credit Shane Greene with his fifth big league victory, celebrating a 3-2 victory over the Orioles on Saturday at Camden Yards.
"Three runs, by no means, is a lot, especially when we got them all early," Young said. "But for our guys to lock that lineup down like they did, it was huge for us today. It was a really big win."
The outcome kept the Yankees five games behind the Royals, who hold the second American League Wild Card spot.
"I told you, we're going to have to win a lot of games," manager Joe Girardi said. "Win one tomorrow; that's all we can do. We have to go out and win tomorrow."
After being limited to one run over 20 innings in Friday's day-night doubleheader, New York enjoyed what seemed to be an offensive eruption by comparison, producing three runs in the second inning against Baltimore right-hander Miguel Gonzalez.
"It was nice," McCann said. "The stretch we've had the last three games, we haven't really swung the bats well. It was nice to get on the board."
McCann opened the scoring with a solo home run to right field, his 19th of the year, and Antoan Richardson knocked home Mark Teixeira with a run-scoring single.
The Yanks then pulled off a double steal that had Young swiping home plate after the Orioles threw down to second base, too late to nab the speedy Richardson.
"It definitely doesn't happen every day," Young said. "Normally, they don't throw the ball when you have a guy like Antoan on first base. I was happy to do it, and that run ended up mattering."
Gonzalez settled in from there, retiring 11 straight and completing six innings, but Greene and the Yankees' bullpen were able to make the three runs hold up.
Greene struck out nine men -- one shy of his season high -- and held Baltimore to two runs on seven hits over 5 1/3 solid innings.
"I thought Greenie did a really good job," Girardi said. "They put some long at-bats on him, and he was able to get us into the sixth inning."
Nelson Cruz knocked a run-scoring single in the third inning and Steve Pearce slugged a sixth-inning solo homer, his 17th, to account for the scoring off Greene, who walked just one batter in a 112-pitch outing.
"I felt like early my slider was good, but I couldn't throw it for a strike," Greene said. "As the game went on, I started throwing it for a strike, and that helped a lot."
Yankees captain Derek Jeter, who is scheduled to play his final regular-season game in Baltimore on Sunday, finished the afternoon 0-for-3 with a walk and is hitless in his last 20 at-bats.
"We don't get so caught up in what the numbers are," Girardi said. "You look at the at-bats. Sometimes you can be swinging horrible and you're getting hits. It can go the other way."
One day after coughing up a one-run lead that slumped shoulders in a hushed clubhouse, four Yanks relievers walked a tightrope to avoid the same fate.
Josh Outman took over for Esmil Rogers and recorded two big outs in the seventh to pin the potential tying run in scoring position, and Shawn Kelley avoided damage in the eighth despite a loud out that Nelson Cruz launched to the warning track in center field.
"I was a little worried," Girardi said.
Noting some right shoulder soreness after throwing a season-high 35 pitches on Friday, David Robertson answered the call in the ninth and worked around a leadoff single and a sacrifice bunt to record his first save since Aug. 29, stranding the tying run at third with Nick Markakis' game-ending groundout.
Robertson acknowledged that if it were earlier in the season, he might not have been so quick to spring into action so soon after a lengthy outing, citing the crankiness that nagged his sides and hamstrings. But it is not early in the season, and the Yankees understand that part all too well.
"Every win's big for us now," Robertson said. "We've dug ourselves a little bit of a hole, but this is September baseball and I've seen amazing things happen. You can't give up hope, and you've got to try to grind out every single game. One win today."
Bryan Hoch is a reporter for MLB.com. Follow him on Twitter @bryanhoch and read his MLBlog, Bombers Beat. This story was not subject to the approval of Major League Baseball or its clubs.