Lind's big swing helps Toronto keep WC in sight
First baseman hits go-ahead homer; Dickey goes seven strong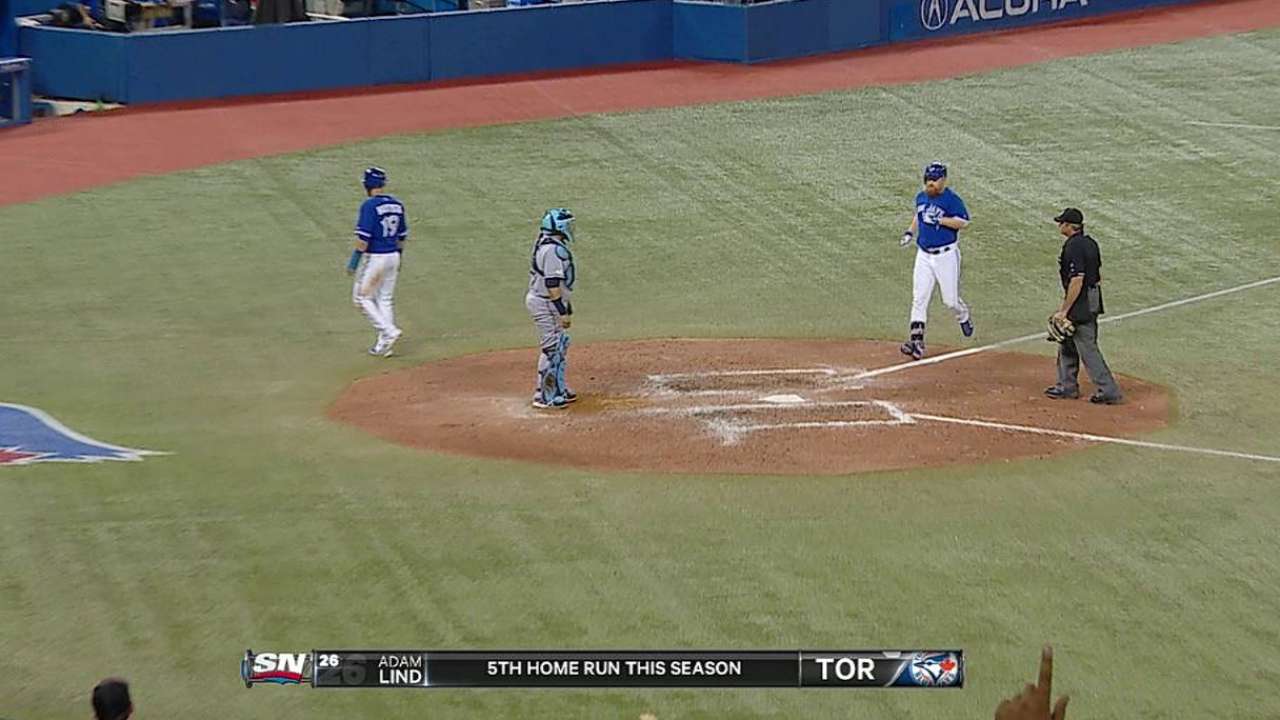 TORONTO -- Adam Lind broke out of a deep homer slump in a major way on Saturday afternoon to help the Blue Jays past the Rays.
Lind smacked his first homer since late June in the seventh, and Edwin Encarnacion followed with one of his own on the next pitch as Toronto beat Tampa Bay, 6-3, at Rogers Centre, setting the table for the rubber match on Sunday.
"I guess I hit it to the right part of the ballpark," Lind said. I just kept sprinting. I think it's been since June since I hit a home run, which is about the longest in my life, since my first home run. It's nice to join the party."
The Blue Jays, who have won 10 of their last 13 games, entered the day four games out of an American League Wild Card spot, and they could potentially gain some ground with the victory, with Cleveland, Seattle, Oakland and Kansas City -- the teams ahead of Toronto -- yet to play.
Lind's homer came on a fourth-pitch changup that reliever Brad Boxberger left over the outer part of the plate. Lind, who has hits in 14 of his last 17 games against the Rays, hung with it and drove the ball over the wall in center field, bringing home Jose Bautista with his fifth dinger of the season to make it 5-3, Toronto.
"I just left it up. I wasn't locating today, or really the last couple of outings," Boxberger said of the decisive pitch to Lind. "I left it way up."
Boxberger was relieved by Steve Geltz, whose first pitch to Encarnacion was rocketed to the second deck in left. It marked the eighth time this season the Blue Jays have gone deep back-to-back.
Toronto starter R.A. Dickey earned the win, giving up three runs and striking out five in seven innings. The knuckleballer, who improved his record to 13-12, tossed his 20th quality start and is now unbeaten in his last five outings.
"You know with this team, you're always a homer away from kind of clawing back ahead, and we were able to do that. Adam's home run was huge," Dickey said.
Dickey was facing Tampa Bay for the second time in two weeks, and he said he had to adjust his approach several times to stay one step ahead of the Rays' hitters.
"Those guys are smart. They change it up," he said. "Last game, they were a little more patient. [This time] they came out swinging the bats early on. They were attacking knuckleballs that I was throwing for strikes, so you have to be able to make an adjustment, too. Pumping the breaks or changing speeds so they're out in front ... whatever you can do."
After a tough first inning that saw Ben Zobrist lead off the game with a double, later scoring, Dickey got into trouble in the third. Down 1-0, he gave up a single to Kevin Kiermaier to start the frame, followed by a walk to David DeJesus and a double to Evan Longoria. Dickey was able to limit the damage to one run before the Blue Jays erupted for three in the bottom half to go ahead, 3-2.
But that lead wouldn't hold, as Dickey surrendered a leadoff homer to Longoria in the sixth to knot the game at 3, a tie that persisted until the Blue Jays' big seventh.
Dickey turned the ball over to Brett Cecil in the eighth, who escaped a scare after Zobrist singled and Sean Rodriguez walked to start the inning. Cecil fanned Longoria, and James Loney grounded into an inning-ending double play. Blue Jays manager John Gibbons said the eighth got "a little hairy," but with Cecil on the mound, there was really no reason to panic.
"Look what he's done the last few weeks," Gibbons said of Cecil, who extended his scoreless innings streak to 15. "He's as good as anyone you're going to find. He's really picked it up, and he's got one of the best curveballs in the business. It's his go-to pitch. You can't say it's unhittable, but it's close to unhittable."
Casey Janssen came on to close out the ninth, and earned his 23rd save of the season with a scoreless inning.
Jamie Ross is an associate reporter for MLB.com. This story was not subject to the approval of Major League Baseball or its clubs.