Shaky 'pen, faulty defense hurt in loss to Jays
Hellickson K's eight in six frames; Lind homers off Boxberger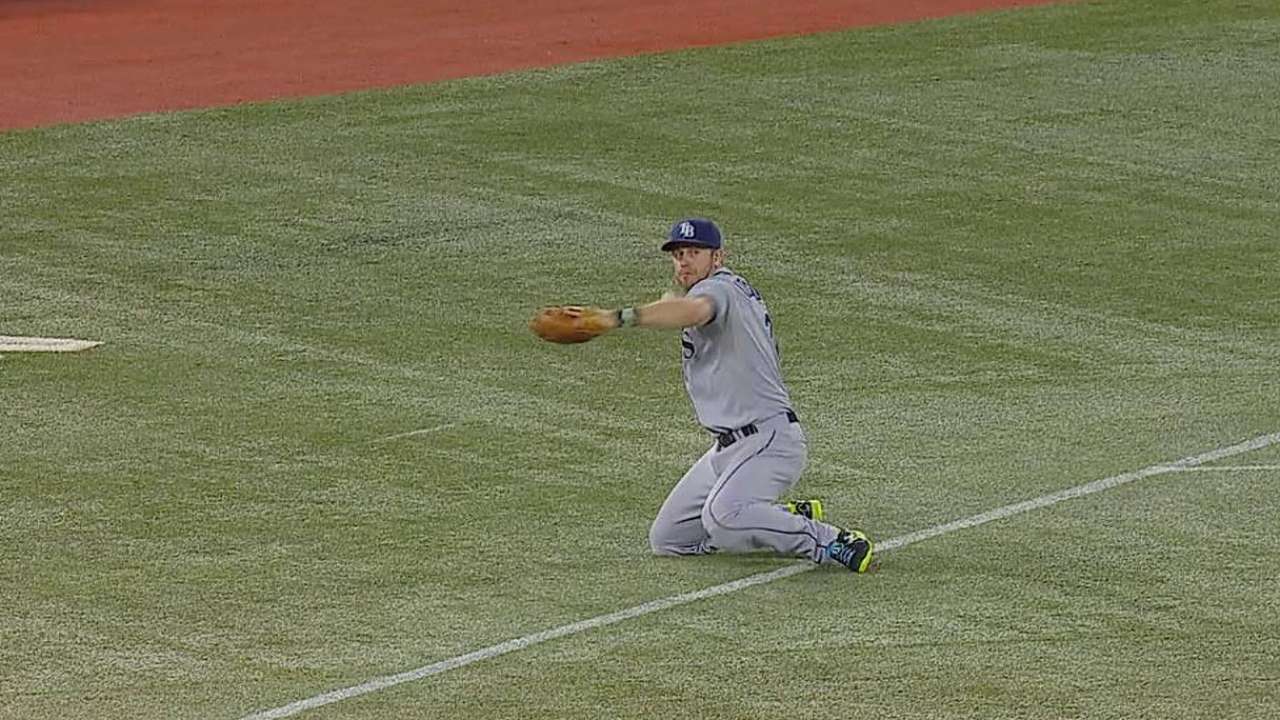 TORONTO -- A lock-down reliever couldn't lock it down, and a Gold Glove Award-winning pitcher couldn't field his position Saturday afternoon, which added up to a 6-3 Rays loss to the Blue Jays at Rogers Centre.
The game moved into the bottom of the seventh tied at 3 when Brad Boxberger entered the game. The Rays' right-hander, who has been one of the team's most reliable bullpen weapons this season, was making his first appearance since surrendering a two-run homer to Martin Prado in the Rays' 5-4 loss to the Yankees on Thursday night. Unfortunately for the Rays, Boxberger couldn't right the ship.
After striking out Jose Reyes, Boxberger issued a walk to Jose Bautista. Adam Lind followed with a blast that cleared the wall in left-center field.
"I just left it up," Boxberger said. "I wasn't locating today, or really the last couple of outings."
Boxberger identified the pitch as a changeup, and when asked what he was trying to do, he said: "Not throw it there. I left it way up."
Lind, who has not had a big power year, did not take his fifth home run for granted.
"I guess I hit it to the right part of the ballpark," Lind said. "I just kept sprinting. I think it's been since June since I hit a home run, which is about the longest in my life, since my first home run. It's nice to join the party. I get a little bit of grief, but I think Edwin [Encarnacion] and Jose have enough for everyone."
Rays manager Joe Maddon wasn't about to throw Boxberger under the bus, given the year the right-hander has had.
"Listen, this guy's been like, money, all year," Maddon said. "Eleven out of 10 times I want him in that spot. It didn't play tonight. I give them some credit."
Steve Geltz took over for Boxberger, and Encarnacion greeted the rookie right-hander with an upper-deck homer to left, giving the slugger his 31st home run of the season while pushing the lead to 6-3.
The three-run loss was not representative of the way the contest started.
Ben Zobrist led off the game with a double to left off R.A. Dickey and moved to third on a groundout. Evan Longoria then grounded to short to score Zobrist for a 1-0 Rays lead.
The offensive mojo carried over to defense when Longoria made the play of the game on Danny Valencia's shot down the third-base line leading off the second. The Rays' third baseman dove to backhand the ball then threw from his knees to one-hop the ball to first baseman James Loney for the out.
More offense followed against the always tough Dickey. Kevin Kiermaier singled to right to lead off the third and took second after he made a big turn and Blue Jays right fielder Bautista threw behind him. Kiermaier moved to third on a groundout, then scored the Rays' second run when Dickey uncorked a knuckleball that went to the backstop.
But the Rays' un-doing began in the bottom half of the third, when Ryan Goins struck out but reached first on a wild pitch by Jeremy Hellickson. Anthony Gose followed with a single to center, before Reyes put down a bunt single that Hellickson threw wild to first. Goins scored on the play, and then Bautista drove home Gose with an infield single off Hellickson's glove. Lind grounded into a fielder's choice to drive home Reyes, giving the Blue Jays a 3-2 lead.
"An error by me, and me not being able to field my position, period," said Hellickson, who won a Gold Glove in 2012. "That was pretty embarrassing. Those plays have to be made."
Longoria evened the score with a solo home run off Dickey in the sixth, giving Longoria 21 for the season.
Dickey got his 13th win of the season, with the Blue Jays' knuckleballer serving up his normal dose of frustration. That frustration spilled over after Dickey had left the game, when Matt Joyce struck out against Casey Janssen in the ninth, then strongly expressed his distaste of the strike zone to home-plate umpire Paul Nauert. Accordingly, Joyce was ejected.
While Hellickson didn't field his position well, he had good stuff, allowing two earned runs in six innings, walking four and striking out eight en route to a no-decision.

"A couple of uncharacteristic mistakes by [Hellickson], but ultimately we put it in the hands of a guy that's been one of our best, in Box, and he made a mistake and Lind capitalized on it," Longoria said. "It's a rough way to go."
Bill Chastain is a reporter for MLB.com. This story was not subject to the approval of Major League Baseball or its clubs.