Sore neck further delays Milone's return to mound
Southpaw hasn't pitched since Sept. 2; had been probable pitcher for Monday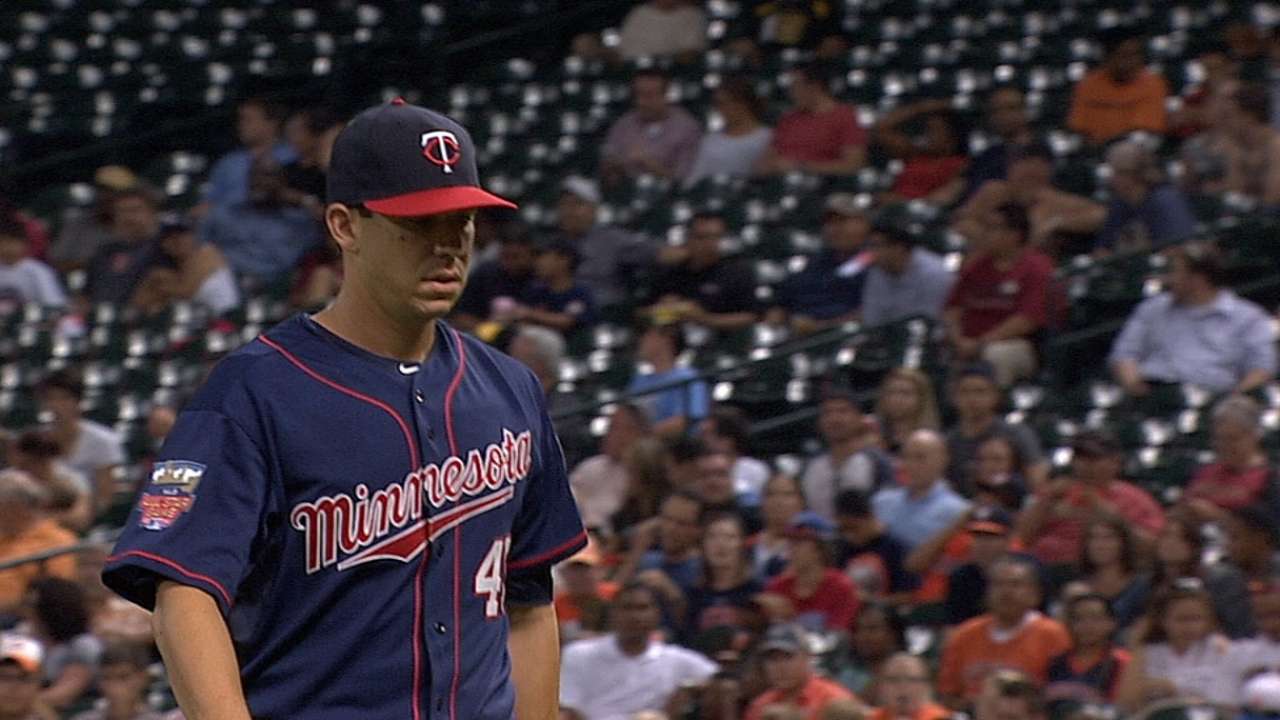 CHICAGO -- Left-hander Tommy Milone's return from a tired pitching shoulder and sore neck has been pushed past Monday, an already delayed setback.
Milone had been slated to return on 10 days of rest Saturday before Friday's three-game series opener against the White Sox was rained out, forcing a doubleheader Saturday. Milone was then listed as the probable Monday starter against the Tigers, but those plans were changed Saturday morning.
"[Milone] went out and tried to throw a bullpen, but he has a neck problem, so we will be ad-libbing on Monday," manager Ron Gardenhire said. "We have to get through these three games [vs. the White Sox], and then we'll see where we're at with our bullpen and everybody else. But Milone's neck is bothering him and he's not going to make a start."
The Twins haven't named Monday's starter, but righty reliever Anthony Swarzak will likely get the nod. Bullpen attrition this weekend in Chicago will dictate Swarzak's potential start.
"Honestly, we have to get through this [series] before we can sit there and say, 'Swarzak.' But he would be our hope," Gardenhire said.
Milone was 0-1 with a 7.40 ERA in five starts since joining the Twins via a Trade Deadline deal that sent outfielder Sam Fuld to Oakland. Milone was 6-3 with a 3.55 ERA in 16 starts with the A's. He was relieved after 3 2/3 innings due to the tired pitching arm on Sept. 2 against the White Sox.
"I'm sure it's very disappointing for him," Gardenhire said of Milone, "because he's had a rough time over here. He would like to pitch, and we would like to see him pitch. But you know, injuries are part of the game, and he's not going to be able to make it out there, so I think he's probably more disappointed than anybody."
Swarzak has made one start this season, a five-inning outing against the Indians on July 23 in which he allowed one earned run on two hits. He's gone 3-1 with a 3.95 ERA in 73 innings pitched this year.
Daniel Kramer is an associate reporter for MLB.com. This story was not subject to the approval of Major League Baseball or its clubs.