Viciedo's walk-off completes twin-bill sweep
Abreu hits one of three Sox HRs, works 14-pitch walk to set up winner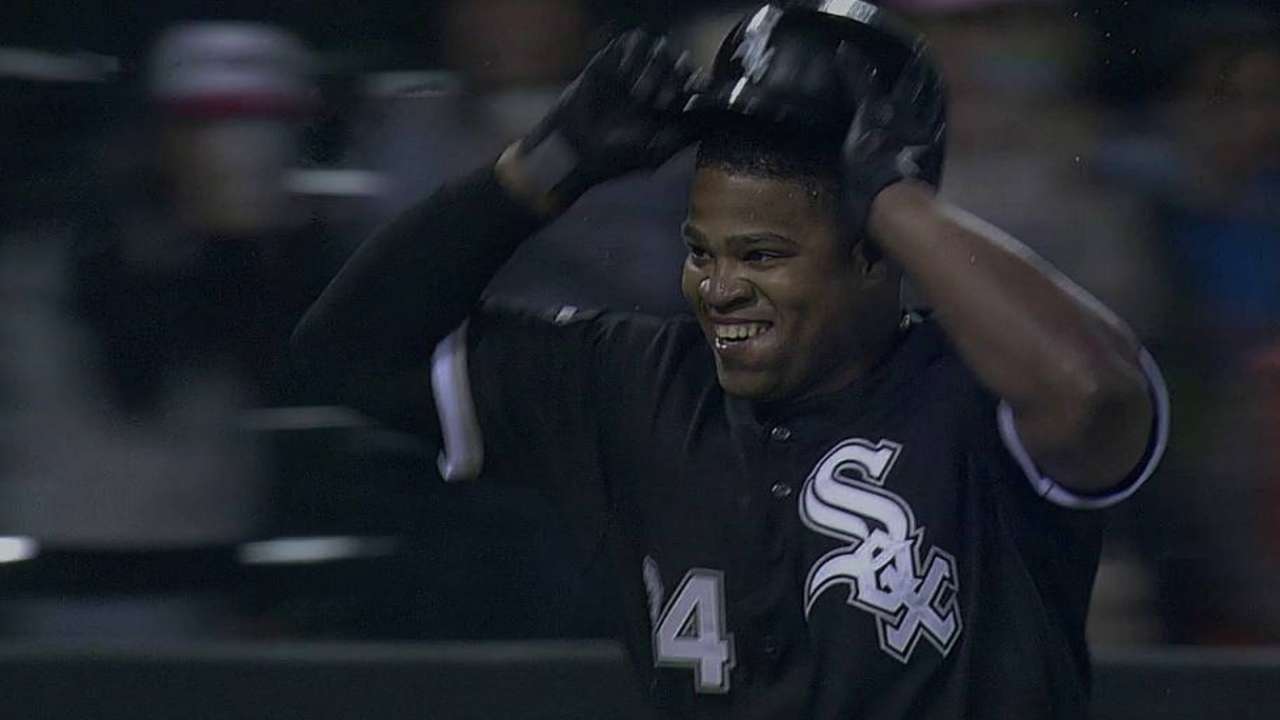 CHICAGO -- In a perfect world, 2015 White Sox baseball will look much like it did during a doubleheader sweep of the Twins on Saturday at U.S. Cellular Field.
Game 1 featured a career-high 13 strikeouts from Jose Quintana -- who forms an outstanding one-two punch at the top of the rotation with Chris Sale -- in a 5-1 victory. The nightcap featured a bit more offense, with the White Sox (68-80) working to their final at-bat before erasing a one-run deficit via Dayan Viciedo's walk-off, two-run shot against Minnesota closer Glen Perkins in a 7-6 final.
Viciedo's 21st home run, carrying 405 feet to left-center on a full-count offering, joined teammates Jose Abreu and Avisail Garcia in the Game 2 long ball column. But it was Abreu's 14-pitch walk to open the ninth against Perkins, featuring eight straight foul balls at one point, that set the stage for the team's 33rd comeback victory and fifth game-ending homer.
"That at-bat, it was a difficult at-bat," Abreu said through interpreter and White Sox director of public relations Lou Hernandez. "But I went into the at-bat thinking to myself that I would do whatever I could to get on base and help tie the game. I just tried to work as much as I could to get the right pitch."
"The way he just settled in and just waited for his pitches and he fought, that was the fundamental thing to get on base and do whatever we can to tie the game or win the game," Viciedo said, also with the assistance of Hernandez. "That was a great at-bat, going pitch for pitch."
Kurt Suzuki's pinch-hit double in the ninth off White Sox closer Jake Petricka (1-4) gave the Twins a 6-5 lead. Chris Parmelee almost ran the Twins (62-86) out of the ninth, when he was caught trying to stretch his double into a triple with pinch-runner Aaron Hicks already standing on third, as Hicks had held up at second to make sure Parmelee's ball wasn't caught. But Suzuki picked up the Twins with his two-out hit.
This ninth-inning advantage marked the third lead lost by the Twins. They scored four in the first against White Sox starter Scott Carroll, highlighted by Oswaldo Arcia's three-run blast, but the White Sox answered in the bottom half off Logan Darnell on Garcia's three-run shot.
Abreu's solo homer in the fifth tied the game at 4, and Conor Gillaspie's pinch-hit single in the seventh tied the game once again at 5. The 411-drive to right-center for Abreu marked his 34th of the season and his 100th RBI, snapping a stretch of 69 at-bats and 80 plate appearances without going deep, covering 18 games. He also homered for the first time in September, and three of his five extra-base hits this month came in Saturday's doubleheader.
Only Hal Trosky (1934), Ted Williams (1939) and Albert Pujols (2001) have recorded at least 30 doubles, 30 homers and 100 RBIs, as Abreu has now accomplished.
"One-hundred RBIs, that's a pretty big milestone," Carroll said of Abreu.
Carroll left after retiring 11 in row through the fifth due to a torn fingernail.
"I'm just really thankful that we swung the bat, because I didn't help my cause by getting in a hole, 4-0."
White Sox pitchers combined to strike out 26 Twins in the doubleheader. Minnesota pitchers fanned 19. Quintana became just the seventh left-hander in White Sox history to strikeout 13-plus hitters in a game. The others: Sale (five), Juan Pizarro (five), Thornton Lee (once), Doc White (once), Jack Harshman (once) and Gary Peters (once).
It was a long day featuring more than six hours of baseball, but a good day for the White Sox, who have matched their season high with four straight wins. They featured the perfect combination of pitching dominance and offensive fireworks.
"There at the end, we got the lead," Minnesota manager Ron Gardenhire said. "We had the lead and we lost it."
"Our most important thing is that we are all here, and we are all working toward the same thing," Viciedo said. "When we are going well, it shows that we've put in the work."
Scott Merkin is a reporter for MLB.com. Read his blog, Merk's Works, and follow him on Twitter @scottmerkin. This story was not subject to the approval of Major League Baseball or its clubs.