Quintana's 13 K's pave way for Game 1 Sox win
Ramirez homers, Chicago adds insurance; club combines for 17 whiffs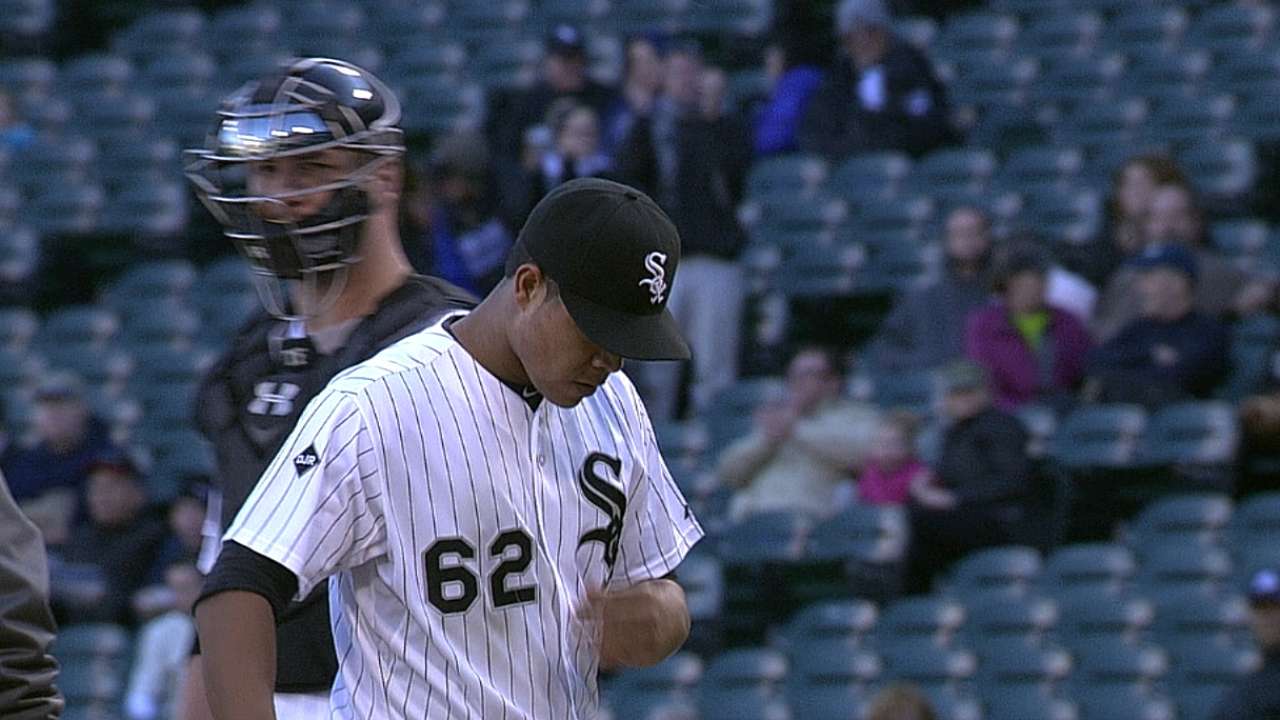 CHICAGO -- With Jose Quintana and Phil Hughes on the mound during the first game of Saturday's doubleheader at U.S. Cellular Field, not to mention the tough shadows brought about by a 3:10 p.m. CT first pitch, contact became a four-letter word for hitters from the Twins and White Sox.
At one point in the opening contest, the two had combined to strike out 16 of 34 hitters. But it was Hughes who made the one mistake and Quintana who was just a little bit better in Chicago's 5-1 victory. The win extended the White Sox streak to three straight, which matched their longest home run of success this season, and extended their pitchers' scoreless innings streak to 21 in a row before Chris Parmelee's run-scoring double in the eighth off reliever Zach Putnam.
Hughes' one misstep came in the third, after Joe Mauer's fielding error on Carlos Sanchez's one-out grounder extended the inning. Hughes threw a 93-mph fastball down the middle to Alexei Ramirez, who knew what to do with it, hitting a line-shot homer to left. Ramirez now has 15 homers and 67 RBIs for the season.
It was all Quintana (8-10) before and after that homer. Quintana struck out a career-high 13 in seven-plus innings, including six in a row through the fifth and the sixth. Kennys Vargas' groundout to Ramirez to open the seventh prevented Quintana from tying the White Sox single-game record of seven straight held by Joe Cowley in 1986 at Texas.
"I like when I get a lot of strikeouts," said Quintana, who pointed to his fastball working on both sides of the plate as the key on Saturday. "Sometimes you have games when you don't have too much. But today I feel really good with that. I want to continue."
"He was good," White Sox manager Robin Ventura said of Quintana, who has 165 strikeouts over 185 2/3 innings this season. "It was tough to see; that's obvious. Both pitchers had the advantage, but you've still got to be able to throw strikes and attack, and Q did that."
Minnesota (62-85) finished with just three hits against Quintana, but put the first two runners on base to start the fifth via a walk to Trevor Plouffe and Oswaldo Arcia's single. Quintana proceeded to strike out Kurt Suzuki, Eduardo Escobar and Aaron Hicks to squelch the threat.
In 81 of his 85 career starts, Quintana has issued three walks or fewer, with just the two Saturday. He also has allowed one homer over his last six starts covering 37 1/3 innings.
Andy Wilkins' single off Hughes in the seventh scored Jordan Danks with an insurance run for the White Sox (67-80). Hughes (15-10) finished with 11 strikeouts, but he was charged with five runs -- three earned -- when the two runners he allowed to reach base to start the eighth eventually scored. Marcus Semien's pinch-hit double scored Ramirez, who had doubled, and Tyler Flowers was hit by a Michael Tonkin pitch with the bases loaded to force home Jose Abreu, who was hit by Hughes.
Abreu doubled twice in the victory, giving him 70 extra-base hits in his rookie season. It was his first game with multiple extra-base hits since July 31, and just his third and fourth extra-base hits of September.
"I'm confident he's going to be able to have power and hit for power," Ventura said of Abreu. "He's hitting for average, he's getting quality hits for us and that's all you can really ask."
This first game was about Quintana, who anchored a 17-strikeout effort for White Sox pitchers and strongly followed Chris Sale's eight shutout innings Thursday against Oakland.
"He'll go off the plate. He changes speeds. He moves the ball in and out. He throws a nice little breaking ball in there for effect," Twins manager Ron Gardenhire said of Quintana. "Then he goes back out there and keeps painting away, away, away, and he'll give you just enough and make you kind of hang yourself by making you throw that ball away."
"Following Chris Sale is really good," Quintana said. "One-two guys for the rotation, him and me, is really important for the team."
Scott Merkin is a reporter for MLB.com. Read his blog, Merk's Works, and follow him on Twitter @scottmerkin. This story was not subject to the approval of Major League Baseball or its clubs.