Hughes out-K'd by Quintana in Twins' Game 1 loss
Minnesota fans 17 times, can't support veteran's career-high 11 whiffs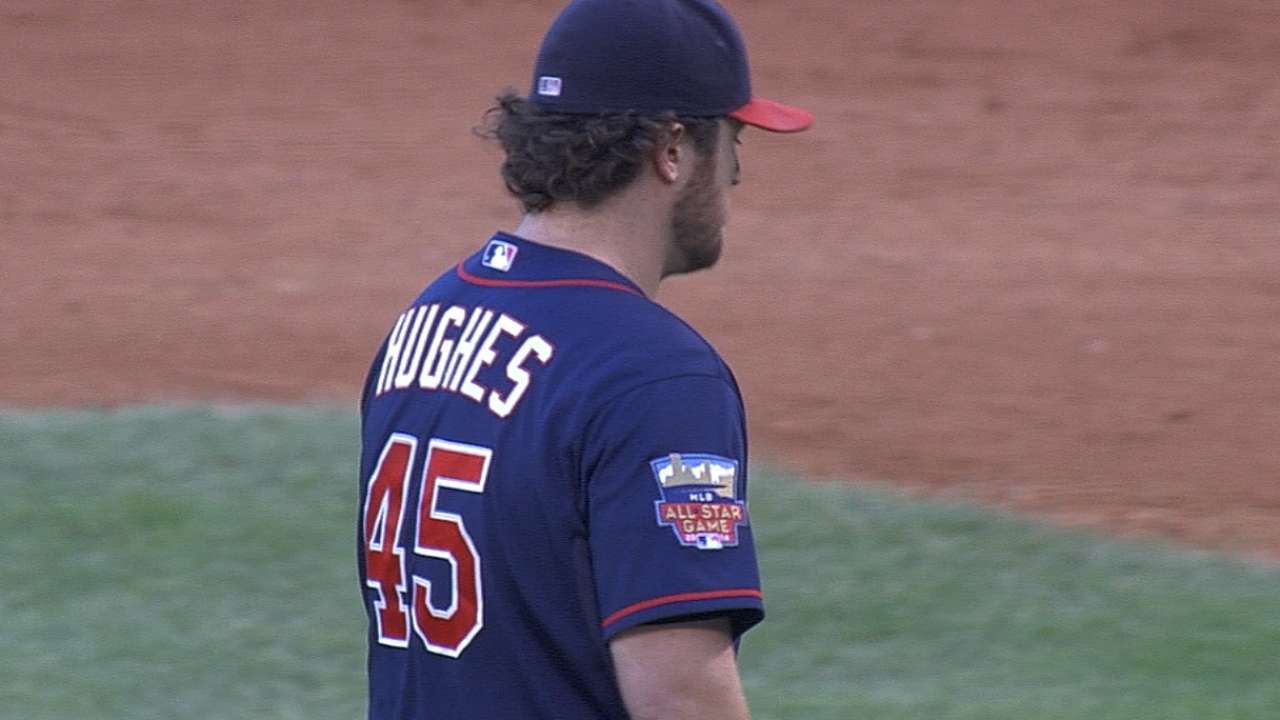 CHICAGO -- Phil Hughes fanned a career-high 11 batters, but the Twins came away with their seventh loss in eight games, falling, 5-1, to the White Sox in Game 1 of a Saturday's doubleheader.
Hughes was charged with all five Chicago runs, three earned, on six hits and a walk, tossing 106 pitches over seven-plus innings. The final two runs, however, were scored after he left the game.
The Twins snapped a Majors-high 379-game streak without double-digit strikeouts by a starter.
"[Reliever Glen] Perkins reminds us all the time," Hughes said of the lengthy streak. "He reminded me in between innings -- he's not shy about superstitions."
Hughes' previous high for strikeouts (10) came against the Twins on July 13, 2013, as a member of the Yankees. White Sox starter Jose Quintana also recorded a benchmark, fanning 13. The teams combined for 29 total strikeouts, two shy of the Major League record in a nine-inning game.
The strikeouts were in large part due to the gaping shadows that hovered around home plate, players said.
"The shadows were tough," Twins manager Ron Gardenhire said. "Our guys were definitely saying they were losing the ball. I'm sure it was the same way for them."
Said Hughes: "Us pitchers love it, because they can't see the ball. You're not really in the middle on that subject. If you're a pitcher, you love it. If you're a hitter, you hate it."
The White Sox were able to manufacture runs amid the twilight.
Quintana held the Twins scoreless for seven innings, but he exited after opening the eighth with a walk to Kurt Suzuki, who would score one out later on a single by pinch-hitter Chris Parmelee. Quintana was charged with the one run on three hits and two walks.
"I like when I get a lot of strikeouts," Quintana said. "Sometimes you have games when you don't have too much. But today is more high for me. I feel really good with that. I want to continue."
Said Gardenhire: "He changes speeds. He moves the ball in and out. He'll go in off the plate. He throws a nice little breaking ball in there for effect. Then he goes back out there and keeps painting away, away, away, and he'll give you just enough and make you kind of hang yourself by making you throw that ball away."
A third-inning error by Joe Mauer preceded a two-run homer by Alexei Ramirez that came on a first-pitch fastball. Andy Wilkins had an RBI single in the seventh to bring home Jordan Danks, who led off with a double down the left-field line, confirmed on review.
Pinch-hitter Marcus Semien tacked on another run with an RBI double in the eighth, then Tyler Flowers was hit by a pitch with the bases loaded to bring in another.
"I tried to attack the zone as best I could and do the same things I do," Hughes said. "Unfortunately I had a walk early and had to get around that. Just the one pitch I regret, the ball to Ramirez right over the middle of the plate. That was it for the most part."
Saturday marked Minnesota's second twin bill in three days.
Daniel Kramer is an associate reporter for MLB.com. This story was not subject to the approval of Major League Baseball or its clubs.