Rays see glimpse of future in Karns' scoreless debut
Rookie struck out eight, gave up just two hits in seven innings vs. Jays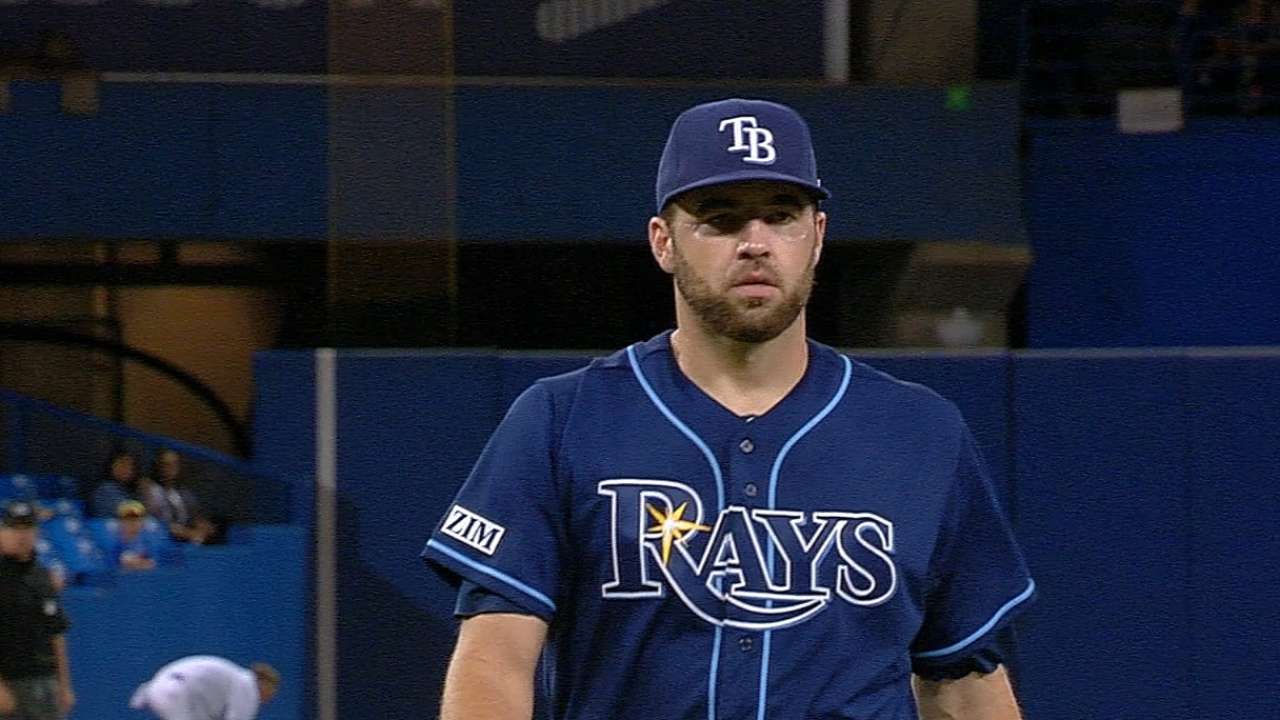 TORONTO -- Friday night, Nathan Karns became the first Rays rookie pitcher to throw seven shutout innings and allow two hits or fewer in his Rays debut. He also tied Steve Trachsel for the longest scoreless outing in a Rays debut.
According to the Elias Sports Bureau, Karns is the third starting pitcher over the last eight seasons (since 2007) whose first career win was in a 1-0 shutout, joining Miami's Alex Sanabia and Kansas City's Bryan Bullington.
Karns came to the Rays in the February deal that sent catcher Jose Lobaton to the Nationals. Friday night he used 114 pitches to post seven zeros, allowing just two hits and two walks while striking out eight. He made three starts for the Nationals in 2013, posting an 0-1 mark with a 7.50 ERA. He allowed that he is now a "little more polished."
"Kind of learning hitters' approach," said Karns, when asked to explain the areas in which he has grown. "How important it is to mix pitches in certain counts. Really just growing comfortable pitching to quality hitters."
Karns said that he was "more of a thrower than a pitcher" last season.
"I had success, but that was at the lower levels," Karns said. "This year was more about being able to repeat and locate and change my mechanics and be more efficient."
Rays pitching coach Jim Hickey saw a snapshot of Karns during Spring Training, and he noticed some improvements since he last saw the right-hander.
"He's developed his changeup a little bit down there," Hickey said. "He didn't use it extensively [Friday], but that's a big part of what's going to be needed for his repertoire. I think that's something that he's done.
"Delivery-wise, he looks pretty consistent. He's got a couple of issues like anybody would, that you can probably clean up a little bit more. But overall, I like the progress that he's made."
Hickey was asked if Karns' performance should get fans excited about his future.
"I think certainly," Hickey said. "Just the same way when any of the other young guys came up, going back to the Jeremy Hellicksons, the Wade Davises -- all the guys that have come after them.
"So obviously, if [Karns] was sought after by us, they saw something that led them to believe he could be a good pitcher, and you saw a glimpse of that last night."
Rays manager Joe Maddon agreed.
"That's the old scouting adage: If he shows it to you once, he can show it to you again," Maddon said. "There's no question he has the ability. Now it's a matter of repetition with delivery, being able to throw a strike when he wants to, commanding his curveball. ... The velocity was up. ... That was pretty impressive. God bless him, that was good stuff."
Bill Chastain is a reporter for MLB.com. This story was not subject to the approval of Major League Baseball or its clubs.