Garth visits his baseball friends on South Side
After chat with fellow Oklahoma St. alum Ventura, country icon takes cuts in BP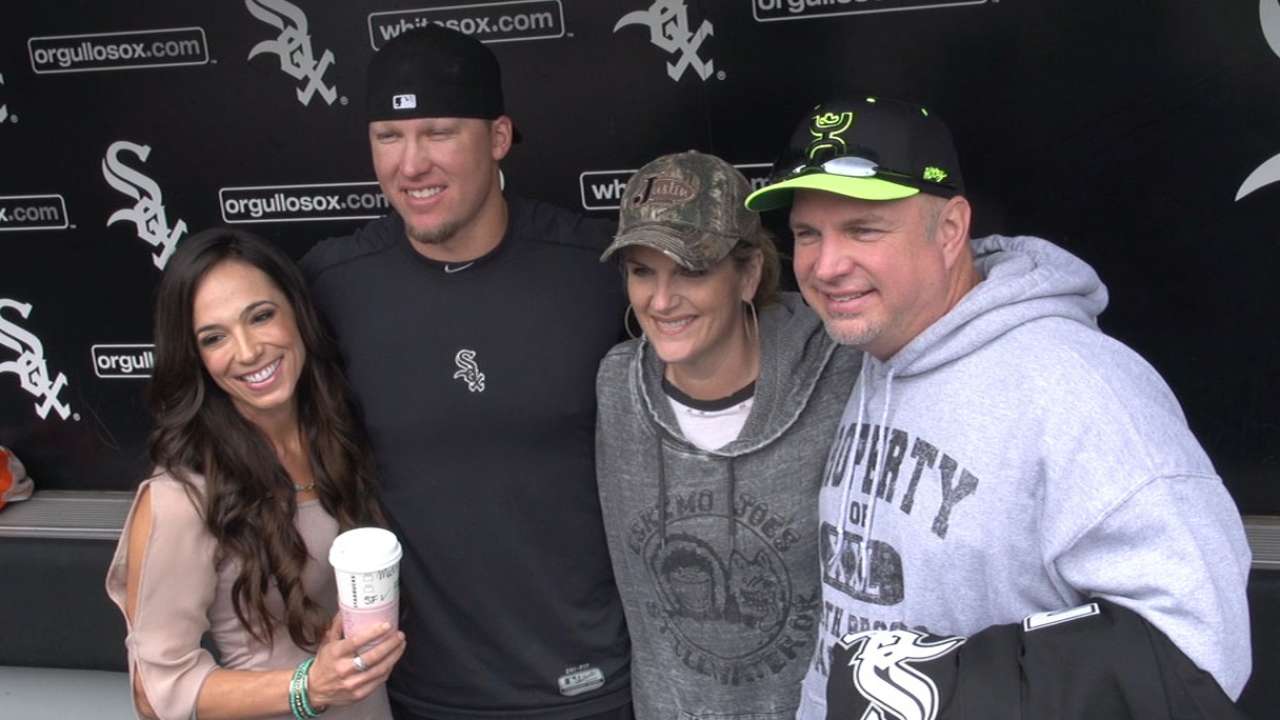 CHICAGO -- The thunder rolled through Chicago on Friday night, postponing the series opener between the White Sox and Twins. But it was dry enough during the day for recording artists Garth Brooks and Trisha Yearwood to visit a few "friends in low places" and take batting practice at U.S. Cellular Field prior to their shows in Rosemont, Ill., later that night.
Brooks and Yearwood, who are finishing up a run of 11 high-energy performances at the AllState Arena this weekend that began last Thursday night, and their band members visited White Sox manager Robin Ventura and bench coach Mark Parent. The famous musical couple is friends with the White Sox leaders.
Ventura actually has known Brooks since the two were at Oklahoma St., where Brooks received a track scholarship.
"He was hitting the [concert] circuit around there and then always coming back, doing things," said Ventura of Brooks. "But once he hit it, he was off and running. So you would run into him every once in a while. And then when I was with the Mets in 2000, he did Spring Training with us. So that was a lot of fun.
"His swing is slowing down a little bit. I can say that. He had fun, though. Even for him or his band, to come out here, it's just a break for them. They are out here for over a few weeks. They are doing the same thing every day, so it's just fun for them to get out here and run around and do baseball stuff."
After taking his cuts and perfecting the "dive and roll" while chasing outfield fly balls, according Ventura, Brooks and Yearwood posed for pictures with numerous members of the organization. That sort of friendly nature is as associated with Brooks as his million-selling hits.
"He's just a tremendously nice person," said Ventura of Brooks, with both men having been inducted into the Oklahoma St. Alumni Hall of Fame as part of the same 2009 class that included Barry Sanders. "It's hard to tell people just how genuine and nice a person he is. He's a pretty good entertainer too. He's a good person. His family -- great people, too.
"So, they had fun, him and Trish. It's just a break in the action for what they are doing. We were glad we could provide that. It's fun for our people too."
Scott Merkin is a reporter for MLB.com. Read his blog, Merk's Works, and follow him on Twitter @scottmerkin. This story was not subject to the approval of Major League Baseball or its clubs.