O's plan to give Ubaldo Tuesday's spot start
Friday's doubleheader necessitates extra starter; righty 'most equipped'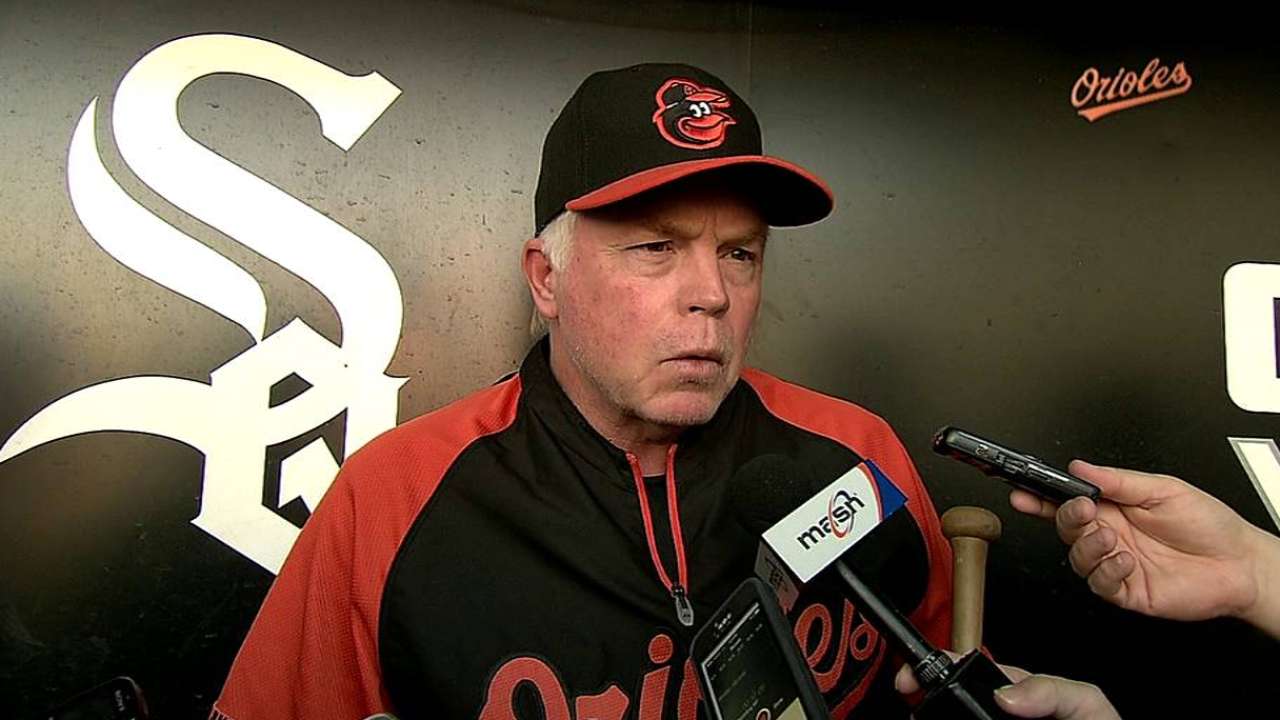 BALTIMORE -- Right-hander Ubaldo Jimenez threw a simulated game between the two games of Friday's doubleheader at Oriole Park at Camden Yards and will start for the O's against the Blue Jays on Tuesday.
Due to Friday's doubleheader against the Yankees, the Orioles have a need for a sixth starter, and Jimenez, who has started 20 games for Baltimore this season, is a more logical choice than Joe Saunders or T.J. McFarland.
"We feel like it disrupts our bullpen the least," manager Buck Showalter said. "We think that he's the most equipped, length-wise. We feel like he's better equipped to pitch that part than behind Mac or Joe. Also, we think he's our best option to win the game."
Jimenez began the season in the O's starting rotation and could have even been considered the team's ace. He was an All-Star in 2010 and helped pitch the Indians to the postseason in 2013 before signing a four-year, $50 million deal with the Orioles last offseason.
After stumbling to a 4.83 ERA in his first 20 appearances -- all starts -- Jimenez was moved to the bullpen in August. He's made two appearances as a relief pitcher, allowing four runs and walking four in 4 1/3 innings.
"He's not happy about it, make no mistake about it; he wants to be contributing this season," Showalter said. "And he has. But we were at that time of season where we had six guys, and we thought it was more beneficial for them to pitch every fifth day and more beneficial for our team."
The Orioles entered Sunday with a chance to clinch the American League East before Tuesday if they win their next three games and the Blue Jays drop three straight. If Baltimore does clinch, it could open the door for more opportunities for Jimenez.
And what if Jimenez finishes the season with a handful of strong outings? Showalter won't rule out anything entirely.
"Pitch a seven-inning shutout and [make] the playoff roster, pitching Game 1? I don't know," Showalter said. "This game's about pitching and hitting and going with the hot guys. Who gets hot at the right time of the year? I wouldn't preclude anything."
David Wilson is an associate reporter for MLB.com. This story was not subject to the approval of Major League Baseball or its clubs.