Teheran takes a hard-luck loss against Rangers
Holds Texas hitless for 5 1/3, succumbs to three unearned in the sixth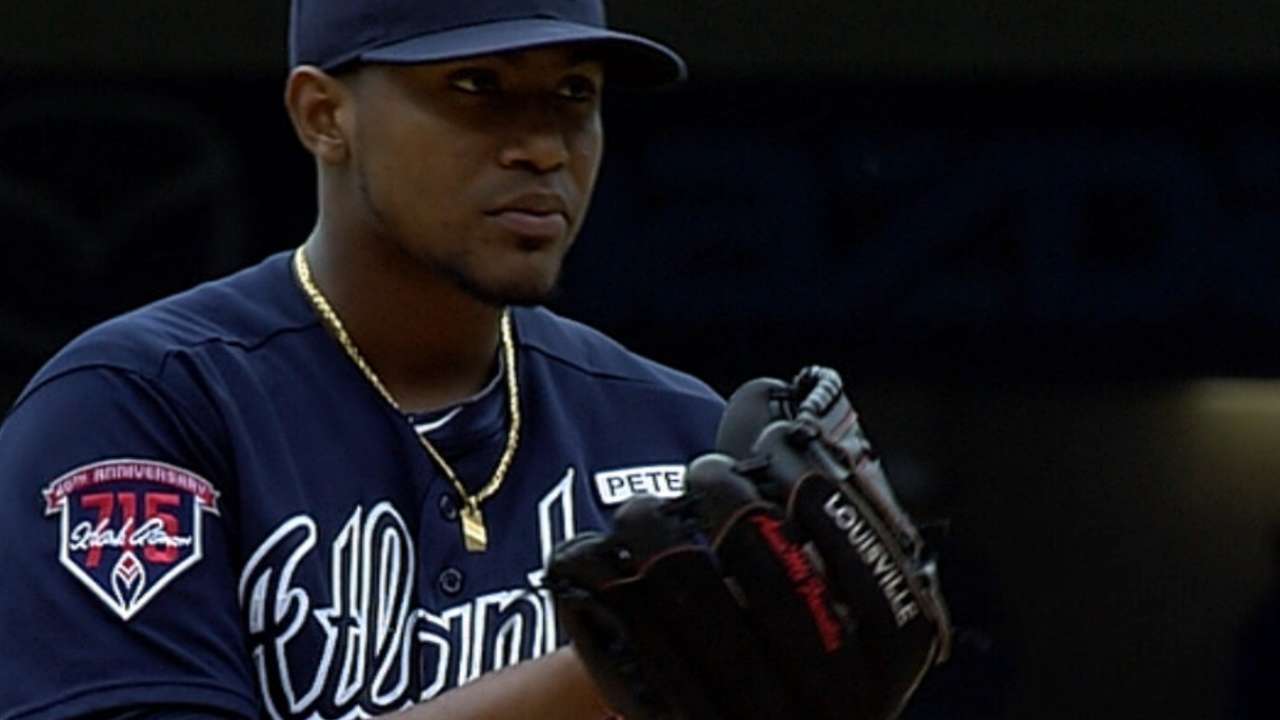 ARLINGTON -- The sixth inning was once again problematic for Julio Teheran.
The Braves' right-hander no-hit the Rangers through the first five frames before things came unraveled in the sixth, allowing three hits and three unearned runs on his way to losing his third straight start. With a 3-2 loss to the Rangers on Saturday afternoon at Globe Life Park, the Braves remained three games behind the Pirates in the National League Wild Card race.
Teheran was brilliant for seven of the eight innings he pitched. But, with Teheran protecting a 2-0 Braves lead, Luis Sardinas broke up the righty's no-hit bid with a one-out single in the sixth. After Michael Choice popped out, Leonys Martin hit a ball that ricocheted off of left fielder Justin Upton's glove to put runners on the corners with two out.
"We're human. People make errors," said Braves manager Fredi Gonzalez. "Nobody's going to feel worse than Justin. He makes that play 100 out of 100 times. He's coming in hard trying to get it, and it just bounces off his glove."
Elvis Andrus followed with a sharp RBI single to right and Rougned Odor knocked a two-run double to deep left-center off Teheran to put the Rangers on top, 3-2. Teheran did not allow another runner to reach base, but the Braves could not push another run across. Atlanta has now lost five of its last six games.
"A lot of nights, [Teheran] holds that 2-0 lead and gives [Craig] Kimbrel the ball in the ninth inning. But he pitched tremendous baseball today," Gonzalez said. "He goes from no hits to a couple hits to losing the ballgame. But he pitched well."
"Teheran is an excellent pitcher," Rangers manager Tim Bogar said. "He obviously showed that today. We didn't have many good swings off him. We hit a couple right on the screws. The rest of the game, he dominated us."
Of the 20 runs Teheran has allowed over his last seven starts, only three have come before the sixth inning -- while 12 of the 17 coming after the fifth have scored in the sixth.
"I was just trying to keep the lead and trying to win the game," Teheran said. "After that, you're trying to control what you can control, and that's what I did. The whole game I felt pretty good."
After getting shut out in each of Teheran's previous two starts, the Braves scored twice for him in the third inning -- thanks, in part, to a late lineup shuffle that put Emilio Bonifacio in the leadoff spot.
Bonifacio ripped a two-out single to right in the third, before stealing second and scoring on an RBI bloop single to center by Phil Gosselin. Freddie Freeman gave the Braves a 2-0 lead by following with a double to left, taking advantage of the Rangers shifting their defenders to the right.
But those were the only runs the Braves scored on Saturday, as they did not advance a runner past second base over the final six innings. They have now dropped the first two games of a three-game series against the Rangers, who have the worst record in baseball and had lost 11 of their last 12 games coming into this series. The two losses came in spite of Atlanta getting a pair of quality starts from its starting pitchers.
"You definitely appreciate what those guys do for us. You don't take it for granted," said outfielder Jason Heyward. "You're going to need to win one-run ballgames -- especially down the stretch, when you're trying to get in the playoffs. If you want to win in the playoffs, it's going to take [success in one-run games] to do it. We came out on the wrong side of it today."
The Braves have managed to score only 51 runs in their last 20 games -- batting .221 as a team and going 8-12 during that stretch.
"You've got to get hits and have good at-bats, get on base -- whether it's a walk or a base hit," Upton said. "You've got to get the big hit. We haven't been doing that, and our run production has kind of showed that."
Christian Corona is a contributor to MLB.com. This story was not subject to the approval of Major League Baseball or its clubs.