Wheeler, Mets knocked around by Nats' bats
Right-hander allows six runs, including tone-setting two-run jack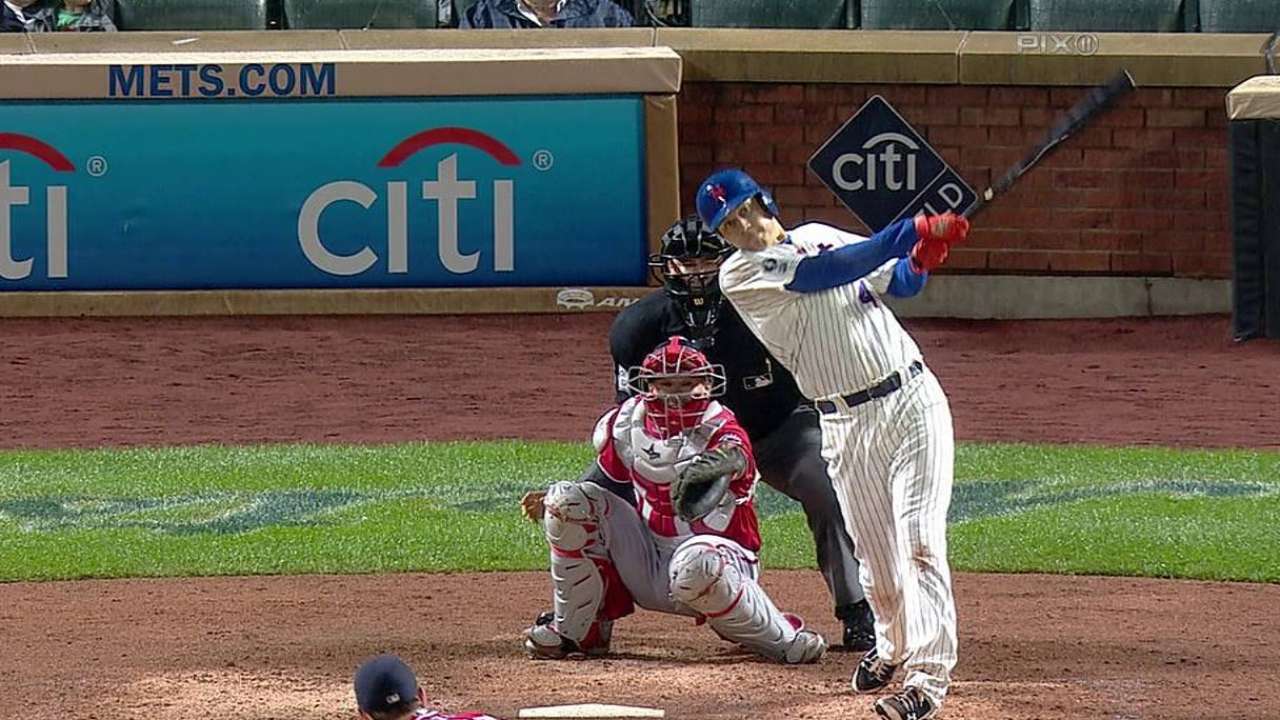 NEW YORK -- In the second inning of the Mets' 10-3 loss to the Nationals on Saturday night at a soggy Citi Field, Zack Wheeler was careful with Bryce Harper. It was a reasonable tactic, given the damage Harper has wrought on New York this season, and with the count full, Wheeler didn't give in. Fastball high, fastball away, slider away, Harper fouled them all off.
Then, Wheeler made his mistake. It was a 95-mph fastball right over the plate that Harper didn't miss, as he belted a towering shot that landed a half-dozen rows back in the upper deck in right field.
That one sequence -- a very hittable fastball, a mighty swing, and a homer longer than most -- underscored the issue that, according to manager Terry Collins, plagued Wheeler throughout his four-plus innings, six-run outing: fastball command.
"He might be tiring a little bit, but I think it's really, really important for him to realize what he's got to do to get through [it]," Collins said. "If he's going to look at 200 innings in the face next year, he's got to learn to deal with it. Everybody has a tough night and tonight was his."
Washington touched Wheeler for seven hits and two walks when Jayson Werth's RBI single chased him in the fifth. Ian Desmond followed with a two-run single, completing the 24-year-old right-hander's worst line since getting peppered by the A's on June 25.
Wheeler said something was wrong with his mechanics.
"I couldn't figure it out," Wheeler said. "I came in looked at the videotape, still couldn't figure it out. So I just felt a little awkward, different out there, and hopefully me and [pitching coach] Dan [Warthen] can figure it out between now and the next start."
That next start, which is slated to be on Friday in Atlanta, is one worth noting because, like Saturday, it will come with Wheeler on five days' rest. The ugly performance against the Nats further demonstrated what has become a startling, season-long trend for Wheeler, who has struggled mightily on five days' rest while regularly dominating on four days' rest.
With the extra day, Wheeler owns a 5.71 ERA and 1.71 WHIP. On regular rest, those numbers drop to 2.45 and 1.11.
Collins looks at the additional day off as potentially beneficial considering Wheeler has thrown a career-high 174 1/3 innings and is pitching deep into September for the first time. Wheeler's season suggests, however, it won't work out that way.
"That should help out," Collins said.
Wheeler, for his part, said he feels "healthy and strong."
Wheeler's struggles in this one mattered little with the way Doug Fister pitched for the Nationals. He allowed one hit through four innings and exited after six and only 75 pitches.
New York managed three runs (two earned), including two on Wilmer Flores' homer in the fifth that snapped a personal 0-for-21 skid and one on Curtis Granderson's RBI single in the sixth.
The Mets also made four errors, and at least two other plays that could have been scored as the same.
"When you don't pitch, the game gets ugly," Collins said. 'There were a couple of errors. That's two games in a row, Juan [Lagares] bobbles the ball in center field, and we never see that -- I mean, absolutely never. Dilson [Herrera's] error was a tough play. … The ball that Travis [d'Arnaud] threw to third slipped out of his hand. When you look up and there's guys all over the bases all the time, it gets ugly."
The Nationals trimmed their magic number in the National League East race to six and took a 12-3 lead in the season series with the Mets. That includes an 8-1 mark at Citi Field.
Tim Healey is an associate reporter for MLB.com. This story was not subject to the approval of Major League Baseball or its clubs.