Big hits not enough to prevent Indians' late loss
'Pen surrenders eighth-inning HR to drop Tribe 5 1/2 back in division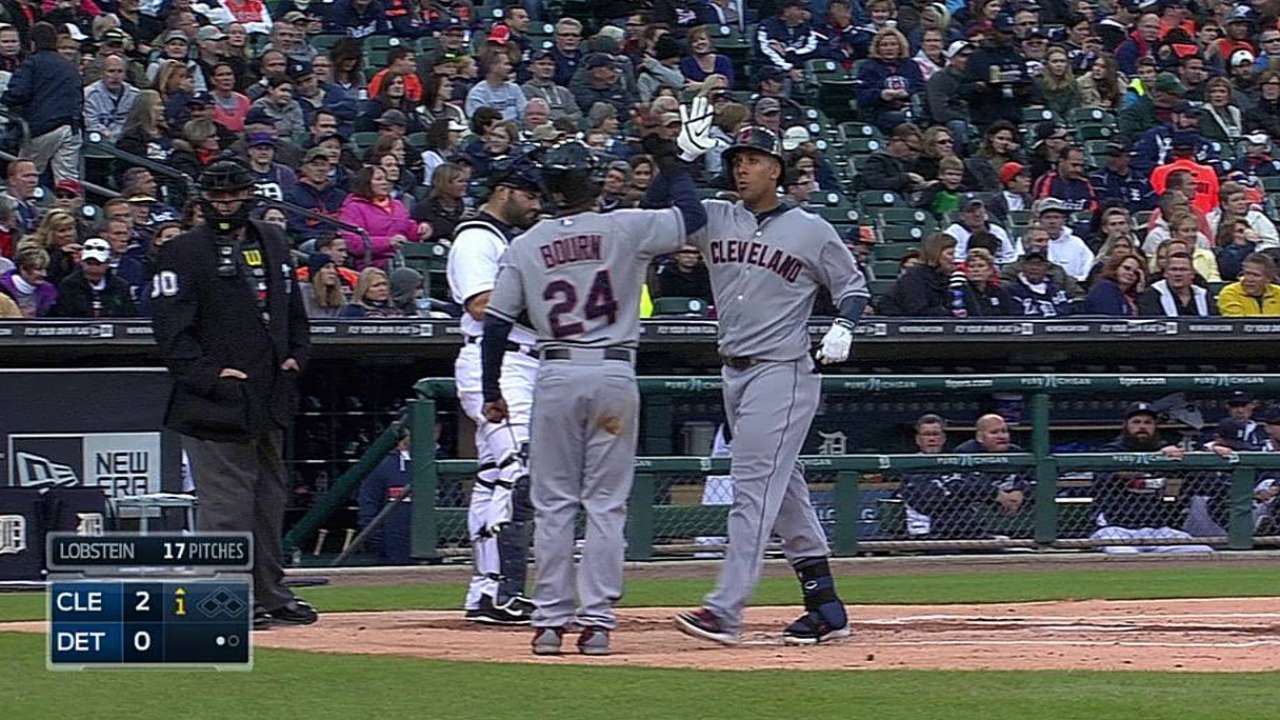 DETROIT -- The thread from which the Indians are hanging thinned a little more on Saturday night. In a town that has tormented the Tribe in recent seasons, Cleveland suffered another disheartening loss and took another step backward in the race for the playoffs.
Victor Martinez toyed with his former team again, Alex Avila assumed the role of villain and Indians setup man Bryan Shaw fired the pitch that now has Cleveland's season on the brink of unraveling. The Indians were dealt a 5-4 defeat that sealed a series loss in this critical three-game divisional set at Comerica Park.
"One loss isn't going to do anything," Shaw said. "Obviously, a loss like that is tough, but losing one game isn't going to make the difference. Right now, we've got to battle back, come back and try to win tomorrow, and hopefully the rest of the teams that are ahead of us and everything else, everything goes our way and we have an opportunity."
The loss dropped the Tribe 5 1/2 games back of the Tigers, who hold a half-game lead over the Royals in the battle for the American League Central crown. The Indians are now five games behind Kansas City in the race for the AL's second Wild Card spot, which has a list of contenders that also includes the A's, Mariners, Blue Jays and Yankees.
The Indians were four outs away from gaining ground when Avila delivered a two-run shot.
Working with a 4-3 lead, Shaw took over on the mound for Cleveland in the eighth and issued a leadoff walk to slugger Miguel Cabrera, who was replaced by pinch-runner Ezequiel Carrera. After Victor Martinez and J.D. Martinez were retired consecutively, Carrera stole second base. After that sprint, Carrera got to jog the rest of the way to home plate.
Avila worked into a 3-2 count and Shaw fired an ill-fated slider.
"It was just a bad pitch," Shaw said. "It was the right pitch -- bad location. It's simple. If we get it outside a little more, he pops up. You get it in, he rolls it over. It's just bad location."
Avila ripped the pitch from Shaw into the right-field seats, giving Detroit a 5-4 lead and creating a raucous roar from the Comerica Park crowd. It was the same riotous response from the locals that right fielder Torii Hunter received in the top of the eighth, when he ended the inning with a diving, sliding catch to rob Yan Gomes of at least one RBI.
"He's been so good. He's set the bar so high," said Indians manager Terry Francona of Shaw. "It's not just that pitch, though. Torii Hunter catches that ball that saves two runs. There's a lot that goes into it -- more than just one pitch."
Avila's blast brought a disheartening end to see-saw affair for the Indians.
Facing Tigers lefty Kyle Lobstein, All-Star Michael Brantley ended a 10-pitch battle in the first inning by drilling a 3-2 pitch into the right-field stands for a two-run home run. The homer gave Cleveland a quick lead and marked the 19th shot of the season for Brantley.
That two-run advantage held until the third inning, when Detroit manufactured a pair of runs against Indians starter Danny Salazar, who struck out seven and was charged with three runs in his 5 2/3 innings. The third run relinquished by the right-hander came courtesy of a fourth-inning solo shot from Victor Martinez, who has hit seven of his career-high 31 homers against the Indians this year.
"I got behind in the count," Salazar said. "I wanted to get back in a good place. I just left the ball right in the middle."
Thanks to Mike Aviles, Salazar still managed to exit in line for a win.
In the fifth inning, Lonnie Chisenhall and Jesus Aguilar delivered back-to-back one-out singles and then moved up 90 feet apiece on a groundout by Michael Bourn. That set things up for Aviles, who slashed a pitch from Lobstein down the right-field line for a two-run double that propelled the Indians to a 4-3 lead.
Cleveland's bullpen helped get through Detroit's lineup unscathed in both the sixth and seventh innings, putting the Indians in position for a much-needed win.
Avila had other things in mind for the Tigers.
"It's [tough], but they have a pretty good lineup of batters," Salazar said. "I know we're trying our best. We don't want to miss pitches and we don't want to lose the game, either. But things are not always going to happen the way you want it."
Jordan Bastian is a reporter for MLB.com. Read his blog, Major League Bastian, and follow him on Twitter @MLBastian. This story was not subject to the approval of Major League Baseball or its clubs.