MLB.com Columnist
Mike Bauman
Past success indicative of Reds' future
Recent playoff appearances fuel club's 2015 prospects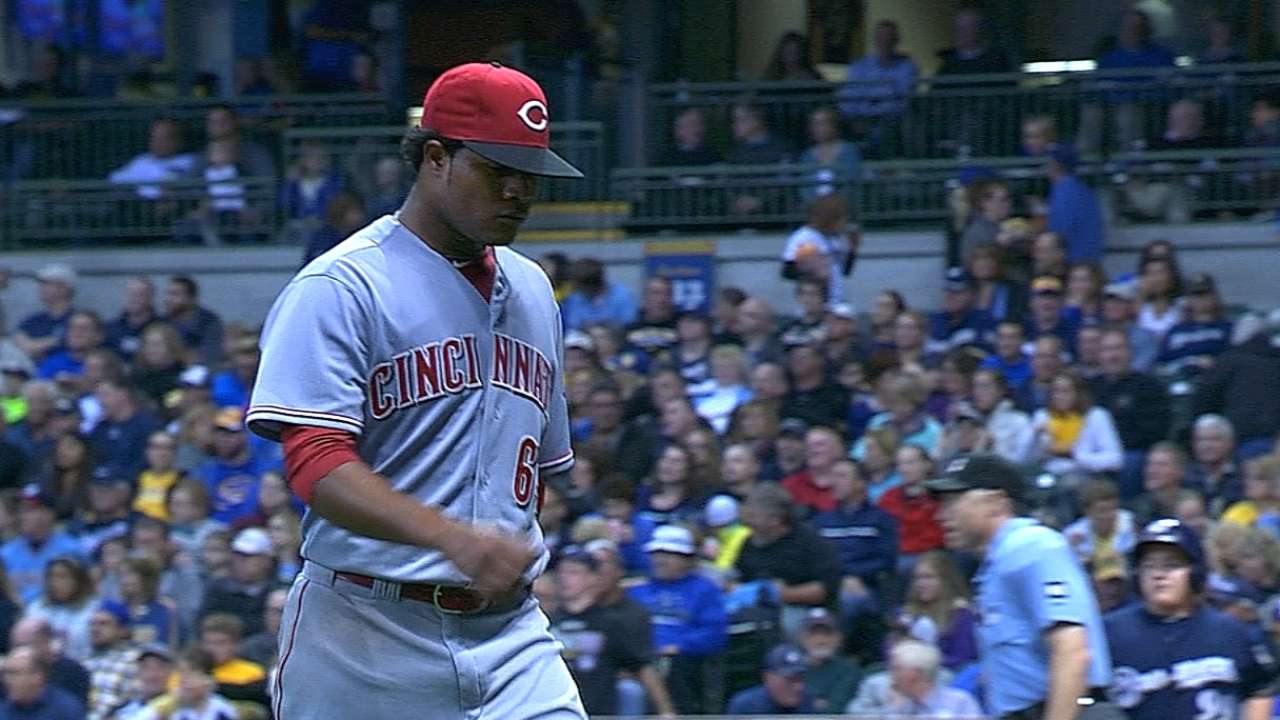 MILWAUKEE -- This season has not been a time for celebration in Cincinnati. But upon reflection, there is reason to believe that this year can be safely regarded as an aberration, not a trend.
The Reds in 2015 should have, given the good health that eluded them this season, a fine starting rotation and a lineup far more productive than their offense has been in 2014. Those are the building blocks of success for any team, but Cincinnati has learned not to take anything for granted.
This was a postseason team three of the last four seasons. Expecting more of the same was well within reason for 2014. Injuries early and underachievement later undermined the high expectations. But the recent past was better than this. The future should be, too.
Reds manager Bryan Price on Friday was asked to ponder the future. He did so with an analysis that was optimistic yet objective.
"The things that I believe in firmly, when we were healthy, we got really good performances out of our starting rotation," Price said. "We weren't playing well at the time, but Homer [Bailey's] four starts post-All Star Game, he had a [1.61] ERA. He was really working his way toward being that dominant guy.
"With the consistency of [Mike] Leake, the dominance of [Johnny] Cueto, the performance of what we couldn't have ever anticipated from [Alfredo] Simon and then [Mat] Latos, when he came back off the DL, was very good. And I would anticipate that next year he would be even better, a year removed from the problems that he had this year."
Latos was scratched from his scheduled start Friday night against the Brewers because of a bone bruise in his right elbow. Both Latos and Price said the injury was not related to his earlier surgery in which bone chips were removed from his elbow. In place of Latos, Daniel Corcino made his first Major League start and pitched more than capably. The Reds lost, 3-2, on a walk-off single by Milwaukee's Lyle Overbay, leaving Cincinnati's record at 70-78.
"This isn't where we anticipated being at the end of the year, but it is a chance for us to see some of our young prospects and be able to evaluate," Price said. "When you look at it from a positive standpoint, you're looking at the development of [infielder Todd] Frazier and [catcher Devin] Mesoraco as offensive forces.
"And then if you look at 2015, [center fielder Billy] Hamilton, a year better, more experienced, getting a better understanding of how the league wants to pitch him and how they want to defend him. If you have a [Joey] Votto, Frazier, Mesoraco, [second baseman Brandon] Phillips, [outfielder Jay] Bruce, that type of group, playing at their ability, it's a pretty nice group right there.
"Being healthy and getting the production that we anticipate would be key. This year, we had a hard time getting the production that we hoped for. That definitely has to change. We need this to be a little bit more of a dynamic offensive ballclub."
A wave of injuries hurt the Reds early. Injuries were numerous and in one case truly frightening, when closer Aroldis Chapman was struck in the head by a line drive in a Cactus League game.
And yet, the Reds didn't fold. They were 51-44 at the All-Star break and 1 1/2 games out of first in the National League Central. They became healthier in the second half, although they have been without first baseman Votto, the focal point of their offense. But Cincinnati has gone 19-34 since the break, and it was tied for last in the Majors in runs scored in the second half coming into the weekend.
"It's hard not to associate disappointment with our season," Price said. "I know we came out of Spring Training banged up, but we answered the bell for 95 games. I don't think anybody could have anticipated us enduring that surplus-type of injuries and be seven games over .500 and 1 1/2 games out after 95 games.
"The thing that doesn't correlate is that we've been healthier after the All-Star Game. Even though we didn't have Brandon, our pitching looked good for the most part. We were, minus Homer and Joey, pretty close to 100 percent of what we anticipated we would have, but we just weren't able to get anything going."
There needs to be, Price said, "more detail work"-- better bunting, better baserunning, better situational hitting. Improved "organizational depth" would also help.
"We've been challenged to a certain degree, because we were playing so many of our bench players, certainly in the first two-thirds of the season as regulars or on a rotational basis," Price said. "I think stronger organizational depth will help us.
"We did get a chance to get an awful good look at some of these guys that we didn't anticipate seeing a lot of this year," Price said, mentioning Kristopher Negron, Jumbo Diaz and Ryan Dennick as three young performers who had taken advantage of big league opportunities.
The Reds will have arbitration eligibility for key players to factor into their plans for next year. Difficult decisions may have to be made. But they can also approach the 2015 season with the reasonable thought that their front-line personnel should have both better health and improved productivity than they have had in a discouraging 2014 campaign.
Mike Bauman is a national columnist for MLB.com. This story was not subject to the approval of Major League Baseball or its clubs.