A's see Wild Card lead shrink in Seattle opener
Hammel forced out after five with Soto's early exit wiping out DH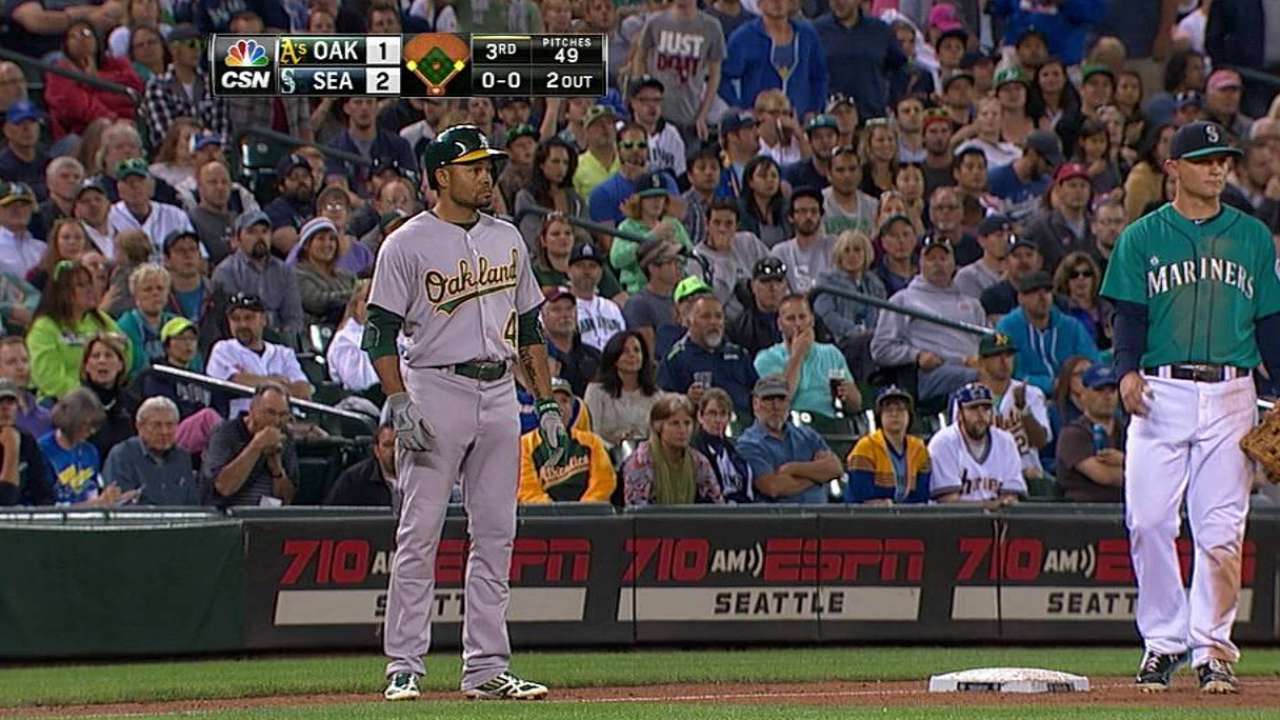 SEATTLE -- The flailing A's are clinging to a half-game lead for the top American League Wild Card spot following another loss on Friday evening, this one a 4-2 decision to the Mariners, who could move ahead of Oakland in the standings Saturday with a win behind ace Felix Hernandez.
"Ironically, we're in the driver's seat," said Jonny Gomes. "Season ends today, we're in."
But 15 games remain, and with a third consecutive division title now a blurred glimpse in the rear-view mirror, the A's are in survival mode, fighting for their lives just to get into the one-game playoff they had wanted to avoid.
"We're leaving it all out there," said starter Jason Hammel. "Things obviously just aren't falling our way right now. We're going to keep grinding. There are lots of ballgames left, and all of them are going to be just as important, so we'll take it game by game, pitch by pitch."
The A's have not only lost three straight, 12 of their last 15 and 22 of 31, but they're down yet another catcher, too, after Geovany Soto exited Friday's game in the bottom of the third inning because of back spasms. Derek Norris, who began the game at designated hitter, moved behind the plate, forcing the A's to play the rest of the way without a DH.
Hammel hit for Soto and contributed a fielder's choice bunt in a one-run fourth inning against lefty James Paxton. But with the A's in search of some offense, Hammel had to exit the game his next turn through the order, after throwing just five innings and 78 pitches.
Melvin's only other option would've been to use September callup Bryan Anderson, who has played in just 35 big league games and none with the A's.
"I had plenty of pinch-hitters, and Derek knows how to pitch to these guys," said Melvin. "I just didn't want to put Anderson in that situation, especially against Paxton. We had plenty of reinforcements."
Hammel was touched for three runs, two coming on solo homers to Robinson Cano and Logan Morrison, the other an RBI bloop double to Mike Zunino in the second. Eric O'Flaherty also gave up a long ball, a solo shot off the bat of Kendrys Morales in the sixth that lengthened the Mariners' lead.
The A's got an RBI single from Josh Donaldson in the third but were 1-for-14 with runners in scoring position and left 10 man stranded, including two in the ninth with none out.
"They put together some good at-bats over the course of the game, just couldn't come up with that one big hit to put us ahead," said Melvin.
Soto was acquired by the club at the end of August to offset the loss of John Jaso, who continues to heal from concussion symptoms. Stephen Vogt, too, has been unavailable to catch because of a bone bruise in his right foot, and he's not even with the team right now, as he nurses a left ankle sprain back home.
Injuries have no doubt played a big role in the A's downfall, but those still healthy have struggled to grab hold of any offensive momentum. They're averaging fewer than three runs a game over their last 15 contests, plating four runs or fewer 11 times in that span.
On Friday they racked up only six hits -- four against Paxton, who threw six innings -- and none were of the extra-base variety. On Thursday they compiled three, including two in eight frames off White Sox ace Chris Sale.
"Different arm angle," Gomes said of Paxton, "but Chris Sale, back-to-back nights, pretty tough."
Jane Lee is a reporter for MLB.com. This story was not subject to the approval of Major League Baseball or its clubs.