Triple dose of power pulls Mariners into WC tie
Cano, LoMo, Morales go deep; Rodney's 45th save ties club record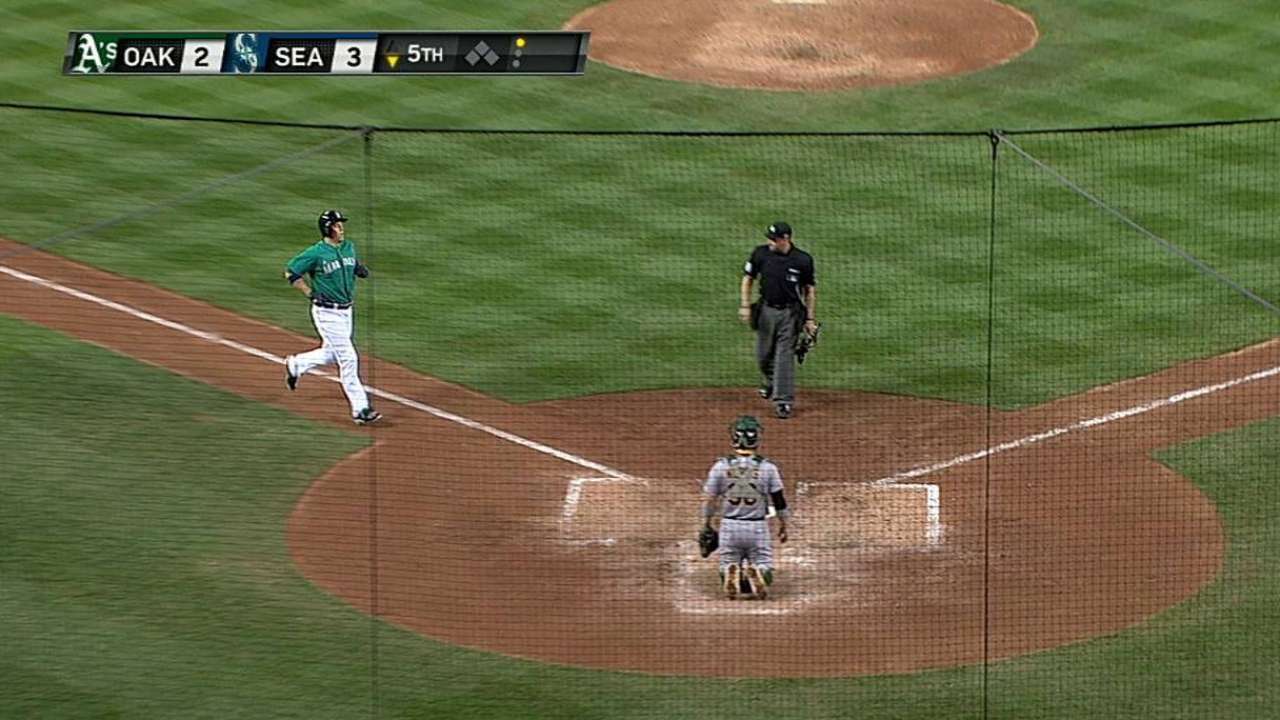 SEATTLE -- The Mariners haven't been to the playoffs in 13 years, but to hear their manager and players talk about it, the club's first postseason run since 2001 has already begun with Friday night's 4-2 victory over the A's at Safeco Field.
"I told my guys, this is really playoff baseball," manager Lloyd McClendon said after his club pulled into a tie for the American League's second Wild Card berth and now sits just a half-game back of the A's for the first Wild Card.
"Averages, slumps, all those things are out the window," McClendon said. "And what you did against a guy last time really makes no difference. It's all about grinding your at-bats out, standing in your inner circle and believing in each other. If you do that, you've got a good chance to get it done."
Robinson Cano, whose first-inning home run got the Mariners off on the right foot, echoed the same thought, saying the playoffs began Friday for his new club. And he should know, having played in seven postseasons and a World Series with the Yankees.
"These are the games you want to play," said Cano. "This is a team, if we want to stay in the race, we've got to compete against these guys. We played a good game today, now we've got to be ready for tomorrow."
And now Felix Hernandez comes to the hill Saturday night with a chance to pull Seattle past the free-falling A's.
"We have The King going tomorrow," first baseman Logan Morrison said in the wake of Friday's win. "We know it, they know it. It's going to be special. The atmosphere will be great. … I think it's a good thing that we're getting this playoff atmosphere before the playoffs start. Hopefully when we get to the playoffs, we can continue to play well and it'll just be a smooth transition."
Pitching has carried the Mariners much of the way this season, but they went on the offensive with three solo home runs Friday in front of a crowd of 29,090.
Long balls by Cano, Morrison and Kendrys Morales provided the run support for rookie southpaw James Paxton, who picked up the win while allowing two runs (one earned) on four hits with three walks and eight strikeouts in six innings.
Paxton improved to 6-2 with a 1.83 ERA in 10 starts. In his career, the 25-year-old Canadian is 9-2 with a 1.73 ERA, the third-lowest ERA for any Major Leaguer in the first 14 starts behind the 1.31 of Steve Rogers of the Expos in 1973 and 1.67 for Tiny Bonham of the Yankees in 1940-41.
With Detroit winning and Kansas City losing, the Tigers moved percentage points ahead in the AL Central race. The Mariners thus are tied with the Royals for the AL's second Wild Card spot with 80-66 records, both trailing the 81-66 A's by just half a game.
The A's have gone 9-22 since Aug. 10, when they held a four-game lead in the AL West with a 72-44 record. With two games remaining this weekend, the Mariners have already clinched the season series against the A's with a 10-7 mark.
Cano pushed an opposite-field home run just over the fence in left in the first inning for a 1-0 lead, his 13th long ball of the year. Morrison broke a 2-2 deadlock with his eighth homer of the season in the fifth and Morales hit his seventh of the year with a shot to right field in the sixth.
Seattle's other run came on a bloop double by Mike Zunino in the second.
Paxton didn't allow a baserunner until the third, when he walked three batters and gave up a run-scoring single to Josh Donaldson. The lanky lefty struck out Jed Lowrie with a 96-mph fastball to get out of a bases-loaded jam and preserve a 2-1 lead.
"That was extremely big," McClendon said. "I keep saying, he's the glue to this rotation. He's not a fluke. This young man is good. He's a big Canadian. He's not scared. He's pretty tough and tonight he proved that."
The A's then tied the game in the fourth when Sam Fuld bunted Nate Freiman in from third base with one out, but Paxton dug in and kept the A's in check until turning the game over to his bullpen.
"I had to battle for that one," Paxton said. "I didn't have my fastball command. I was bouncing some breaking balls and stuff, but it was guys making plays behind me and making pitches when I had to."
Morrison's homer got the lead back for Paxton, and rookie right-hander Carson Smith and Charlie Furbush shut out the A's in the seventh and eighth before Fernando Rodney came on for his 45th save of the season, tying the club record for a season set by Kazuhiro Sasaki in 2001.
Smith was a surprising weapon for McClendon, who had a rested bullpen after Thursday's off-day but went to a September callup. After getting five big outs Friday, Smith has thrown 4 2/3 scoreless innings in four appearances.
"He's been throwing extremely well," McClendon said. "I love his sinker. I thought I'd throw something at them that they hadn't seen. This kid is not fazed by what's going on. He's proven that. I just thought he matched up well. And our guns are loaded for tomorrow, so we're OK."
Greg Johns is a reporter for MLB.com. Follow him on Twitter @GregJohnsMLB as well as his Mariners Musings blog. This story was not subject to the approval of Major League Baseball or its clubs.