Asche follows duel with walk-off dinger in 10th
Hamels not at his best, but allows just one run; Philly bullpen perfect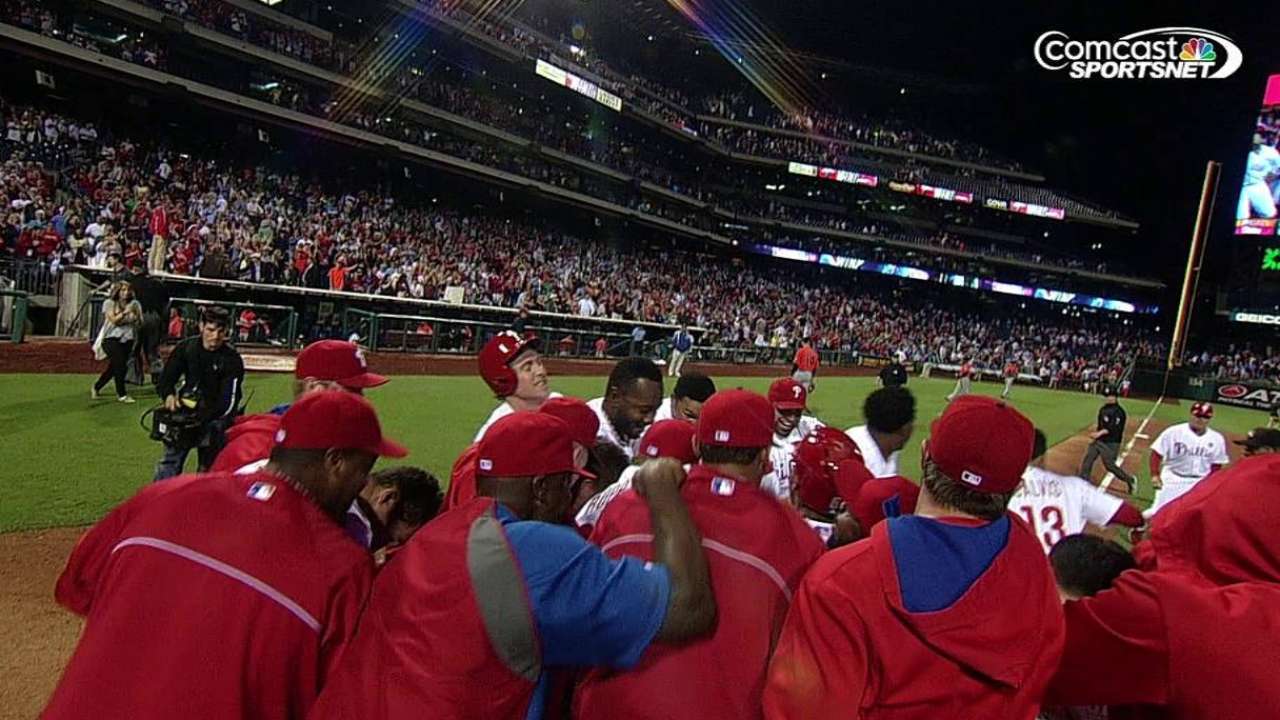 PHILADELPHIA -- Cody Asche began the season as the Phillies' everyday third baseman, but with the emergence of a fresh newcomer jutting into his playing time, every opportunity has become a precious one.
Friday night's opportunity was as precious as it was unique for the 24-year-old third baseman. Asche made his first career start as the No. 2 hitter in the lineup, and he came through with his first career walk-off hit -- a two-run homer in the 10th inning that sent the Phillies to a 3-1 victory over the Marlins at Citizens Bank Park.
"I've been waiting my whole life to do something like that," Asche said.
A moment so anticipated, it demanded cherishing.
"Tried to go as slow as I can," Asche said about his trot around the bases.
Maikel Franco was called up when rosters expanded on Sept. 1, and the highly touted 22-year-old prospect has already significantly cut into Asche's time on the diamond. Phillies manager Ryne Sandberg spoke to Asche on the day Franco was recalled. His message was simple: "Stay ready."
"[Franco's] earned his time here, obviously, so he's going to get his chance to play," Asche said. "That's fine. I can still get better. I still have a month of development. I'm not just going to sit and pout. So you just gotta roll with it."
"He's been terrific," Sandberg said of Asche. "He keeps himself ready to play. He gets his work in, and when he's asked to play, he contributes. So I've been impressed."
Franco has started six games at third base in September to Asche's five.
"It's not the first time since I've been up that I've not played for a span of time," Asche said. "I think early this year, I didn't play for three or four days in a row on a West Coast trip. It's easy to stay in routine when you build one and just try and be ready at all times and be comfortable in who you are and you can do it."
As for 2015, Sandberg could see both young third basemen earning playing time for the Phillies.
"Well, I like both the guys right now," he said. "One is right-handed, one is left-handed. They're good young players. So going forward, seeing how things shake out, but to have both in the lineup at the same time, that'd be a good thing." Franco had been batting second for the Phillies, so Asche's first career start that high in the order was just a matter of continuity, Sandberg said. Asche's approach remained the same.
"Same as always when I see my name in the lineup. You get prepared and you get ready to roll," Asche said. "It's not too much different than hitting in the bottom of the lineup. Hitting second, you're just kind of trying to turn it over to the big boys in the middle, and when you're at the bottom, you're just trying to turn it over the top."
Asche's homer was the capper on what was a tumultuous night for both starters. While the 3-1 final score would indicate a pitchers' duel, Philadelphia's victory over Miami was actually more a display of the two teams' consistent prowess on the mound with danger lingering.
The Marlins went 2-for-10 against Cole Hamels with runners in scoring position, and they left eight men on base. Philly's starter used 111 pitches to get through his seven innings of work, with only one run allowed despite nine hits and a walk. He struck out six and lowered his ERA on the season to 2.51.
The Phillies didn't fare much better off Marlins starter Henderson Alvarez in the clutch, going 0-for-6 with RISP.
But Asche didn't need a runner in scoring position to end it -- another example of his being ready to take advantage when his name is called. Another example of his growth.
"I think there's still a lot there," Asche said about his potential. "Still making those daily adjustments. Just coming to the park and being who you are every single day. I think that's a big challenge that you learn as you get comfortable with your surroundings and teammates, is just to come to the park and be the same guy everyday."
Erik Bacharach is an associate reporter for MLB.com. This story was not subject to the approval of Major League Baseball or its clubs.