Marlins can't convert for Alvarez, fall in 10
Without Stanton, big hit eludes Miami; Jennings allows walk-off homer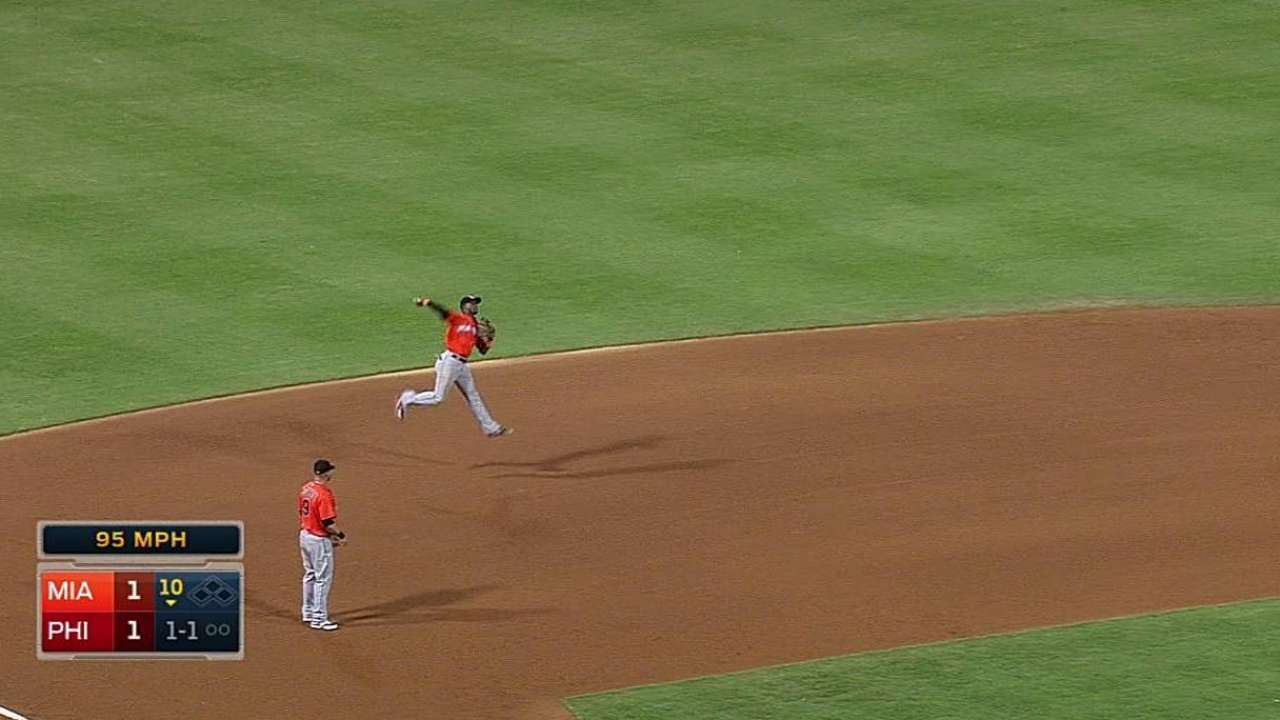 PHILADELPHIA -- The emotionally charged Marlins are determined to push forward without slugger Giancarlo Stanton. But on Friday night, runs were hard to come by, and eventually Miami's pitching let down. Cody Asche connected on a two-run, walk-off homer in the 10th inning off Dan Jennings, lifting the Phillies to a 3-1 win at Citizens Bank Park.
Playing their first game without Stanton, who was struck by a pitch in the face on Thursday night at Milwaukee, the Marlins scratched out nine hits. But they managed just one run.
"Not only is [Stanton] a huge part of our team, but he changes our whole lineup so much," manager Mike Redmond said. "Obviously, we're going to have to work a lot harder to score runs. I think you saw that tonight. We had situations where G would have come up. But, hey, it is what it is. That's the situation we're in. We know that. These guys are a resilient group. We've shown it all year. We'll go out there tomorrow and try to win a ballgame."
With one out in the 10th inning, Ben Revere singled before Asche ended it with his first career walk-off homer.
"I was pounding him sliders, my best pitch," Jennings said. "Then I threw him another one that he didn't offer. My one bad pitch of the night, which he obviously hit out of the ballpark, which is unfortunate because I thought I threw the ball well up to that pitch. I've got to make a better pitch than that."
After dropping their third straight game, the Marlins fell into a tie with the Mets for third place in the National League East.
Miami's season is winding down rapidly, and its National League Wild Card chances are dwindling. The club is trying to pick up the pieces, but it was tough on Friday, the day after Stanton went down. The team even had Stanton's No. 27 jersey hanging in the dugout.
"Our heads are kind of elsewhere," Jennings said. "But once the game starts, you've got to try to push all of that aside. I feel everybody did a good job of that, and just play the game. But at the same time, everybody knows when you look up at the scoreboard and the three-hole hitter is kind of missing, it's not a good feeling. But you've got to just play ball once the game starts."
Henderson Alvarez, who had been bothered by a left oblique strain, was making his first start since Sept. 1. The right-hander impressed in seven innings, giving up one run on seven hits with four strikeouts and no walks.
"I thought he looked good," Redmond said. "His velo was solid. I thought he gave us a great effort. He did everything he could to help us win that ballgame. If we could find a way to add on some runs in situations, he would have had a little cushion to work with. That didn't happen tonight."
Miami fell to 9-12 in extra-inning games, and Marcell Ozuna had his string of hitting a homer in four straight games end.
Phillies lefty Cole Hamels, 9-13 lifetime against Miami, gave up one run on nine hits with six strikeouts in seven innings.
But after Hamels exited, Phillies relievers Ken Giles, Jonathan Papelbon and Jake Diekman combined to retire all nine Marlins they faced.
The Marlins stranded runners in scoring position in three consecutive innings -- the third, fourth and fifth. But in the sixth inning, they were finally able to push a run home on Adeiny Hechavarria's soft single to right field.
Miami used three singles to generate the run. Jeff Baker singled with one out. With two outs, Ed Lucas legged out an infield single to third. The Phillies challenged to see if Lucas had beaten Asche's throw from third, but the call was confirmed.
Philadelphia responded in the sixth to tie it on Chase Utley's double to right, which was bobbled by Lucas for an error. With Utley on third and one out, Alvarez struck out Ryan Howard. But his next pitch, a sinker to Marlon Byrd, went past catcher Jarrod Saltalamacchia for a wild pitch, scoring Utley.
In the fourth inning, Alvarez was in a bind, loading the bases with no outs. But he worked out of it, getting Brown to lift a lazy fly ball to short right field before Carlos Ruiz tapped into a 6-4-3 double play.
Miami had a golden chance in the fourth inning. With runners on second and third and one out, Saltalamacchia chopped a grounder to third. Casey McGehee raced home, but he was thrown out by Asche.
"Asche also made a very good defensive play," Phillies manager Ryne Sandberg said. "A big defensive play of the game at the time."
Joe Frisaro is a reporter for MLB.com. He writes a blog, called The Fish Pond. Follow him on Twitter @JoeFrisaro. This story was not subject to the approval of Major League Baseball or its clubs.