Shutout loss caps Yankees' frustrating day
Muffled offense shows no improvement in nightcap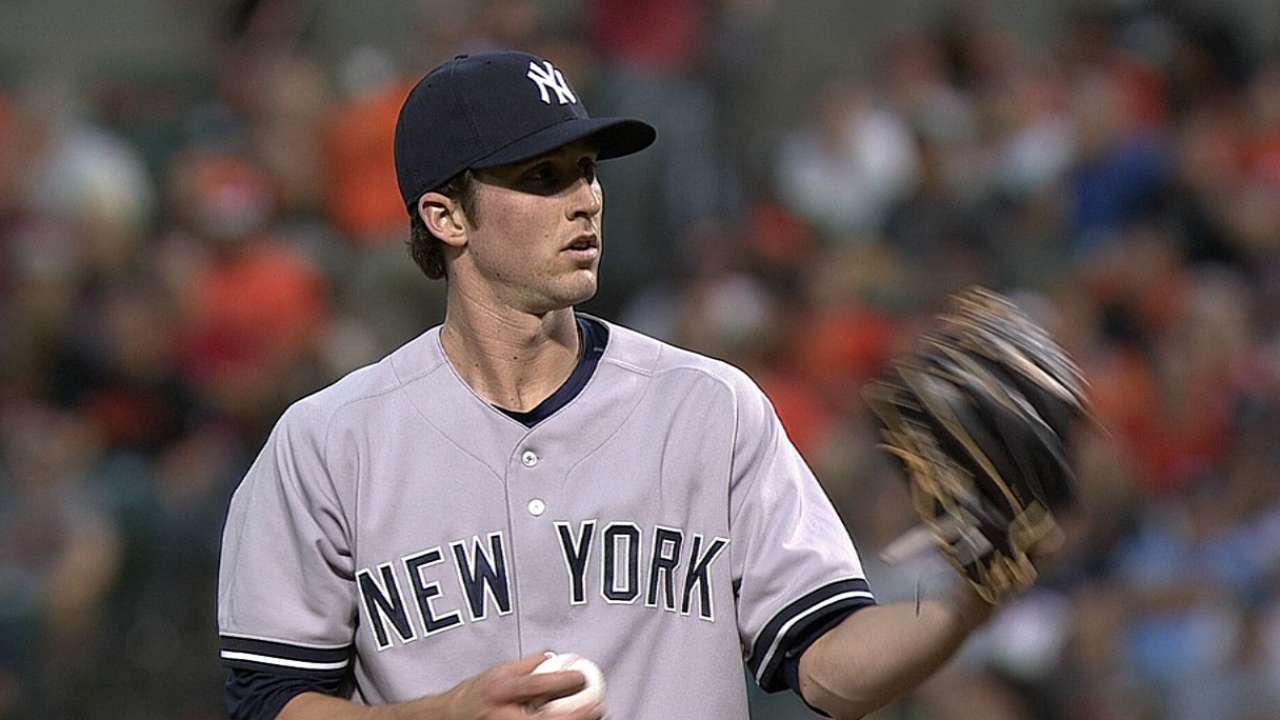 BALTIMORE -- The Yankees came into September looking ahead to this showdown, knowing that this visit to the Inner Harbor could present a meaningful opportunity to make up ground in the standings. Those comments have receded of late, with the dire reality of their situation seeming to sink in.
After Jimmy Paredes spoiled the Yankees' afternoon with a game-winning two-run double, Bud Norris made it an even tougher evening, stifling New York with a season-high 10 strikeouts. The Orioles swept the day-night doubleheader with a 5-0 victory in the nightcap.
"We have to go on a run," Jacoby Ellsbury said. "We want to make it interesting. We still have a chance. Obviously, we have to get hot and we have to play very good baseball, but there's still a chance. That's what we have to hold out for."
Chris Young's third homer in as many games gave the Yankees an 11th-inning lead in Game 1, but Adam Warren quickly coughed up two runs on Paredes' walk-off hit, sending the team trudging up the dugout runway to absorb a 2-1 decision amidst what was described as a near-silent atmosphere in the clubhouse.
"It's no fun, but other teams are having problems in front of us that we're trying to catch," Yankees manager Joe Girardi said. "We need to win a lot, and I've said that a lot. We're capable of doing it."
Limited to one run in 20 innings, the Yanks mounted no support for Bryan Mitchell's first Major League start, falling five games back of the Royals and Mariners in the chase for the second American League Wild Card spot with just 16 games remaining on the schedule.
"Until you're mathematically eliminated, all we can do is just put the pressure on them," Ellsbury said.
Ryan Flaherty ripped a run-scoring double and Alejandro De Aza smacked an RBI triple in the fourth inning off Mitchell, who permitted six hits with a pair of walks and two strikeouts.
"I try not to let what the offense is doing affect what I'm doing," Mitchell said. "I just basically left a couple of breaking pitches up in the zone, and when you do that against a good-hitting team, they're going to hit it."
Girardi called Mitchell, a 23-year-old right-hander who was 6-7 with a 4.37 ERA in 23 games (21 starts) for Double-A Trenton and Triple-A Scranton/Wilkes-Barre, "a work in progress," but said it was nice to see the right-hander get a chance on a big stage.
"It was good to see him pitch in a start," Girardi said. "I've only seen him pitch, really, out of relief. He has the ability to have people swing and miss, and he has the ability to get out of innings. He did some little things."
So did Norris, who held the scuffling Yankees to just three hits and two walks over seven innings as the Orioles won their season-high sixth straight.
"A lot of quality pitching, really, on both sides," O's manager Buck Showalter said. "There weren't a whole lot of runs scored. Good pitching solves a lot of problems, issues, whatever you might want to call it. That's usually where it starts."
Baltimore tacked on in the seventh as David Phelps made his first appearance since Aug. 3, coming off the disabled list to rejoin the bullpen. Phelps recorded two outs but then walked the bases loaded, setting up Delmon Young's hot shot that ate up second baseman Stephen Drew for a two-run single.
"It doesn't have anything to do with being rusty," Phelps said. "Regardless of how long you take off, throwing strikes shouldn't be a problem. I just got behind in some counts, and I wasn't able to make a pitch."
De Aza swelled Baltimore's lead in the eighth with his second RBI triple of the game, a high, arcing drive to right field off Chaz Roe that struck the top of the high scoreboard.
Tommy Hunter and Brian Matusz each hurled a scoreless inning to finish off the twin-bill sweep, the Yankees' first at the hands of the Orioles since Sept. 24, 1984, at Memorial Stadium.
"You have to turn the page," Ellsbury said. "The first one, obviously, we would have liked to get that win. All we can do is go out there tomorrow, day game, quick turnaround, forget about today. These are huge games for us if we want to get where we want to be."
Bryan Hoch is a reporter for MLB.com. Follow him on Twitter @bryanhoch and read his MLBlog, Bombers Beat. This story was not subject to the approval of Major League Baseball or its clubs.