Norris, De Aza cut O's magic number to five
Righty's 10-K effort complements outfielder's two triples in nightcap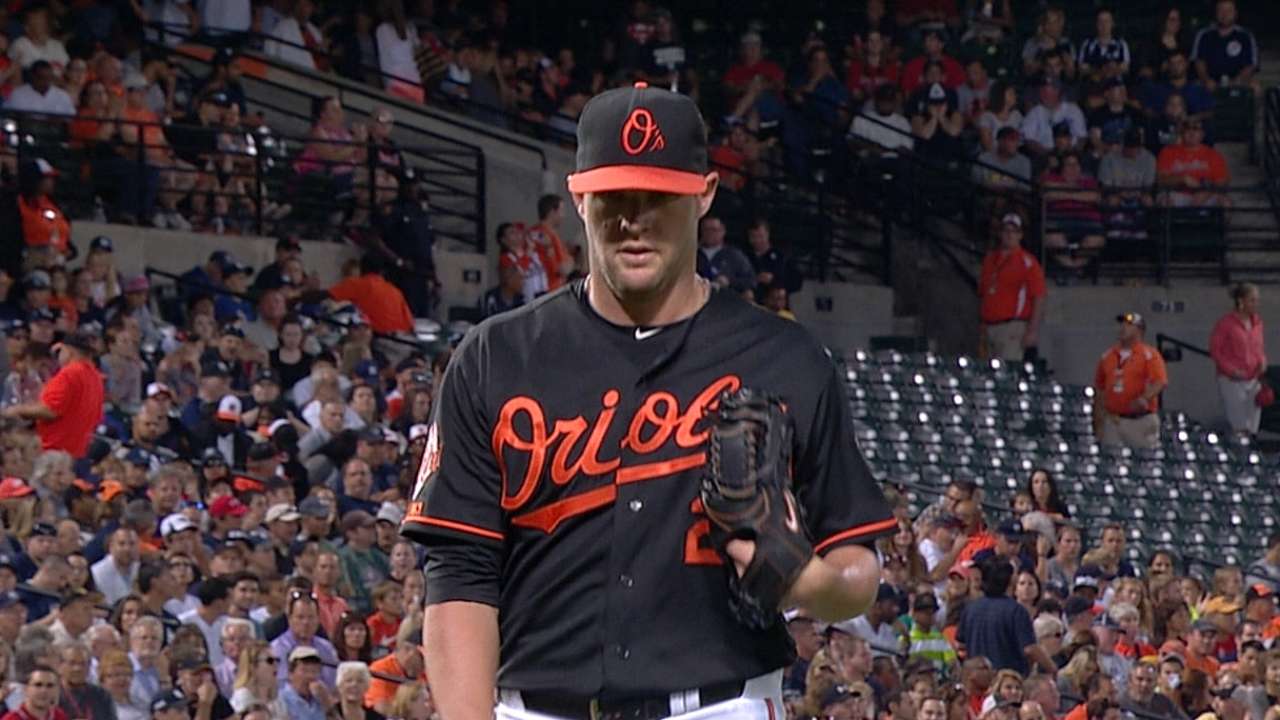 BALTIMORE -- Bud Norris wasn't around Oriole Park at Camden Yards when discouraging news hit around 11 a.m. ET on Friday. He heard about Chris Davis' 25-game amphetamines suspension when he woke up at home, hours before he had to head to the ballpark and pitch in Game 2 of a day-night doubleheader.
Norris arrived to find that the O's didn't miss a beat. They outlasted the Yankees for another extra-innings win in Game 1, and Norris wouldn't spoil that, either. The right-hander stepped right in to help shut out New York for a 5-0 win and sweep their first doubleheader against their nemesis since 1984.
"A lot of people woke up this morning and got some bad news," Norris said of Davis' suspension. "But we still love him. He's still a part of our group. We are not going to forget that. We just know that we have to keep moving forward and keep playing baseball."
Norris (13-8) followed up Kevin Gausman's seven scoreless innings in the Orioles' 2-1, 11-inning win in Game 1 with seven more in the nightcap. In 20 innings, Baltimore held New York to one run to claim a 10th win in 13 tries against the Yankees. With wins on Saturday and Sunday, the O's can eliminate New York from contention for the American League East title.
The Orioles, meanwhile, can clinch the division as soon as Monday. The Blue Jays fell to the Rays, 1-0, on Friday moments before Baltimore won to stretch the O's lead in the division to 11 1/2 games and cut their magic number to five.
"We pitched well for 20 innings -- real well," manager Buck Showalter said. "Bud was good, and the bullpen finished it up. Good pitching solves a lot of problems."
The latest problem in a season that has already seen third baseman Manny Machado and catcher Matt Wieters go down with season-ending injuries is a regular season-ending suspension for Davis. The corner infielder, who finished third in AL Most Valuable Player Award voting in 2013, tested positive for an amphetamine -- identified as Adderall by Davis -- and will miss 25 games. Because the suspension includes the postseason, Davis will miss the Orioles' final 17 regular-season games and as many as eight in this playoffs.
For 10 innings in Game 1, the Orioles were held scoreless, showing how much they could miss Davis. The game-winning hit, though, came from Jimmy Paredes. The offensive hero in Game 2 was outfielder Alejandro De Aza. Neither was on the Major League roster two weeks ago.
"I think we played every position player here in both games," Showalter said. "I wasn't going to pitch anybody twice in the doubleheader. Fortunately, I did that, but only because we've got some skilled people that can do a job.
"It's kind of been who we are."
De Aza brought a dynamic to Baltimore's Game 2 lineup -- which lacked Adam Jones and Nick Markakis, and batted Paredes third -- that it simply didn't have before the outfielder arrived. De Aza, who has a hit in all eight of his games with the O's, smacked two triples on Friday night. The Orioles had a total of 10 entering the nightcap.
The first one came on a line drive into the right-center-field gap off Bryan Mitchell (0-1) and gave Baltimore a 2-0 lead. De Aza's eighth-inning triple, which missed a home run by inches off the towering right-field wall, put the finishing touches on Baltimore's win.
Joining the O's, it seems, has rejuvenated De Aza, who's gone 13-for-33 since being acquired.
"I feel young again," De Aza said. "I feel 20 again. I'm just having fun with these guys."
As Norris tore through a struggling Yankees offense, the Orioles' eight hits let them coast to victory. Norris set a new season high for himself with 10 strikeouts, matching the season high for any Baltimore pitcher this season.
"He had good stuff," Yankees designated hitter Jacoby Ellsbury said of Norris. "I thought all his pitches were working for him."
For now, the 43,707 that packed into Camden Yards can forget about the bad news they got on Friday morning. The postseason seems to be an inevitability for the O's, even without Davis, and a run is possible even without him.
David Wilson is an associate reporter for MLB.com. This story was not subject to the approval of Major League Baseball or its clubs.