Despite rookie pop, Cubs' skid reaches seven games
Baez, Alcantara each go deep; Renteria believes in learning experience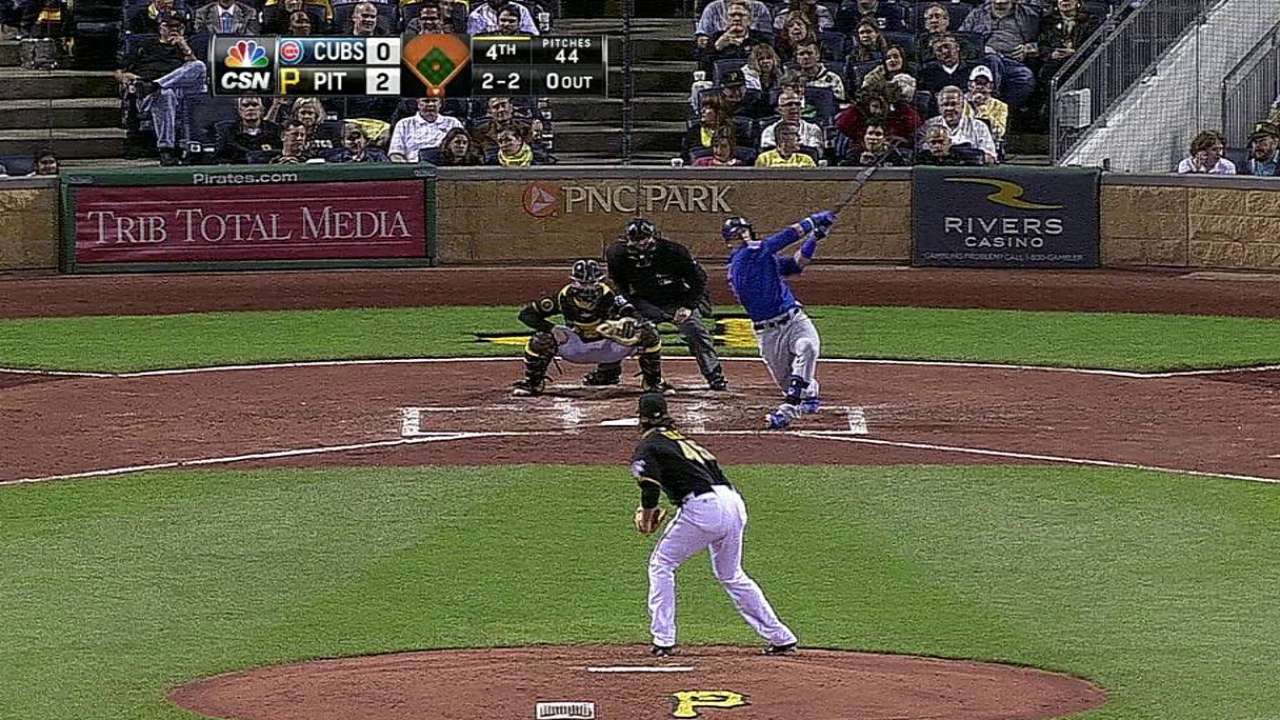 PITTSBURGH -- Javier Baez picked up some pointers after watching video from his days at Double-A Tennessee, and it paid off with his first home run since Aug. 23. But it wasn't enough to stop the Cubs' losing streak.
Baez and fellow rookie Arismendy Alcantara each hit solo blasts in the Cubs' 7-3 loss Friday night to the red-hot Pirates at PNC Park. Jordy Mercer drove in three runs to back Gerrit Cole as Pittsburgh handed Chicago its seventh straight setback, extending a streak that started one week ago in a defeat at Wrigley Field to the Pirates. This is the Cubs' longest skid since a seven-game stretch Sept. 22-29, 2012.
The Pirates, on the other hand, are still very much alive in the National League Central race while continuing to hold a Wild Card spot. Cole picked up his second straight win over the Cubs. He struck out eight over six innings last Sunday at Wrigley Field.
Baez, who reviewed video with Tennessee hitting coach Desi Wilson, led off the fourth with his eighth home run to pull the Cubs within a run at 2-1.
"It's a positive result for him to hit the ball out of the ballpark," Cubs manager Rick Renteria said. "But more than anything, his approach is starting to get a little better, which is what we're looking for."
Baez fanned twice Friday and had a tough time in the three-game series at Wrigley last weekend, striking out 10 times in 13 at-bats against the Pirates. He's not the only one. During the Cubs' losing streak, they've averaged 11 strikeouts a game.
"The hope is that the knowledge they're gaining and the things they have to do in terms of adjusting as to how the pitchers are attacking them, they'll grow," Renteria said. "It's impossible for me to look into a crystal ball and say it won't happen again. We have to allow that to play itself out. Their skill sets are very good skill sets. We're hopeful they can play well at the Major League level."
Cubs first baseman Anthony Rizzo knows something about struggles. When first called up to the Padres in 2011, he batted .143 in June and July, and was then sent back to the Minor Leagues.
"When you're up there trying to get more than one hit in an at-bat, it's not easy," Rizzo said. "For me, it was trying to hit two home runs in one at-bat. You can't do that -- it's impossible. You can't get three hits in one at-bat. You can only take care of what you can take care of. That's the biggest thing you need to learn. I need to re-learn that when I go into a little rut."
Renteria doesn't like to say they're struggling; he prefers to call it "hiccups."
"They have to make adjustments and continue to try to make adjustments," Renteria said of the young players. "The experiences they're having now are invaluable. They can use it to their advantage to build on and improve and try to figure out what adjustments they need to make to continue to develop at the Major League level. It's a pretty good skill set for some of these young men."
Rizzo, sidelined with a lower back strain, isn't comfortable coaching, but he'll offer in-game tips on pitchers. His advice?
"As far as hitting, let them play," Rizzo said. "[Baez] is at 100 at-bats. Jorge Soler has 50 at-bats. Let them play. It's good for them all to go into the offseason knowing what they need to do to get better to help this team."
Baez is taking advantage of the experience.
"It is important now because when we come next year, hopefully we start here [in the big leagues] and we'll know how to handle everything," Baez said.
It helps that players like Rizzo and Welington Castillo are there for the youngsters.
"We've talked to them and told them, 'Come out and have fun. Enjoy the game, no matter what happens,'" Castillo said. "This game is not easy. We just try to keep everybody comfortable and tell them to play hard and enjoy the game."
Carrie Muskat is a reporter for MLB.com. She writes a blog, Muskat Ramblings, and you can follow her on Twitter @CarrieMuskat. This story was not subject to the approval of Major League Baseball or its clubs.