Pirates continue playoff push behind solid Cole
Righty escapes key jam as Bucs win for seventh time in last eight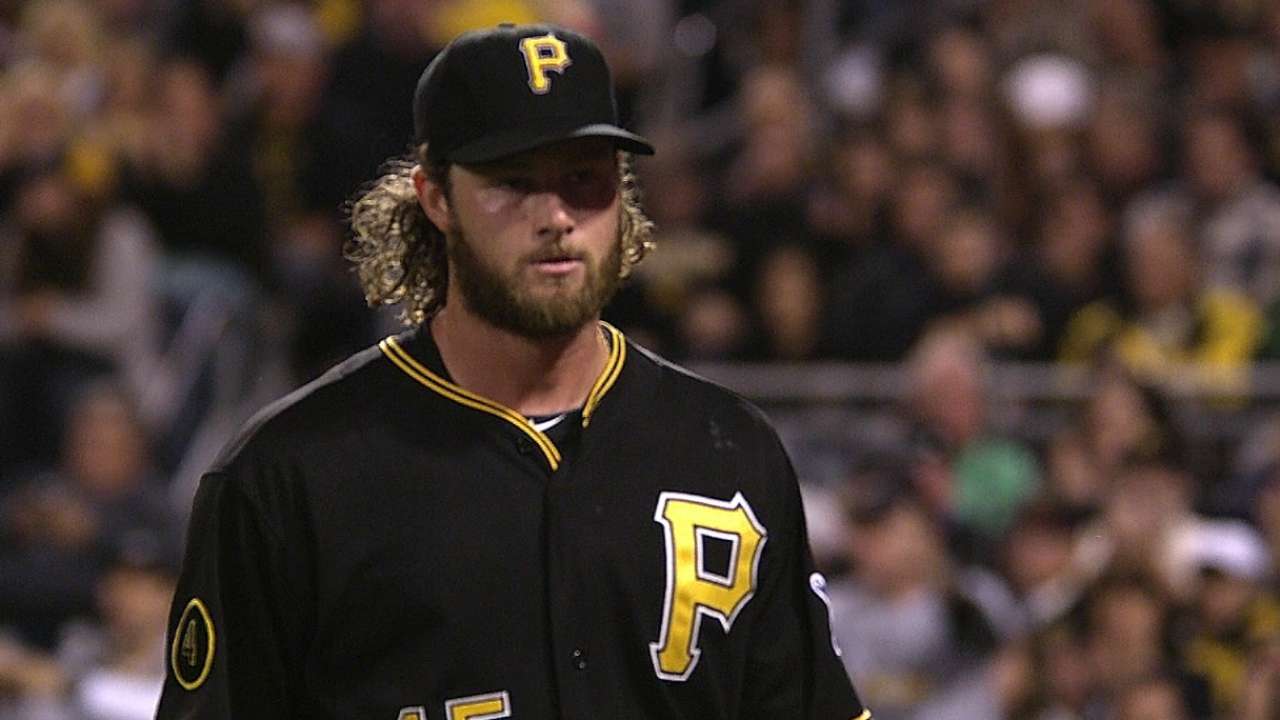 PITTSBURGH -- Manager Clint Hurdle has insisted that the Pirates not having yet sustained a hot streak just meant "we still have it in us." The Bucs appear to be extracting it at the perfect time and, in baseball, there is no time better than when the finish line starts to come into view.
The Pirates methodically leveled the Cubs, 7-3, on Friday night at PNC Park, starting off their final homestand with their seventh win in the last eight -- their best stretch of the season -- to return to their season high of nine games above .500 (78-69) for the first time since Aug. 12.
The Bucs also made a little headway in the race for the National League's second Wild Card spot, moving three games ahead of the Braves while retaining a 1 1/2-game edge over the Brewers. Pittsburgh trails the first-place Cardinals by just 2 1/2 games in the race for the NL Central crown.
"I think games definitely become more intense at this time," said Gerrit Cole, a Mr. September in his brief Major League career. "But it's just as easy to get too caught up in that. It's still about making pitches."
Cole made 103 of them Friday, including enough good ones to gut out six innings for his ninth win of this season -- and to improve to 6-1 in the last two Septembers, both marking playoff drives for the Bucs.
"This was as big a win as we've had all year," Cole said.
Josh Harrison and Jordy Mercer sparked a 14-hit attack with three each. Harrison converted his hits into again assuming the lead in the NL batting race at .318, while Mercer used his knocks to drive in three runs.
"He's 0-for-5 [Thursday night in Philadelphia], and comes back and rolls out three hits," Hurdle marveled over Harrison. "He continues to find a way to play, motivate, push and help us score runs."
While his mates gradually worked over Chicago starter Tsuyoshi Wada, Cole was brushing off solo homers by Javier Baez and Arismendy Alcantara.
The Pirates answered the Cubs' two homers with none of their own -- and Hurdle might've been giving silent thanks. He'll take a 14-hit attack featuring four run-scoring blows with two outs.
"We went through a time [when] a high percentage of our run production was just based on the home run," Hurdle acknowledged. "That's not the case now. We've been hitting balls off the wall like it's a pinball machine."
Leading off the bullpen shuttle in Cole's support, John Holdzkom introduced himself to the home folks with a typical 1-2-3 inning featuring a pair of strikeouts. The independent-ball refugee has now worked five shutout innings in the big leagues, allowing one hit and striking out nine.
For the first time, Holdzkom was throwing to Chris Stewart, on starter Russell Martin's night off.
"He's awesome," Stewart said of the 6-foot-7 righty. "The ball obviously comes ... he's 7-foot-8, he looks like he's releasing the ball right in front of the hitter. It's not straight, either, cutting ... kind of all over the place. You can bring him in in any kind of a situation, and he's going to get outs."
The clubs spent a good portion of the game fencing. From the bottom of the second through the top of the sixth, they combined for seven straight one-run half-innings.
The hunt for something bigger went on, and there was a sense that whichever first bagged a crooked number would have an honest chance of winning this game. Mercer did the honors, drilling a two-run single through a drawn-in infield in the sixth to give the Bucs a 6-3 lead while finishing his three-RBI night.
No one yet dares use the "F" word -- fate -- around PNC Park, but some mighty strange things were happening early in this game to jump-start the Bucs.
In the second, Gaby Sanchez ripped a liner to right-center on which right fielder Ryan Kalish closed impressively fast. Kalish dove and gloved the ball -- until, as he hit the turf, it trickled out of his webbing for a double.
With two outs, Stewart parachuted a bloop to short right-center, which leaping second baseman Logan Watkins appeared to catch. Until his landing jarred the ball loose for an RBI single that delivered Sanchez.
As he had Sunday in Chicago, Cole persevered without his best stuff. This time, he was not propped up by a big lead (he'd been given a 7-0 lead by the second of that previous run-in with the Cubs). However, he dogged his way through his one major jam -- getting Alcantara to foul out to end the sixth with the bases loaded, after the Cubs had already scored on Welington Castillo's single to cut Pittsburgh's lead to 4-3.
Cole's night was over after that escape. In six innings, he gave up five hits and three runs while walking one and striking out six.
"That [sixth] inning could've easily gotten away from us," Cole said, "but I was able to put my foot down and stay away from a crooked number, which can change momentum."
Tom Singer is a reporter for MLB.com and writes an MLBlog Change for a Nickel. He can also be found on Twitter @Tom_Singer. This story was not subject to the approval of Major League Baseball or its clubs.